First-year student co-founds COVID-19 data visualization company
Class of 2024's Scott Blender is using campus-based entrepreneurship resources to get his startup off the ground.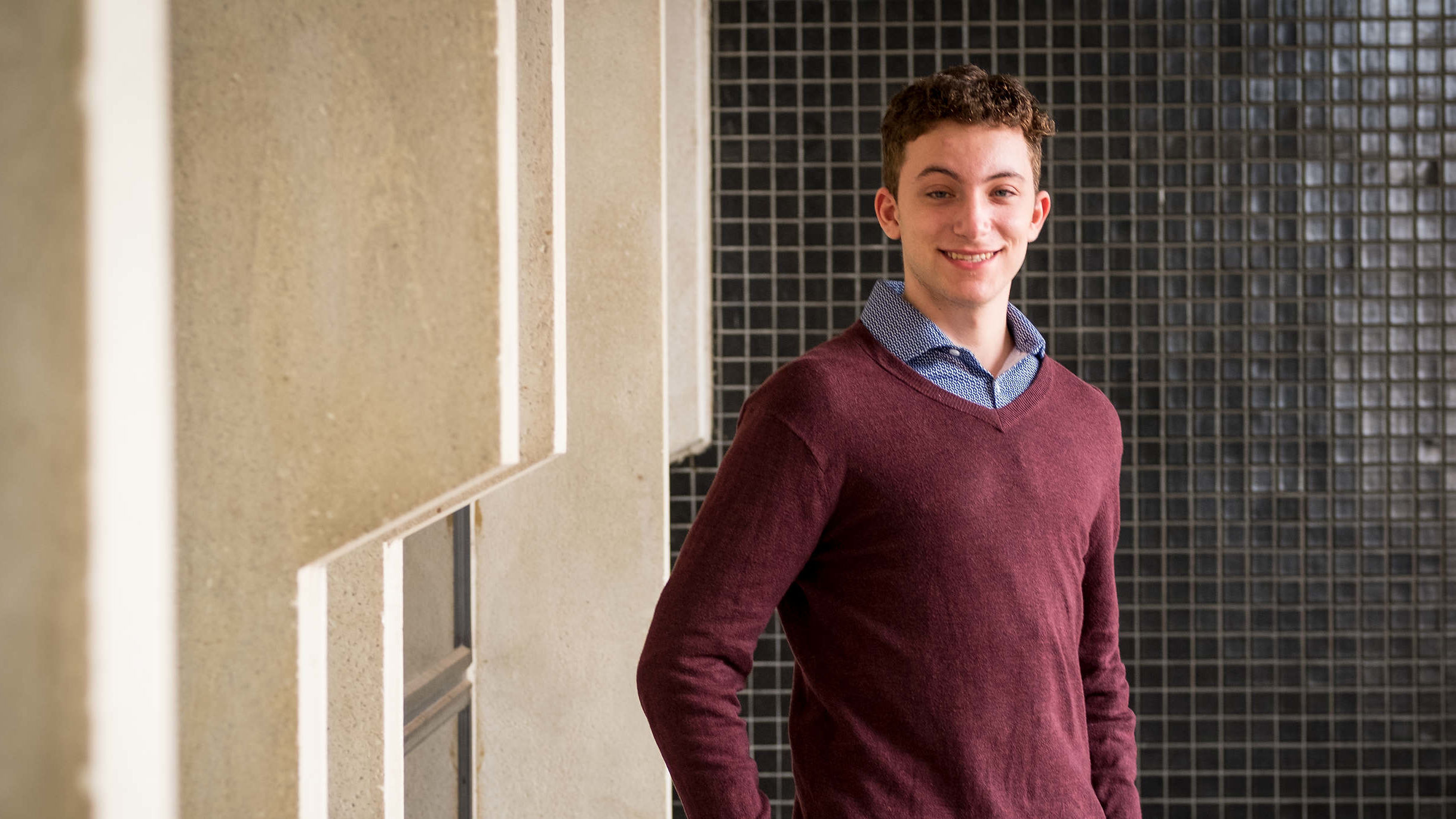 Scott Blender, Class of 2024, is getting a headstart on his professional future with help from Temple's Blackstone LaunchPad & Techstars network. As a high school senior, Blender co-founded the Coronavirus Visualization Team (CVT), a crowdsourced effort by students across the globe participating in research and data visualization. Their goal was to better understand and share information about the pandemic. And now the Penn Valley native is using the resources available through LaunchPad to move his company forward. 
Last fall, 200 students participated in events and programming organized by Blackstone LaunchPad & Techstars network, and this fall LaunchPad is offering 15 virtual events to engage even more students. The campus-based entrepreneurship program provides support and resources for students or alumni who see a problem in the world and set out to solve it.
It's a description that fits Blender perfectly.
When COVID-19 swept across the world in the spring, Blender wanted to do something to help. Speaking with friends that he met on the virtual chat platform Discord, Blender and the others brainstormed ways in which they could join the fight. 
"There's no easy, streamlined process for students to directly assist efforts on the front lines, or help to donate PPE," Blender explained. "So we wanted to create opportunities for students to get involved in the ongoing efforts in the fight against COVID-19, but also work toward solving a legitimate problem that was out there that the coronavirus presented to the general public."
[tu_social_embed_instagram:tu_social_embed_instagram_url:0:value]
The problem they landed on: the "infodemic," a term they use to describe the widespread flood of information and misinformation that grew alongside the virus. 
"There was just a ton of information and some of it was clear, some of it was unclear, and it made it hard to draw really clear, concise conclusions," Blender said.
Blender and the other co-founders—two high school seniors, two first-year Harvard students, and one recent Emory graduate—realized they could use their mutual interest in statistics and data science to help solve the infodemic. 
[tu_social_embed_instagram:tu_social_embed_instagram_url:1:value]
They founded CVT at the beginning of April to better tell the story of the effects of COVID-19 using dynamic visuals, like color-coded maps, to present data. Two weeks after founding, they accepted applications for new team members. Within days, they had 110 members. Now, the team is up to 500 active members from 20 time zones and is still growing.
The team, comprised primarily of students from around the world, works on a broad range of data, creating visualizations for everything from how various factors, including climate change, socio-economic status and race, interact with COVID-19 rates of infection and deaths. The team has also volunteered their time to help existing nonprofits improve their websites to increase donations, including the company Supply Crate, which received 350,000 articles of personal protective equipment with CVT's help.
[tu_social_embed_instagram:tu_social_embed_instagram_url:2:value]
Blender is excited to continue his work at CVT as he starts his first year at Temple, a school he chose in part for its innovative resources like LaunchPad, part of the Office of the Vice President for Research.
"Scott is an incredible example of a student entering college, ready to roll up his sleeves and make an impact," said Kate Cassidy, program manager of Temple's LaunchPad. "His utilization of the resources at the Blackstone LaunchPad & Techstars, even before his first semester, is a testament to his tenacity and drive. Also, the fact that the CVT is a joint effort across universities underscores the value we place on collaboration and teamwork." 
With the support of LaunchPad and the flexibility of having online classes this fall, Blender will continue to work with CVT, though he and his co-founders are broadening the focus toward an incubation consultancy model to help students get involved with research opportunities around the world.
Over the summer alone, the CVT team connected 50 students with academic research opportunities at institutions such as Harvard and Georgia Tech. They've also created a network of 30 organizations with whom they've partnered to share data, research and technical support. Blender is particularly proud of his teams' work helping GroundBreakers, a global community of civic innovators driving sustainable change in their communities, develop resource maps to visualize locations of testing sites, meal relief, unemployment support, homeless shelters and more. 
"We're a student organization, and we're focused on trying to make an impact," Blender said.
—Kate Cassidy