Posted
September 28, 2020
Tyler student designs city's new 'I Voted' sticker
An original work by Katie Fish, the sticker will be given to any voter who casts their ballot in a Philadelphia polling location.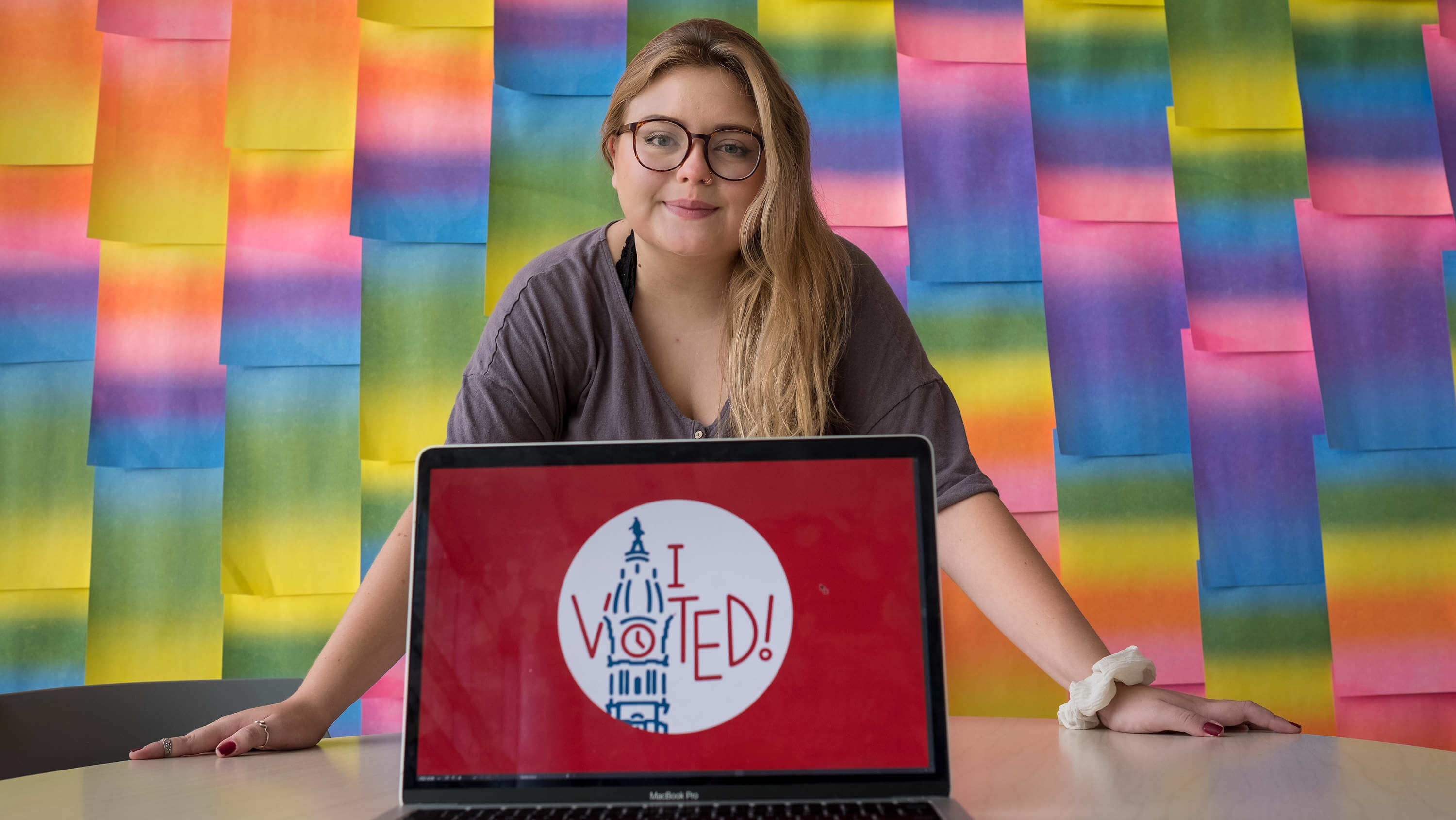 For one day in November, an original creation by Temple student Katie Fish, Class of 2021, could be the most visible piece of art in Philadelphia. It will be worn on lapels and sweatshirts, posted all over social media, and seen spread out on tables in election polling places.
A graphic and interactive design major at Tyler School of Art and Architecture, Fish designed Philadelphia's new "I Voted" sticker, which will be handed out to any registered voter who casts their ballot in person on Election Day, Nov. 3.
Earlier this year, Philadelphia City Commissioners, in partnership with the School District of Philadelphia, held a competition to redesign the city's "I Voted" sticker. Open to all Philadelphia residents, more than 150 local artists submitted their designs for the new election sticker. A team of judges whittled the submissions down to nine finalists, and public voting was opened online to select the winner. Voting ran from Feb. 13 to March 1. 
Fish's design garnered 18.48% of the vote.
"I was really surprised," said Fish. "I got the email that I was a finalist, and I got up and did a little happy dance. There are so many amazing designers in Philadelphia and so many amazing firms that I'll hopefully work at one day. As a student, I just didn't expect it."
Fish's winning design features a sketch of the Philadelphia City Hall clock tower, with the clock's face forming the "O" in the word "Voted."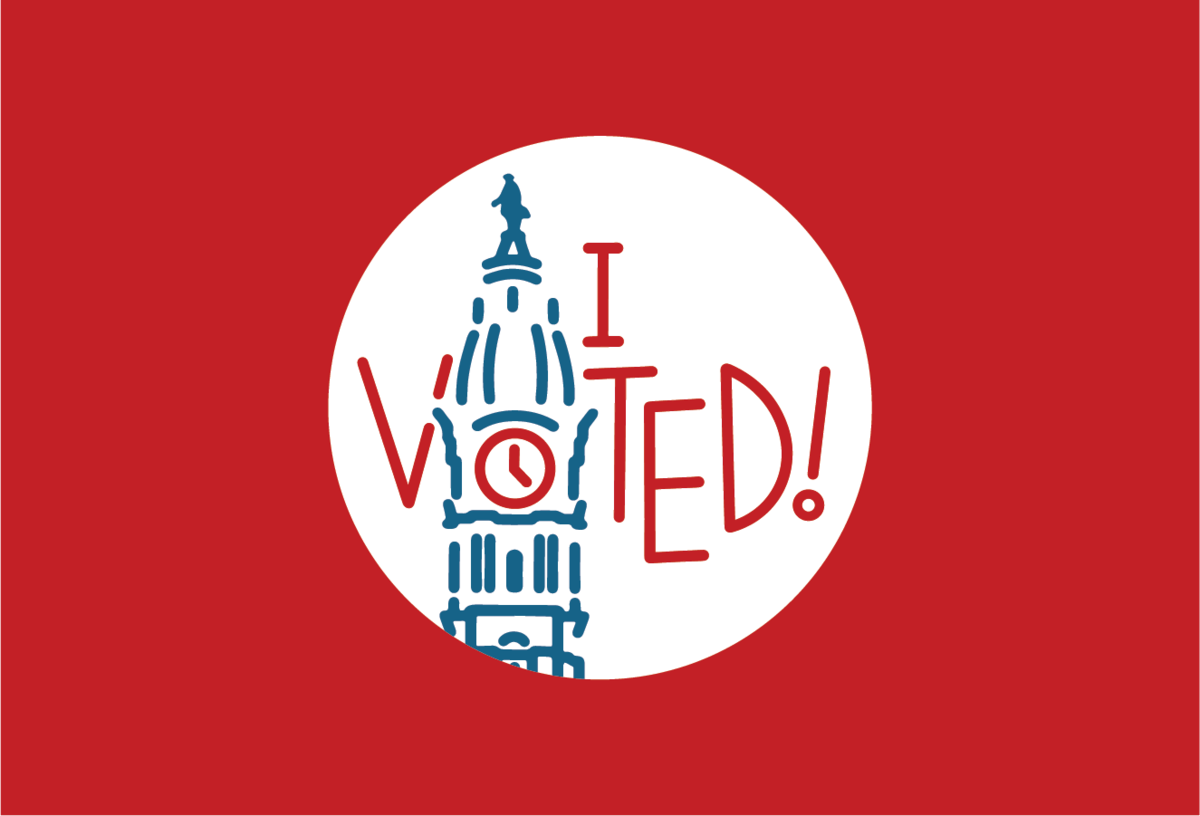 Fish's sticker is representative of Philadelphia. (Photo courtesy of Katie Fish)
"Katie's sticker is appealing because of the balance it strikes. It's about Philly, but it doesn't have the Liberty Bell, a pretzel, or Rocky [Balboa]. It's not too touristy," said Tyler professor Bryan Satalino, who urged the students in his Hatchery class to submit designs to the city's competition and art directed the project as those designs took shape.
Fish's sticker is "bold in style, but not blocky like the [city's] last sticker. It's also clever, but not hard to understand in that she uses the clock face as a typographic element. All of those combine to form a pretty memorable sticker," he added.
The Hatchery is an initiative within the graphic and interactive design major at Tyler. "Our goal is to provide real-world and entrepreneurial experiences for students to foster soft skills like design leadership, project management, client communication and presenting," Satalino said. "I try to set up classes where students are working directly with and for outside clients."
Fish developed several designs on a tight, two-week deadline, gaining inspiration by walking around the city with her parents, who were in town for the weekend. "We thought we'd go into the city, and throughout the day they helped me brainstorm ideas," she said.
After fully designing four different stickers, Fish selected the clock tower art based on feedback provided in Satalino's Hatchery class. The city's competition presented a unique opportunity for students to have their work widely seen and appreciated, the professor said. 
"It's easy to create in a bubble and have your work remain sheltered from the opinions of others, and that's often the case with student work," he said. But Fish's design will soon leave that bubble and become ubiquitous throughout the city—a fact she said "still feels very surreal." 
"It's just really exciting knowing that my sticker will be a part of such an important election. I've done freelance work before, but this is the first thing that will really be out there," she said. 
City commissioners are expected to formally vote on the new election sticker in October, with Fish in attendance. On the contest's website, commissioner Lisa Deeley said of Fish's sticker, "Katie's design is just what I was hoping for, a sticker that is both creative and uniquely Philly."
"I've learned so much since I came to Temple," said Fish, who grew up in Rhode Island. "I love it here. I feel like Philadelphia is really my home."