Temple Hillel unveils legacy plan in honor of professor
Temple's Hillel celebrates paying off the mortgage on its campus building and the naming of a library in honor of Professor Edward Newman, who dedicated his career to championing disability rights.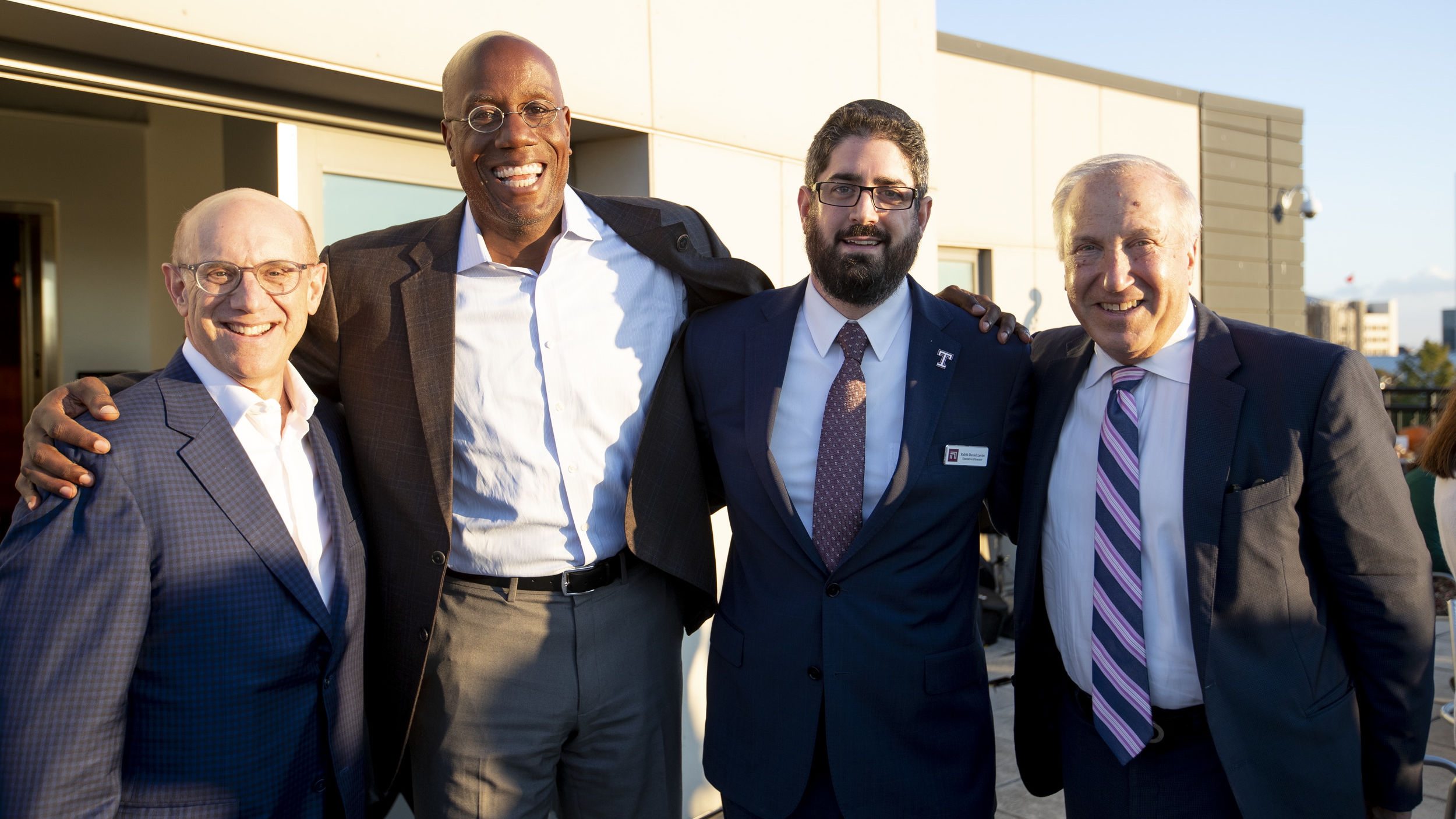 Temple Hillel unveiled a library named in honor of former Temple Professor Edward Newman and celebrated the successful retirement of The Rosen Center's mortgage at a reception on Nov. 1, 2022, attended by 75 people, including President Jason Wingard, Provost Gregory Mandel, Chair of the Board of Trustees Mitch Morgan, Vice President for Institutional Advancement Mary Burke and many of Newman's family members. 
Newman, a professor at Temple's School of Social Work for 39 years and champion of Jewish causes and disability rights, passed away at age 84 on Aug. 18, 2018. He directed Temple's Developmental Disabilities Center, now known as the Institute on Disabilities, from 1974 to 1991. The institute specializes in research to enhance services for the disability community. In the 1980s, Newman started and chaired a joint program between Temple and Haifa University that sponsored research projects and the training and exchange of experts in human development. He retired from Temple in 2013.  
Before coming to Temple, President Nixon appointed him commissioner of the Rehabilitation Services Administration in the Department of Health, Education and Welfare in 1969. His draft of the Vocational and Rehabilitation Act of 1973 passed the Senate and House of Representatives, but Nixon vetoed it and ordered Newman to testify against it. When he refused to testify, the comprehensive bill was signed into law on Sept. 26, 1973, as the Rehabilitation Act of 1973. Newman lost his position for his refusal and holds a place in history as a disability rights champion.  
Unveiled at Tuesday evening's reception was a three-part legacy program that will include the following components. 
A library named for Professor Newman to communicate his deep rootedness in Jewish tradition.  

A "book of the year" initiative, symbolic of Newman's desire to pass along the Jewish tradition to younger generations.  

Two annual lectures encompassing the universalist values Newman embodied. One lecture will be focused on Jewish values as they relate to caring for the disenfranchised (which may include a partnership with the Institute on Disabilities), and the other will be focused on advocacy for Jewish rights. 
The reception also celebrated the retirement of The Rosen Center's mortgage. Located near the corner of 15th and Norris streets, The Rosen Center is a place where students can study, eat lunch and dinner on weekdays in the Kosher delicatessen, participate in programs, and consult with Hillel staff. The organization has been active at Temple since the 1940s and offers programming such as Owls for Israel, Shabbat dinners, Jewish holiday celebrations, Jewish education, tzedek (social justice), and social and wellness events.   
"Retiring our mortgage is a milestone that gives a sense of permanence and progress to this organization," said Rabbi Daniel Levitt, executive director of Temple Hillel. "When I started my tenure in 2014, our mortgage was a true albatross. It limited how broadly we could think and dream. Now that we no longer have a mortgage, we are one step closer to achieving financial freedom. As less and less of our budget is directed to overhead, more can be directed to students—allowing us to better focus on the needs of our students."  
Temple Hillel recently completed a yearlong strategic planning process focused on supporting students. Seeing a continued need for student wellness resources and support in developing their leadership skills, Levitt hopes to position Hillel as a more significant resource to the Temple community.  
During the coronavirus pandemic, Levitt noticed a marked increase in the number of students experiencing mental health issues. In response, he now offers counseling to Jewish and non-Jewish students and Hillel staff invests more resources into building one-on-one relationships with students.   
Temple Hillel is also committed to combating antisemitism as part of Temple's larger mission to address antisemitism. The university recently formed a Blue Ribbon Commission on Antisemitism, which coincided with a visit to Israel and the Middle East by Wingard, Levitt and a presidential delegation this past summer. The commission, which Levitt serves on, is designed as a model for peer institutions. 
To fight antisemitism on social media, Levitt has doubled down on educating the public on the Jewish people's history of persecution and how antisemitism manifests in media and culture. He encourages the Temple community to express allyship—in person and on social media—and to check in with their Jewish friends.  
"It is important to us that students know that they can come to Hillel to be a participant. They can grab a bagel at our weekly bagel brunches, learn about Jewish heritage through our fellowship programs, and take part in Friday night Shabbat dinners. They can find a supportive mentor here," Levitt said. "In that way, Hillel truly can be a Jewish home away from home for our students." 
For more information on Temple Hillel, visit hillelattemple.org. 
- Emily Sabalbaro