Temple student wins $20,000 McDonald's USA award to fund community mission
Andrew Ankamah, a political science major, is the founder and director of The Accountability Initiative, which advocates for gun violence awareness and reducing racism and discrimination in schools.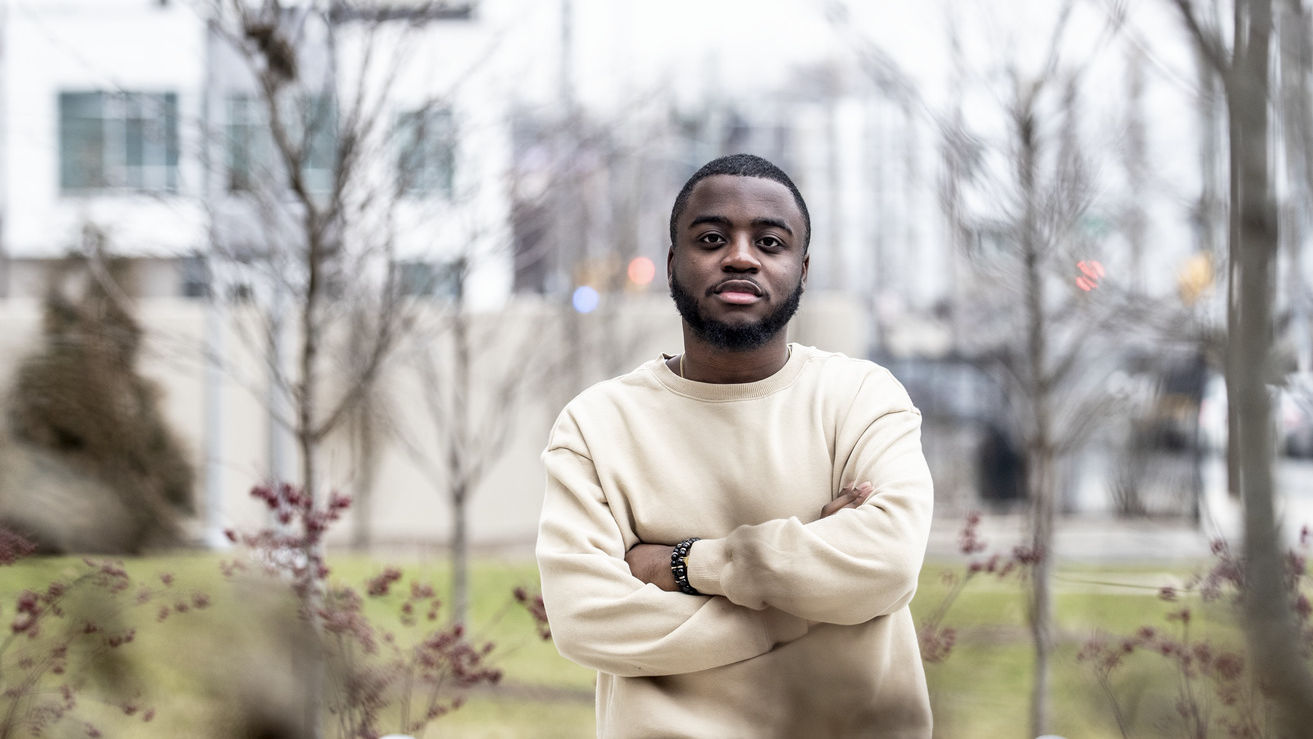 Temple University student Andrew Ankamah, Class of 2023, has paved the road to remarkable changes in his communities. On Feb. 9, he was announced as one of the McDonald's 2023 Black and Positively Golden Change Leaders—a collective of 10 young Black leaders who inspire and enact change in their communities. Each recipient will receive a $20,000 grant towards their community missions and will be featured in a national advertising campaign featuring actress and singer Keke Palmer.
Ankamah is of Ghanaian descent and was born in Philadelphia and raised in North Brunswick, New Jersey. His parents immigrated from Ghana to the United States in the 1990s. 
After high school, he founded The Accountability Initiative (TAI) in response to racial incidents that occurred in his school district.
"I felt empowered to create an organization that combats racism and other forms of discrimination in educational institutions. We wanted student voices to be amplified to school and district administrators because we felt like we weren't being heard," he said. "I took immediate action because no one should have to go to school worried about being discriminated against."
His organization collaborated with the school district's officials to ultimately resolve the issues. TAI has been committed to reducing racism and discrimination in schools, promoting diversity in education and raising awareness of gun violence in communities. 
"I am an activist for young people who amplifies the voices and concerns of people growing up around social injustice and violence," said Ankamah, a senior political science major. "I bring concerns of the community to the forefront and make positive changes that bring students and residents together."
Ankamah brought TAI to Temple in October 2022, when he formed the university's official chapter of the organization. It works to address issues on Temple's campus and in the city of Philadelphia while bridging the gap between students and residents in the North Philadelphia community.
The group's first protest against gun violence at Temple came in December 2021 when students and community members met at the Bell Tower to discuss ideas to combat issues of gun violence.  
Then, last year, the Temple chapter participated in a community anti-gun violence rally with Temple's branch of the NAACP and a Halloween event hosted by Temple's Black Law Student Association to provide North Philadelphia's youth a safe alternative to trick-or-treating. The chapter was also involved in a 2022 midterm election event hosted by the Philadelphia Mayor's Office of Youth Engagement, which held a panel discussion on the importance of voting and provided resource tables for the community.
This year, the chapter is launching the #100StoriesCampaign, which gathers 100 stories of individuals affected by gun violence in Philadelphia. The goal is to raise gun violence awareness in the community to create a change that can help reduce the issue.  
"We aim to share these stories on social media and other platforms that we can present to current and prospective city leaders," Ankamah said. 
Ankamah is part of the PHL Youth Commission, where he is a representative that speaks on behalf of Temple students' concerns like gun violence to city officials in Philadelphia. 
"I have voiced that students come from all different parts of the country and the world to get an education at Temple and should not be worried about gun violence. The accessibility of guns and weapons should be reduced, especially for young people. I hope for more collaboration among organizations citywide to address the issue of gun violence," he said. 
"Some may feel they cannot solve a problem without picking up a gun, so I think having mental health and conflict resolution resources should be in every school. The first step is meeting people and listening to where they're at to help them find a solution." 
He encourages Temple students interested in helping to get involved in community service. He said it is vital for all students to be good neighbors.
"Students need to treat the community with respect like their own and not do things like dumping trash in the streets. Issues in the community are also our problems," he said."I want to show that Temple cares about the surrounding community and has active members who are involved in helping the North Philadelphia community." 
Interested in learning more about the work Temple University does in the North Philadelphia community? Here's a list of our recent community engagement stories.