Temple hosts City Council rowing camp for community youth
A summer youth rowing camp, sponsored by Temple University and Council Rep. Curtis Jones and run by the Temple men's crew team and Temple women's rowing gives urban children the experience of rowing.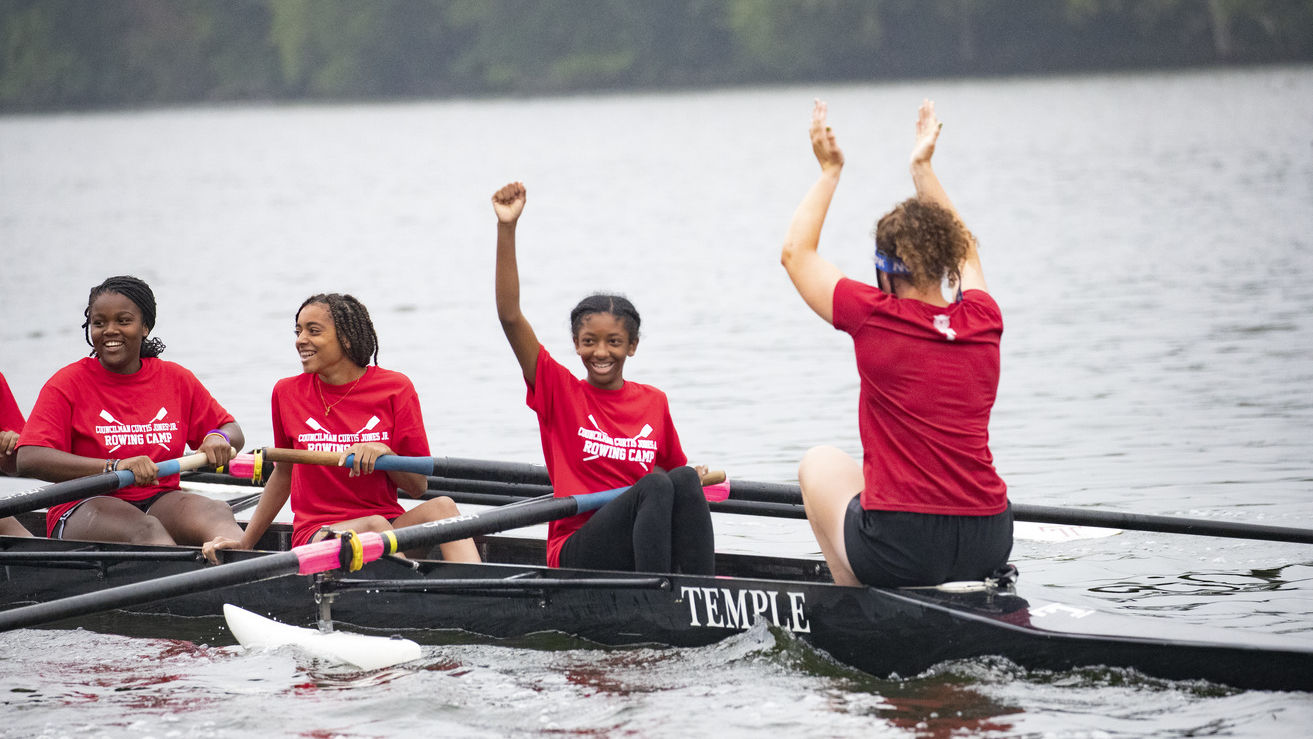 Earlier this month, sixth through eighth graders who live in Philadelphia had the unique experience to row on the Schuylkill River as part of a free youth rowing camp that is sponsored by Philadelphia City Council Rep. Curtis Jones Jr. and run by Temple University's men's crew and women's rowing teams at Boathouse Row. 
The camp started with a tour of Temple's Main Campus, a visit to the university's athletic facilities, and lunch at Johnson and Hardwick Halls. For the rest of the week, they were brought down to Temple's Schuylkill River boathouse and given basic instructions on rowing before getting out on the water. 
Jones said many young people from urban communities do not have the chance to tour a college campus, so his goal with this program, which started in 2017, is to introduce students to the many educational pathways available to them. 
"As a city council member, I have been exposed to the beautiful world on the river and saw how transformative the view of Philadelphia from a boat can be, so I wanted to make sure that our youth could experience that, too," Jones said. "This camp allows urban children to participate in a nontraditional sport coached by great Temple University coaches and also tour the campus. It is truly a once-in-a-lifetime experience."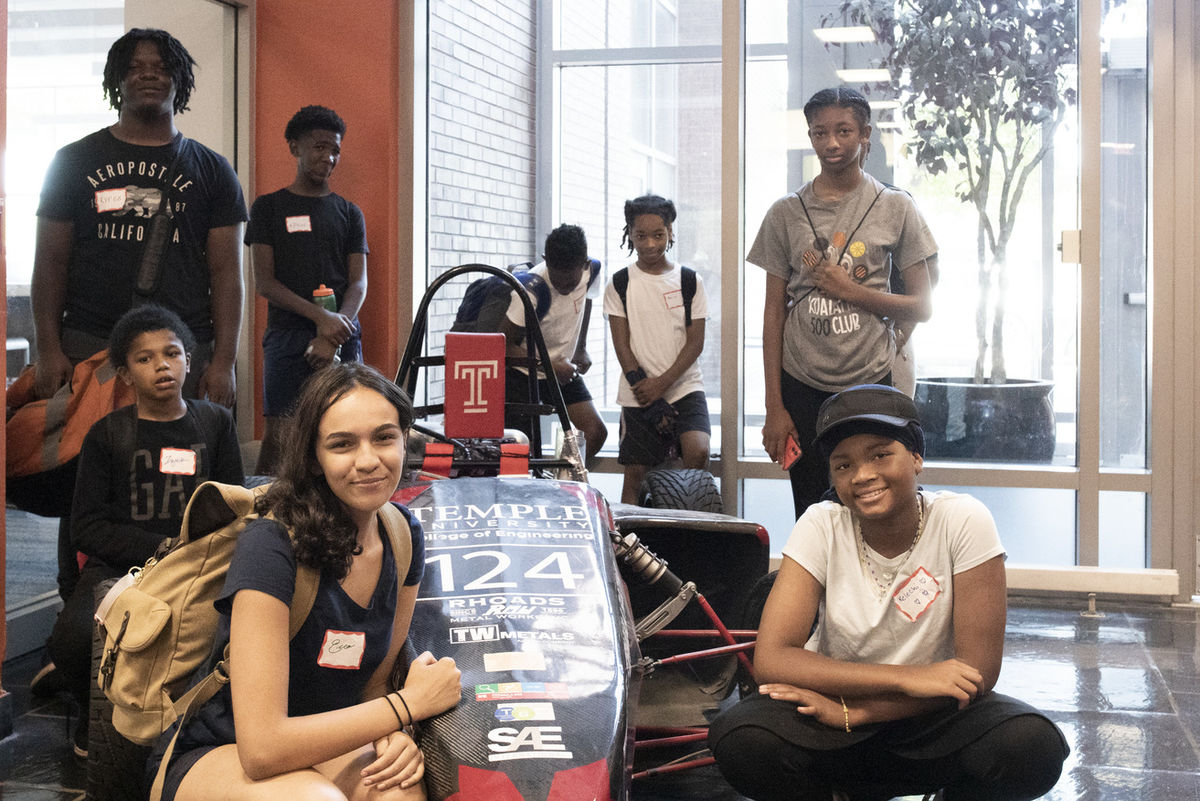 To kick off Council Rep. Curtis Jones' youth rowing camp, the children toured Temple University's Main Campus on Monday, July 31, 2023. (Photography by Ryan S. Brandenberg)  
While Jones is proud of the camp, he is equally competitive when it comes to winning the annual boat race between the campers and City Council members, which took place Friday, Aug. 4, the last day of the camp.  
"The first year we jumped on a boat with City Council members, we lost to the campers, and it was not even close. We could hear them chuckling as they sped away," Jones laughed. "So, we took it more seriously this season."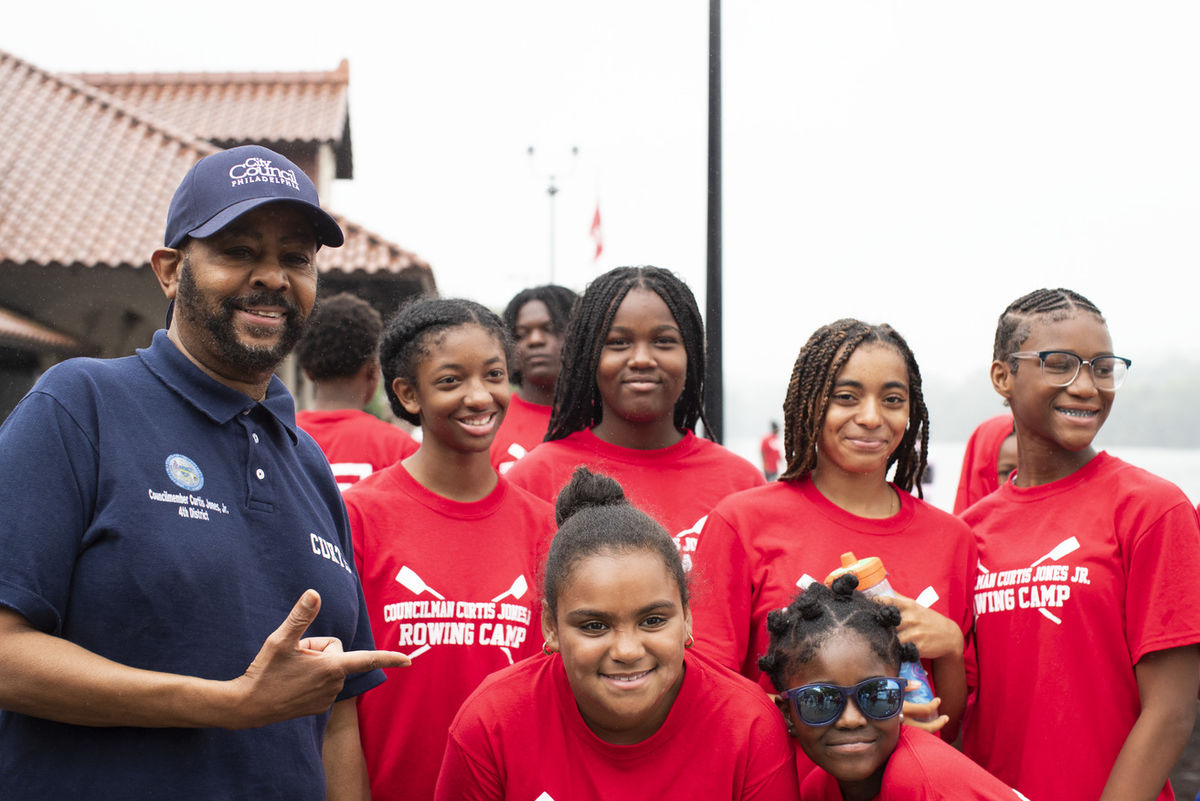 Council Rep. Curtis Jones represents the 4th District of Philadelphia, which includes Allegheny West, Belmont Village, East Falls, Manayunk, Overbrook, Overbrook Park, Roxborough, Wynnefield and sections of West Philadelphia. (Photography by Ryan S. Brandenberg) 
One of this year's campers said the rowing camp experience taught them the importance of teamwork and building relationships.  
"You must be in sync with your entire team when rowing, so I learned a lot about teamwork. I enjoyed making new friends and befriending some of the counselors," said one camper, who is about to enter eighth grade at St. Malachy Catholic School in North Philadelphia.  
"My older sister was the first one to get into rowing, so if I do it too, it could help me get a scholarship into college," they added. "I am grateful to learn how to row from a college crew team." 
One of the counselors in the camp was Grace Dulin, a junior on the women's rowing team. The Maryville, Tennessee, native said it was exciting to see the growth within the children throughout their time at the camp. 
"Rowing made it possible for me to attend Temple from out of state, so I really enjoy teaching younger children how to row. It has changed my life," said Dulin, who is majoring in political science and minoring in global studies. "At first, a lot of the children were hesitant about getting in the water, but by the end, most were super excited to race. It was fun to see them gain that comfort with rowing and see how competitive they got about racing. The Schuylkill is a wonderful place to row." 
Jones said he hopes to expand the camp's outreach to more children throughout Philadelphia in future years. 
"From top to bottom, this is such a positive program as the race benefits Temple, City Council and the young people in our community," Jones said. "I hope the race continues to be an institution where we see more and more young people coming out to take part in it year after year."