Temple celebrates a Community Appreciation Night for students and North Philadelphia youth
At Temple's Community Appreciation Night, students and community members viewed Hustle and met special guests.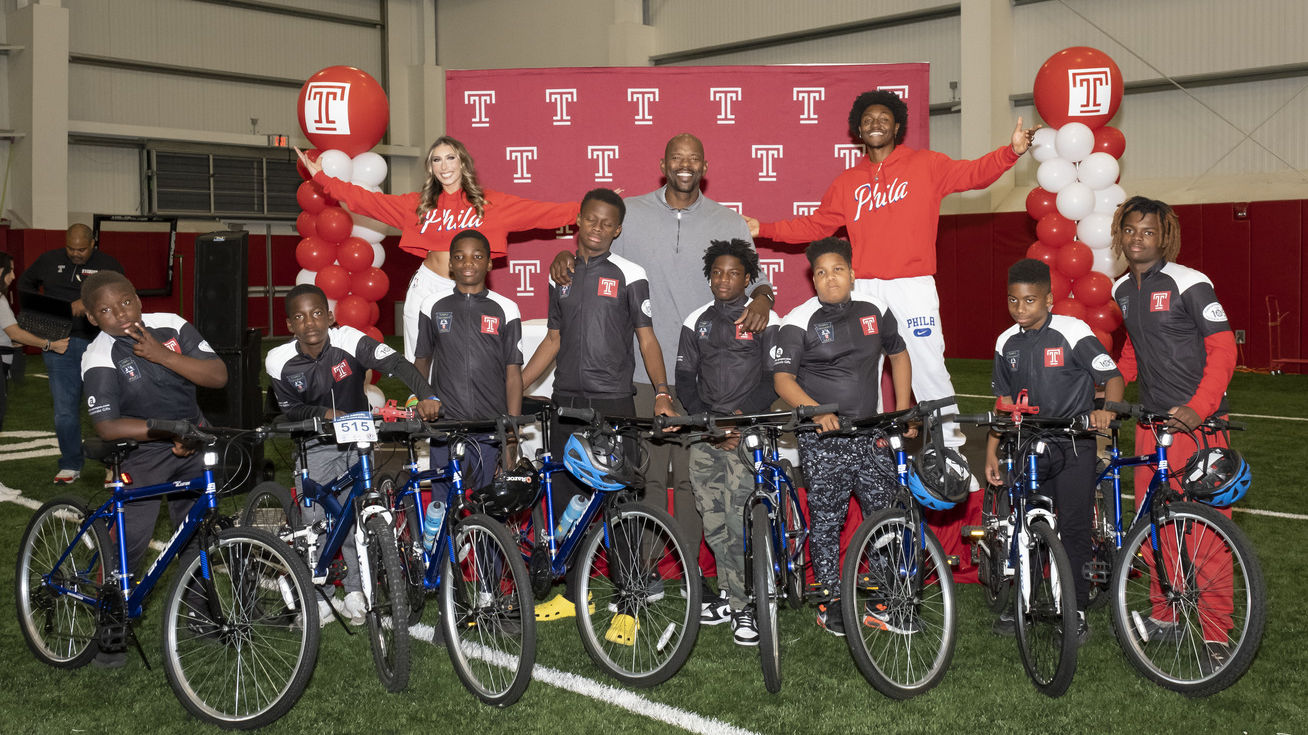 On Friday, Sept. 30, Temple University hosted a Community Appreciation Night for students and youth in the North Philadelphia community at the Aramark STAR (Student Training and Recreation) Complex. The event featured a screening of Hustle, the new feature film starring Adam Sandler and featuring numerous references to Temple, along with games, music, prizes and snacks. 
Former Temple Owls basketball star and NBA player Marc Jackson, FOX '97, the Temple Owls men's and women's basketball teams, and members of the Philadelphia 76ers dance team were also in attendance for a meet and greet. 
Jackson, a North Philadelphia native who now works as a 76ers basketball analyst for NBC Sports Philadelphia, regarded the event as an opportunity to give back to the community he came from. "Many children in the urban communities get left behind, so it's important that Temple brings people together where kids have the resources to meet people from outside of the area who can inspire them," said Jackson.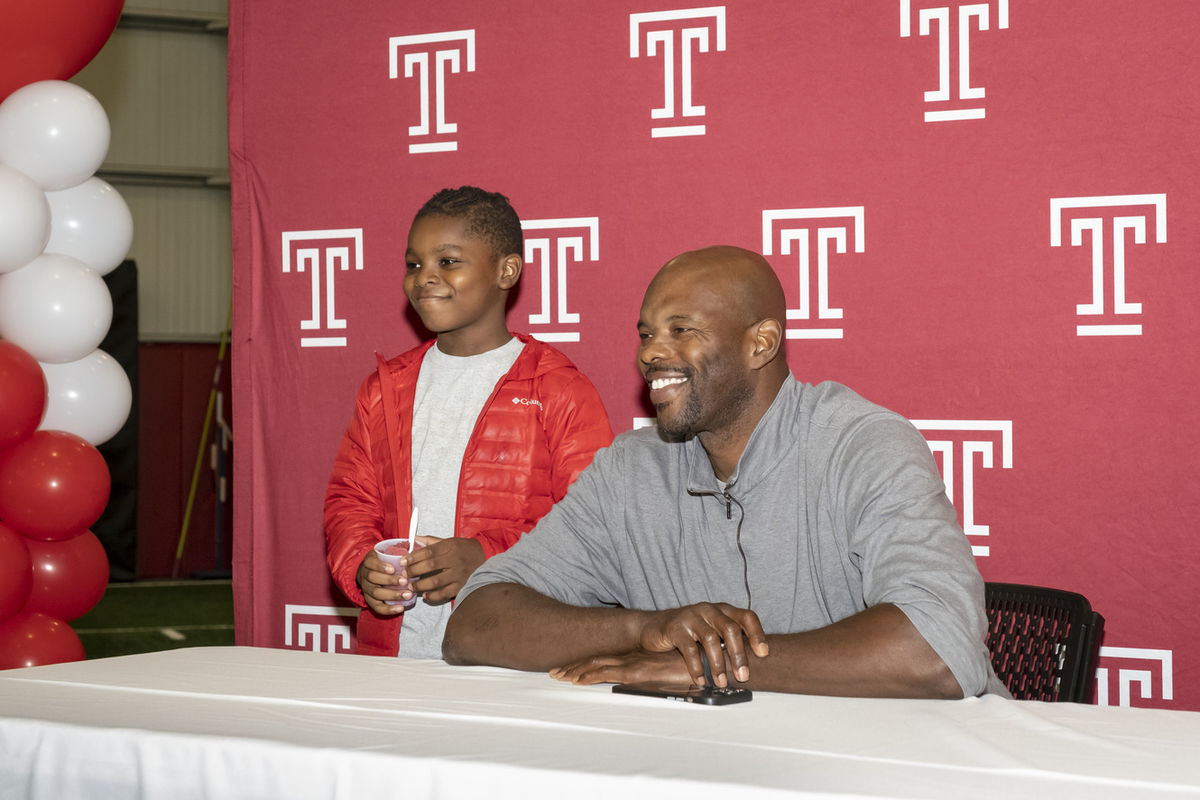 Marc Jackson, a Temple alum and native of Philadelphia, met with North Philadelphia kids during the community night event at the Aramark STAR Complex. (Photo by Joseph V. Labolito)  
The event also celebrated the youth on the Urban Bike Team, a bike mentorship program for North Philadelphia students aged 10 to 14 that is supervised by Temple police officers. Monica Hankins-Padilla, director of external relations for Campus Safety Services and founder of the Urban Bike Team, said the community event gave students and North Philadelphia families a chance to get together in a safe space for entertainment and socialization. 
"Our kids need to know that people care about them outside their known communities. It's our responsibility to help them be as safe and successful as possible. Our youth need our support and they need our love," said Hankins-Padilla. 
Temple Police Officer Leroy Wimberly, Urban Bike Team mentor and community bike safety educator, said, "it's about getting our youth to understand that it takes a village and teamwork to raise a kid. It is about building positive relationships and friendships, so it is a feel-good thing to have this community event and see our youth grow."
Monica Hankins-Padilla, director of external relations for Campus Safety Services, created Temple's Urban Bike Team to teach bike safety to urban youth living in North Philly. (Photo by Joseph V. Labolito) 
Hysier Miller, Class of 2025, a guard on the Temple men's basketball team who is majoring in business at the Fox School of Business, said that as a Philadelphia native, he could relate to the youth at the event. 
"I have been in the same shoes as these kids when I was their age, so as a college student-athlete I wanted to be around them in person because it was a great opportunity for me to give back and have a good time with them," said Miller. "Athletes have a voice, and if we can be more connected to youth in the community then we can help them achieve their goal."
Jalynn Holmes, a graduate student and guard on the Temple women's basketball team who is studying communication management at the Lew Klein College of Media and Communication, takes pride in participating in community events. 
"Part of wearing a Temple shirt across your chest is supporting the city of Philadelphia, learning about your community, interacting with them and giving back," she said.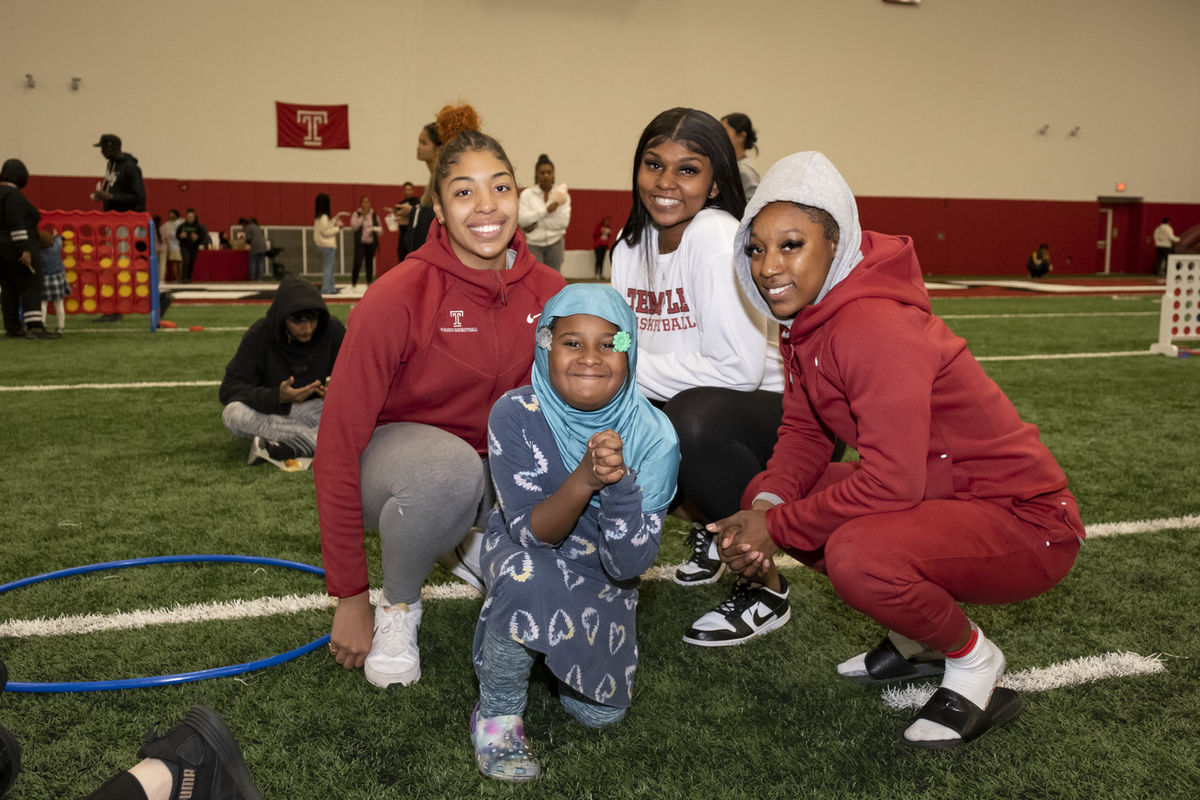 The Temple women's basketball team, who appeared at the community night, are entering the 2022–2023 season under Diane Richardson, who was named head coach of the Owls in April. (Photo by Joseph V. Labolito)