accolade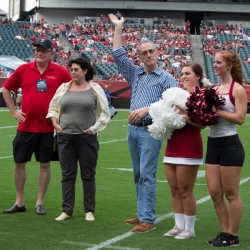 Three new faculty members who have arrived at Temple University within the last year were recognized at the Temple vs. Navy home game on Sept. 6.
Among them was David Boardman, who joined Temple as dean of the School of Media and Communication. Since coming to Temple, Boardman has been involved in the development of the school's first strategic plan in nearly a decade; done extensive outreach to alumni and industry; and secured a $1 million gift that will enhance the facilities of Temple University Television.
Michael Klein, dean of the College of Science and Technology (CST) and director of the Institute for Computational Molecular Science, was recognized for recruiting some of the top scholars in the world to join Temple at CST and the Science Education and Research Center.
Lastly, Laura Siminoff, dean of the College of Public Health (CPH) and Laura H. Carnell Professor of Public Health, was recognized for her role in reorganizing the administrative structure of the college to better serve students, faculty and staff and for moving the CPH leadership team to Main Campus.