accolade
Posted Mar 18, 2013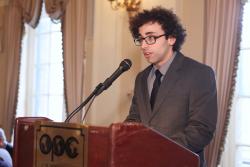 Jad Sleiman is the first Temple University student to win a prestigious Overseas Press Club Foundation Scholarship. He received the $2,000 award at the Foundation's 2013 Annual Scholarship Luncheon held at the Yale Club in New York City.
The School of Media and Communication student was among 14 aspiring foreign correspondents selected by a panel of leading journalists from a pool of 165 applicants from 72 different colleges and universities. In his winning essay, the former Marine Corps correspondent wrote about watching a group of Marines training Ugandan soldiers to face extremism in East Africa, and the young Ugandans' surprising resiliency.
Sleiman was the recipient of the David Schweisberg Scholarship, named for the former United Press International foreign correspondent whose dispatches from Tiananmen Square uprising in 1989 were read and heard around the world.
The scholarship winners were honored with a reception at Reuters the night before the luncheon and toured The Associated Press headquarters in New York City. They also met with the page one editor of the Wall Street Journal and the executive editor of GlobalPost.
The OPC Foundation is the nation's largest and most visible scholarship program encouraging aspiring journalists to pursue careers as foreign correspondents. Media organizations at the luncheon included AP, Bloomberg, CBS News, Reuters, and the Scripps Howard Foundation.