announcement
Posted May 3, 2010 -- webcomm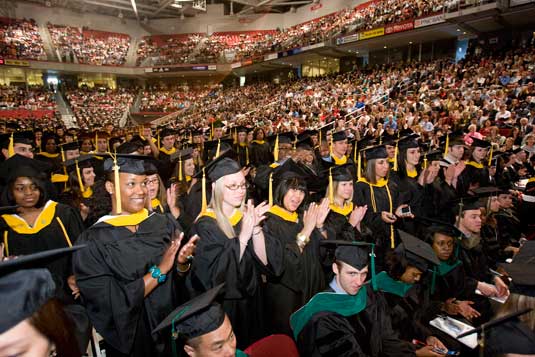 Joseph V. Labolito / Temple University
Temple's 2009 graduates celebrate their achievement.
As classes conclude, members of the Temple community are looking forward to the 123rd annual Commencement exercises, which will take place Thursday, May 13 at 10 a.m. in the Liacouras
Center.
Students who completed their course work in August 2009, January 2010, or will complete it
in May 2010, will take part in the ceremony. A few things to remember as the big day approaches:
Students who were awarded extra tickets to the ceremony must pick them up in their school or college's advising office by noon on May 4. Tickets that are not picked up may be redistributed.


Diplomas will be mailed once fulfillment of degree requirements has been confirmed. To view or change your mailing address, contact the Registrar's office.


Yearbooks can be picked up from your school or college.


All outstanding balances (including library and parking fees) must be paid.


Students who received financial aid may complete their Exit Loan Counseling, which aims to help students better understand their finances and how to plan for repayment of loans.


Students who wish to take part in the Class Pride Campaign by making a monetary gift to
Temple may do so through myowlspace. Those who donate $20.10 or more will receive a
free, limited edition Class Pride 2010 t-shirt designed by senior Brittany Walsh. All donations will
be matched by the Harvey Goodstein Challenge Grant.


For complete information about commencement activities, visit temple.edu/commencement.