Jim Cawley to lead Temple's fundraising and alumni operations
Jim Cawley, CLA '91, LAW '94, a former Pennsylvania lieutenant governor, most recently served as president and CEO of United Way of Greater Philadelphia and Southern New Jersey.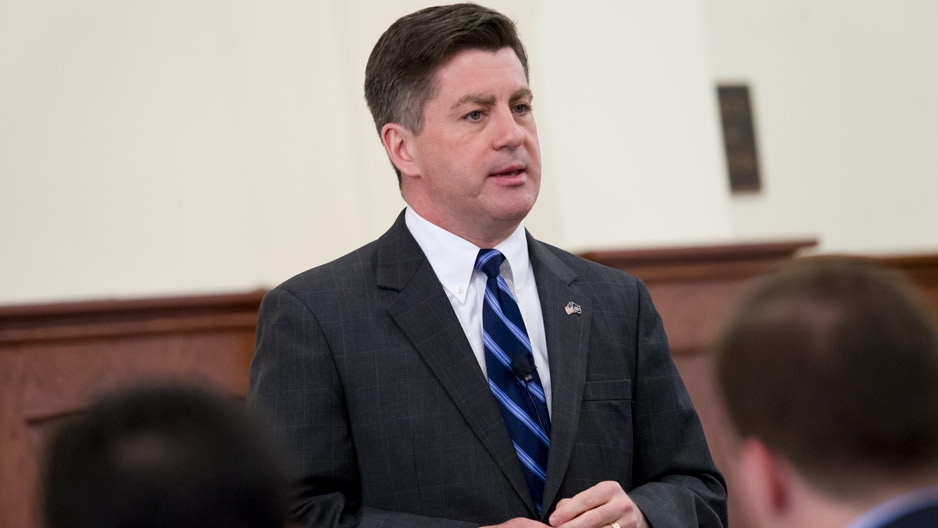 Jim Cawley, former Pennsylvania lieutenant governor and president and CEO of United Way of Greater Philadelphia and Southern New Jersey, has been nominated as vice president of Institutional Advancement. Cawley's nomination was announced today by President Richard M. Englert.

Cawley, who has both an undergraduate degree in political science and a law degree from Temple, will direct the university's fundraising and alumni relations operations. In recent years, the university has repeatedly broken previous year records for fundraising, aided by the generosity of its nearly 320,000 alumni.

"Jim Cawley is exactly the right person for this vital role," said the president. "He has a deep experience with Temple, as both a student and as a member of the Temple University Board of Trustees."

"Add to this his experience in fundraising as an elected official and with United Way of Greater Philadelphia and Southern New Jersey, and it's clear he brings the right mix of experience. Most important, he has a proven track record in making a case that encourages people to support a worthy enterprise like Temple University," Englert explained.

Board of Trustees Chair Patrick J. O'Connor echoed Englert's enthusiasm for Cawley's appointment.

"Private support for Temple University is vitally important so we can continue the momentum that has made this university one of the great public urban research universities in this nation," said O'Connor. "Jim Cawley is committed to do everything he can to ensure we remain affordable, accessible, diverse and high quality."

Cawley said he was thrilled to start his new role.

"I have always been drawn to Temple's mission to provide an excellent education to students who come from all walks of life," Cawley said. "I can think of no finer role than raising the funds that will keep Temple affordable, and provide students with the resources they need to thrive."

Reflecting on his experience as an undergraduate student, law school student and trustee, Cawley said, "Being part of the leadership team at Temple is just overwhelming. It's like coming home."

In pointing to his credentials for the role, Englert noted Cawley has the background to hit the ground running.

"Jim is a Temple success story and can make a powerful case for why Temple deserves broad support. He knows the quality of our faculty, the value of our research and what it's like to a proud Temple Owl," said Englert.

"If you couple that with the insight he gained as a member of the Board of Trustees, you will see he is uniquely positioned to get right to work and energize our alumni and fundraising efforts," Englert explained.

A native of Levittown, Pa., Cawley graduated from Bishop Egan High School in Bristol Township, Bucks County. At Temple, he graduated cum laude with a bachelor's degree in political science in 1991 and a law degree from the Beasley School of Law in 1994.  

Cawley was appointed to the Bucks County Board of Commissioners following the resignation of Mike Fitzpatrick, who had been elected to Congress. He won re-election to the commissioner's seat in 2007.

In 2010, he ran for the state lieutenant governor and won the Republican primary in a crowded nine-candidate field. He served as the state's lieutenant governor through 2014. After completing his term as lieutenant governor, he joined United Way of Greater Philadelphia and Southern New Jersey in February 2015.

He lives in Wrightstown, Bucks County, with his wife Suzanne and their son Nick.

Cawley's nomination will be voted on by the Board of Trustees in September. He will leave the Board of Trustees when he joins the Temple leadership team.