Tyler dedicates studio, scholarship in memory of 1973 graduate
Family and friends of painter Rhoda Psaty Holzer made a gift in her memory to the Tyler School of Art, dedicating a painting studio in her name and funding a $5,000 annual scholarship for painting students.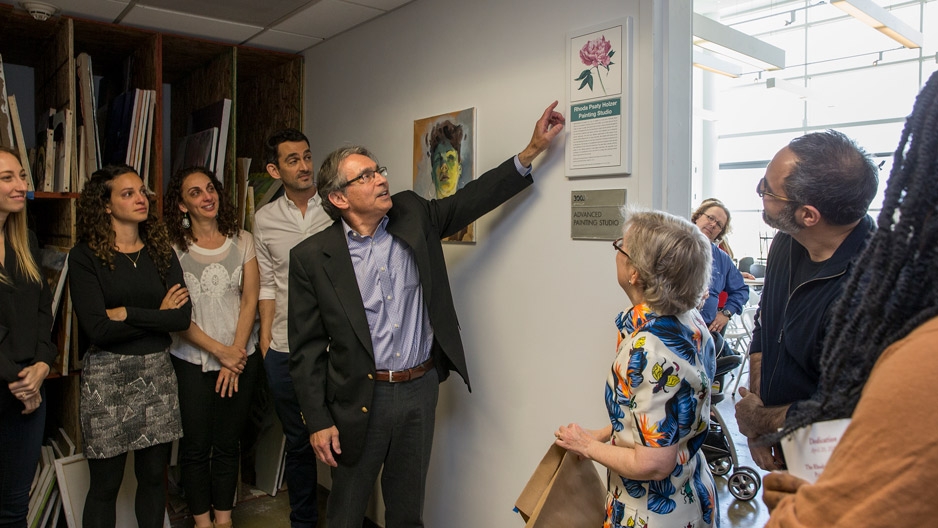 No matter where she and her family went or what was going on in life, Rhoda Psaty Holzer always kept a studio in her home, where she would steal moments to nurture her passion: painting.
So after she passed away in August, the 1973 Tyler School of Art graduate's family and friends thought there would be no better way to honor her memory than to name a painting studio for her.
On April 20, dozens of Psaty Holzer's family members and friends joined Tyler administrators, faculty and students to officially dedicate the Rhoda Psaty Holzer Painting Studio, and to establish the Rhoda Psaty Holzer Memorial Painting Scholarship Fund.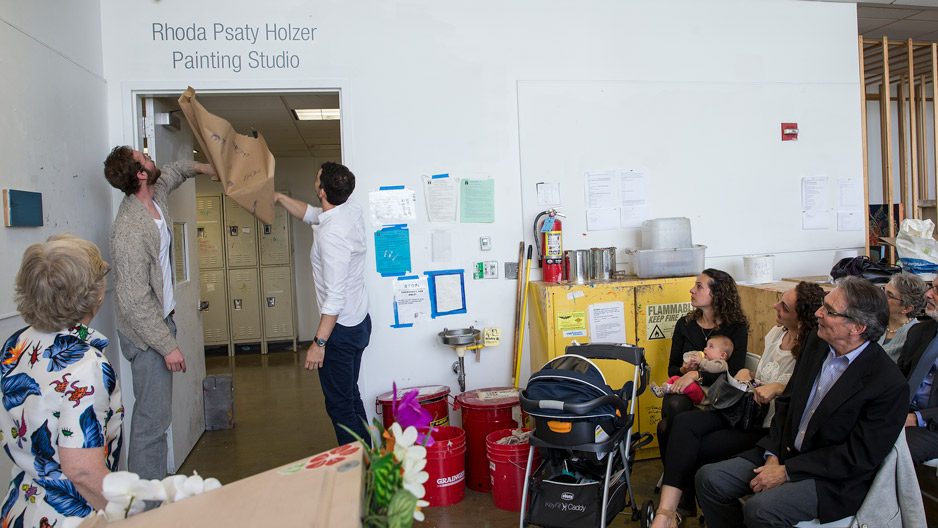 Rhoda Psaty Holzer's son, Craig Holzer (right), helps to unveil a sign inside the newly dedicated Rhoda Psaty Holzer Painting Studio at the Tyler School of Art.
"She loved her time at Tyler," said Psaty Holzer's husband, Stuart Holzer, whom she met in her junior year and married in 1973, not long after graduating with her bachelor of fine arts in painting.
The gift made to Tyler in Psaty Holzer's memory, funded in part by her husband and the couple's three children, along with family friends through the Jay and Jill Bernstein Family Foundation, will provide a $5,000 scholarship for a painting student each year.
"It's a beautiful tribute to her that truly captures a part of her that's essential to who she was," Stuart Holzer said as he stood outside the sun-filled painting studio dedicated for his wife, which bears a wall of windows that face north. A print of one of Psaty Holzer's botanical watercolor paintings hangs outside the studio with the plaque that bears her name.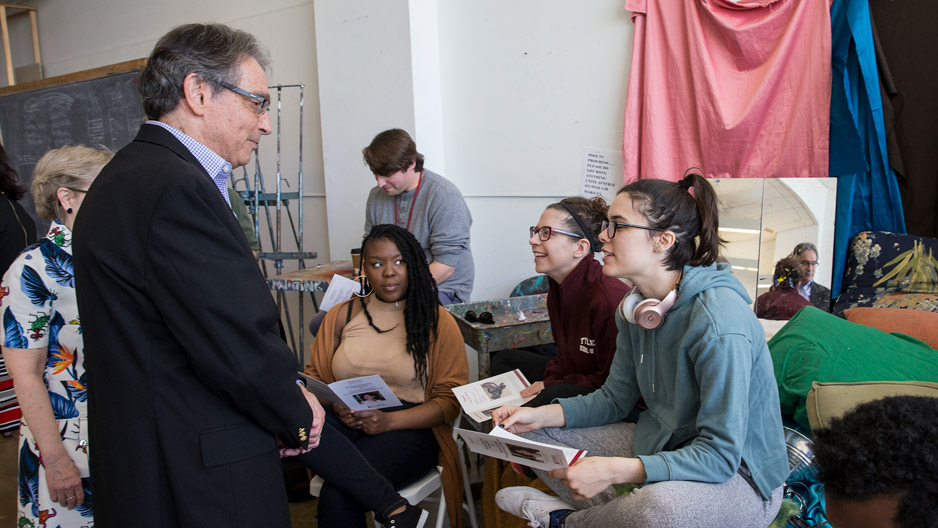 Stuart Holzer talks with Tyler students before the dedication. 
Psaty Holzer continued to develop as an artist after leaving Tyler, and in 2002, she earned a certificate in botanical illustration from the New York Botanical Garden, where she also taught.
Her family said they hoped to encourage that spirit of creating in students through the scholarship fund and studio.
"She would be so thrilled to know that she is contributing to the growth of young artists," Psaty Holzer's son, Craig Holzer, said.
In attendance at the dedication was Debra Polen, TYL '73, Psaty Holzer's roommate at Tyler, who became her lifelong friend. Polen brought with her a letter Psaty Holzer sent her in 1969, when the two learned they'd be roommates at Tyler's former campus in Elkins Park.

Debra Polen, TYL '73, shows Stuart Holzer a letter Rhoda Psaty Holzer wrote her before the two became college roommates at Tyler. 
"We were just sisters," Polen said.
At the dedication, Tyler Interim Dean Hester Stinnett and Chair of Painting Mark Shetabi thanked Psaty Holzer's family and friends for their support of art students.
"It is an honor, and for each student receiving a Rhoda Psaty Holzer Scholarship, it is a vote of confidence, encouraging students to keep working, to keep creating," Stinnett said. "Rhoda's scholarship will impact the lives of hundreds of painting students for generations to come."
Outside the studio, Stuart Holzer took a moment to talk with current Tyler students who attended the dedication.
"To all of you painters—you're not students, you're painters," Holzer told the group. "Never put your brush down."