Tyler graduate builds podium for 'Saturday Night Live'
Michael Latini, TYL '01, co-founded the Montgomery County production company that built the podium Melissa McCarthy used in her portrayal of Sean Spicer on the show.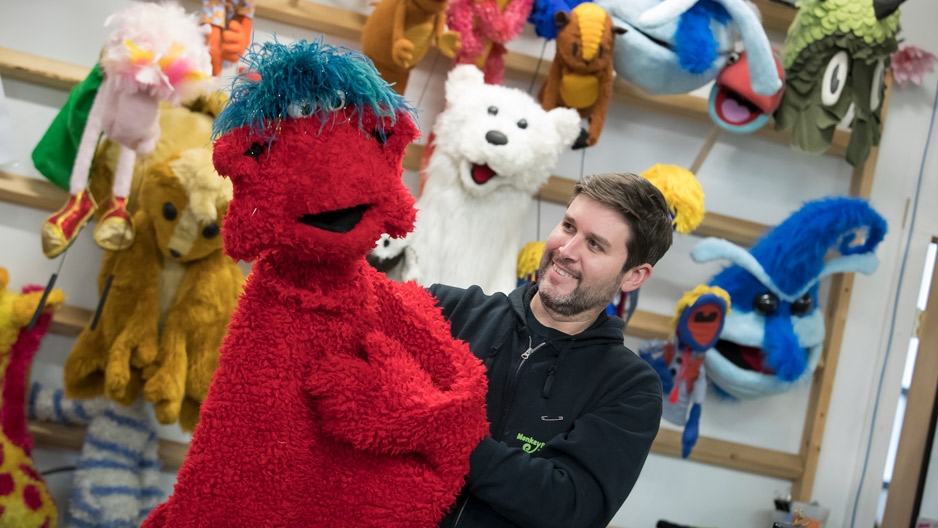 Michael Latini, TYL '01, sees the world a little differently than everyone else.
An old door in the trash becomes a vintage-inspired table in Latini's studio. Scrap cardboard boxes transform into mini sets for short films. And a podium gets wheels to becomes a battering ram on Saturday Night Live.
SNL commissioned Monkey Boys Productions, a Wyncote-based production and entertainment company co-founded by Latini and Marc Petrosino, to build the podium that Melissa McCarthy, playing White House press secretary Sean Spicer, has used in sketches on a few recent episodes.
Before the podiums, Latini, who majored in metals, jewelry and CAD-CAM at the Tyler School of Art, and his team also created "the Trump files," used in some SNL episodes this season, using manila envelopes and Elmer's glue.
Latini has built props for SNL before—he got to know the show's prop team through a friend of a friend who's engaged to a cast member. But each time before, the sketches they were for wound up being scrapped before showtime. He and Petrosino are still getting used to actually seeing their work on the iconic show.
"We've kind of numbed ourselves from experience in the entertainment industry. You can't get your hopes up, because they could call at any second and say it's cut," Latini, a native of Warminster, said. "We're still like, 'Wow, millions of people have seen that thing.'"

Puppets hang on the wall at Monkey Boys Productions.
A puppeteer by trade, Latini doesn't think of himself as an artist. He's more of a problem solver: People come to him, tell them what they need, and he figures out how to create it. Monkey Boys works on everything from costumes to puppets to props like the SNL podium, true to the company's tagline of "puppets, props, practical effects, creatures, costumes and entertainment."
Currently, Latini and his team are making a puppet for Charlie and the Chocolate Factory on Broadway. And they're always ready for SNL to call, just in case.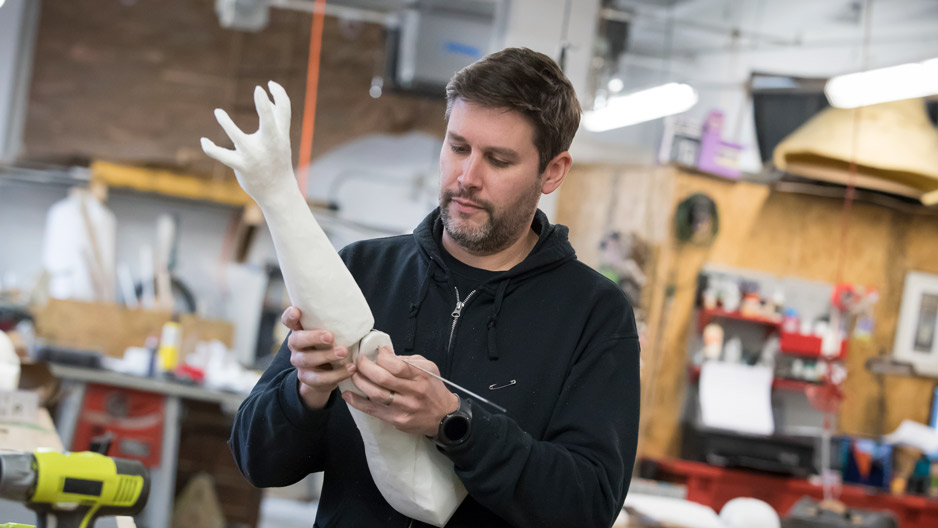 Michael Latini works on a piece of the puppet he and his team are building for Charlie and the Chocolate Factory on Broadway.
When SNL needs a prop, Latini said, their phone typically rings late Wednesday night, and they spend the next 48 hours working almost nonstop on whatever the show needs.
"We put it on our calendar with a question mark so we're mentally prepared," Latini said.
Often, they'll travel to New York to be on SNL's Rockefeller Plaza set for rehearsals so they can show actors how props function and help with any technical issues. That meant facetime with McCarthy herself.
"She's amazing. She was really great to meet, and she was very much as normal as someone you could be friends with," Latini said of the star.
"She took a good 10 or 15 minutes tooling around" on the motorized podium, he added with a chuckle.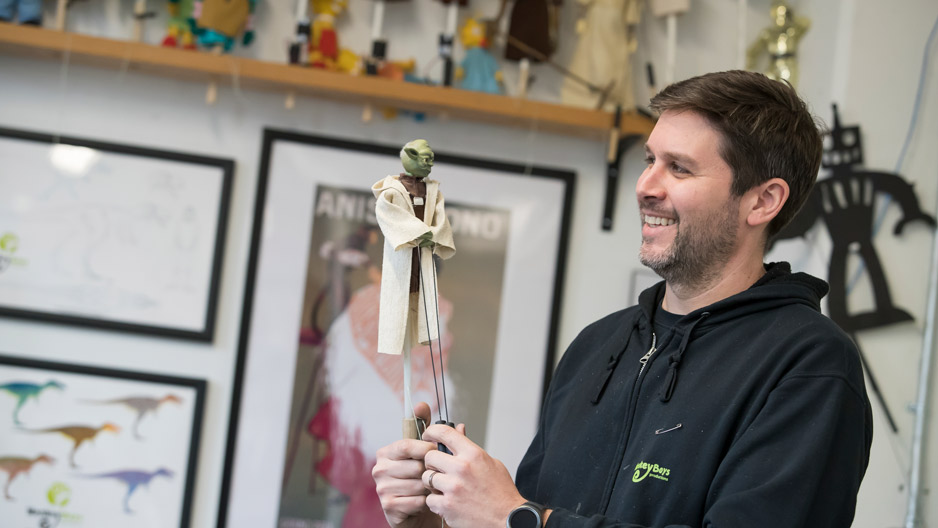 Michael Latini and Monkey Boys co-owner Marc Petrosino hope to create a creature for a Star Wars movie someday.
Beyond SNL, Latini and Petrosino's dream is to create a creature for a Star Wars movie. As a Tyler student, when Latini decided he wanted to be a puppeteer, he envisioned himself working on productions like The Muppets—which he has in the past—and Sesame Place. His senior thesis puppet, a fuzzy red creature named Hugo who looks like a cross between Sesame Street's Elmo and Rosita, still hangs on a wall of Muppet-esque puppets at Monkey Boys' studio.
"For me, [puppetry] is a combination of everything I love," Latini, a father of three, said. "I grew up doing theater, both stage crew and performance, and I always wanted to do both. [Puppetry is] 50-50 technical theater and performance.
"I like to say I'm a creative problem solver."