Dutch inspiration, Philly landscapes
Temple's 2017 exhibit, Nieuwpolders: Regenerating the Dutch Custom of Land Recovery, focuses on practical land modifications that visitors can replicate at home.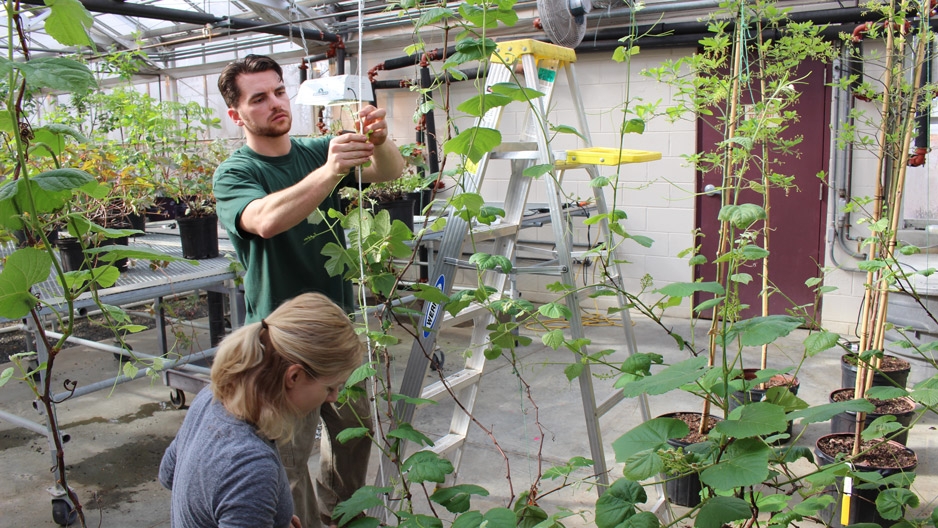 Though this year's theme for the Philadelphia Flower Show is Holland, visitors to Temple's exhibit won't find tulips.
With practicality in mind, Temple landscape architecture and horticulture students instead drew inspiration for their exhibit, Nieuwpolders: Regenerating the Dutch Custom of Land Recovery, from Dutch land reclamation techniques.
"As with each of our Flower Show exhibits, we try to approach the theme in a way that would be practical for visitors to replicate at home," said Associate Professor of Landscape Architecture Rob Kuper.
Kuper is coordinating Temple's 2017 Flower Show exhibit along with Department of Landscape Architecture and Horticulture Adjunct Assistant Professor Michael LoFurno and Anne Brennan, the department's business manager and greenhouse supervisor.
Niewpolders garnered high honors at the show in its first weekend, receiving five awards: a Pennsylvania Horticultural Society Gold Medal, awarded to exhibits that receive 95 or more of 100 points in design, horticulture, plantsmanship and educational value; the Bulkley Medal of the Garden Club of America; a Special Achievement Award of the Garden Club Federation of Pennsylvania; a Pennsylvania Horticultural Society Sustainability Award, given to an exhibit for excellence in the category of conservation; and the Pennsylvania Landscape and Nurseryman's Association Trophy, given for the most effective use of plants and best use of design in the educational category.
Temple's students and faculty are approaching the exhibit with a focus on "land we can reclaim for cultivation in the Philadelphia region," Kuper said.
There is much to take inspiration from in our area, LoFurno added, pointing out that the Dutch were among the first to settle in the Philadelphia region.
"Near the mouth of the Schuylkill, there are reminders of attempts to reclaim the land from the sea by the Dutch. The first canals are part of that heritage," he explained. "There is an awareness and reinterpretation of that history throughout the design elements of the exhibit. Aspects of the exhibit also recall the Dutch maritime tradition — the sails, the pilings that are reminiscent of wharfs and piers found both here and in Holland."
Keye Faddis, Class of 2018, said the "check dam" he has been working on in the rain garden portion of the exhibit represents how communities in the Netherlands manipulated water to their benefit.
"The idea is to present these concepts in such a way that a homeowner can practice them at home, in this case, into an interesting water feature," Faddis, who studies landscape architecture, said. "One of the great things about this project is that you are taking a design and turning it into something tangible, [and] you're involved from start to finish, just like you would be at a design firm."
Stephanie Narisi, Class of 2018, said the 2017 exhibit incorporates reclamation in a variety of ways, from using building material from previous Temple Flower Show exhibits to recycling crushed concrete and blue glass, intermingled with river rocks and shells—to represent water and tidal transition—for the entrance way.
"We're exploring the ecology of the Philadelphia waterways and tidal areas while at the same time evoking the waterways of Holland," Narisi, a landscape architecture major, said.
The success of the exhibit is in the details.
"The design-build aspect of projects like this is such an important part of the coursework. Every piece of wood has to be oriented correctly. Everything has to be attached properly and work cohesively," said Ronnie Ludwig, Class of 2018, also a landscape architecture major. "Every design can start out great and grand, but if you can't build it practically, it doesn't mean much." 
The 2017 exhibit continues a long tradition in the Department of Landscape Architecture and Horticulture of interdisciplinary, hands-on learning experiences. Temple Ambler is one of only a handful of exhibitors that grows its own plants for its exhibits.
"This year, we have an opportunity to incorporate some of the mature tropical plants we've been growing in our campus greenhouse for years," Brennan said. "Our exhibit includes a small greenhouse structure where we will display some of these special plants."
Brennan said every plant in the exhibit—including trees, shrubs and perennials grown specifically for the show—is nurtured on the Ambler campus.
The 2017 Philadelphia Flower Show, Holland: Flowering the World, runs through Sunday, March 19 at the Pennsylvania Convention Center. Get tickets to explore the show and see Temple's exhibit.
—Jim Duffy