Temple students create exhibit for Philadelphia Flower Show
Students pay homage to national parks and the region's industrial history with an exhibit inspired by the Hopewell Furnace National Historic Site.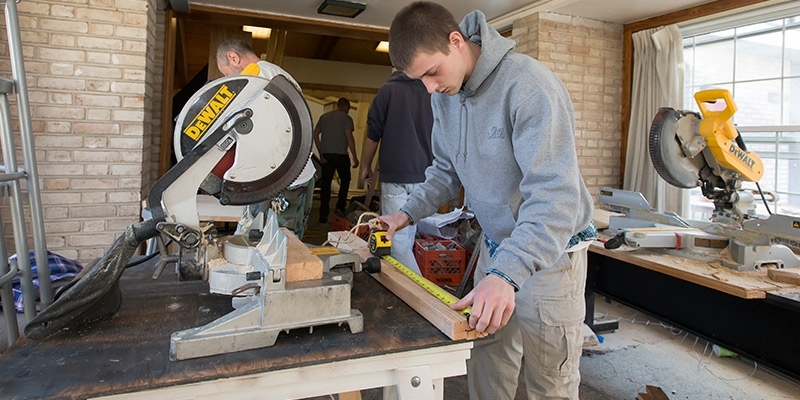 Mention national parks, and the epic vistas of Yosemite or the craggy maze of the Grand Canyon are likely to come to mind. A visit to a national park can serve as a reminder that while preserving the natural heritage of the United States is critically important, protecting our historical and cultural heritage is equally critical.
Students and faculty in the Temple University Department of Landscape Architecture and Horticulture will demonstrate that significance at the 2016 Philadelphia Flower Show. This year's theme, Explore America—100 Years of the National Park Service, has provided the opportunity to create an exhibit that will reignite the fires of nearby Hopewell Furnace.
"For the furnace, we focused on finding plants that would represent the flames and the molten ore—reds, oranges, yellows and dark purples."
-- Horticulturist Kathryn Reber
The 848-acre
Hopewell Furnace National Historical Site
in Elverson, Pennsylvania, showcases an early American industrial landscape from natural resource extraction to enlightened conservation. The site, which is encircled by the 73,000-acre Hopewell Big Woods, is a time capsule of the region's industrial history. Sites like Hopewell laid the foundation for the transformation of the U.S. into an industrial giant.
The Flower Show exhibit, titled
After the Blast: Recollecting Roots and Resources at Hopewell Furnace
, distills the preserved industrial landscape into a 33-foot by 23-foot display that will take visitors on a journey through this once thriving, nearly self-sustainable 19th century rural "iron plantation."
"What this region has going for it is that it so rich in history. All of the national parks in the region are historic sites," said Adjunct Assistant Professor Michael LoFurno, who is coordinating Temple's exhibit with Associate Professor of Landscape Architecture Rob Kuper, Horticulture Supervisor Anne Brennan and Horticulturist Kathryn Reber.
"There is a lot we can learn about the use of this site and lot to reflect on when thinking about how precious our resources are," LoFurno continued.
Students in the Landscape Architecture Junior Design Studio joined with students from the ProRanger Philadelphia program—a partnership between Temple University and the National Park Service—to visit Hopewell Furnace in the fall. This year, ProRanger students will support the Department of Landscape Architecture and Horticulture's exhibit efforts for the first time.
The exhibit takes its inspiration from the historic site, which today includes 14 restored structures and 52 features on the List of Classified Structures, which is an inventory of all historic and prehistoric structures that have historical, architectural and/or engineering significance within the National Park System. Key features of Hopewell Furnace include a root cellar and vegetable green roof; a remnant forest; a rainwater race, which collects and moves water; and a representation of the furnace walls, which will depict the interior of the furnace chimney with foliage.
"We worked very hard to ensure that the vast majority of the plants were accurate to the site and the time period," said Reber. "They are primarily native plants. For the furnace, we focused on finding plants that would represent the flames and the molten ore—reds, oranges, yellows and dark purples."
Landscape Architecture student Derek Suomi, Class of 2017, said that though national parks evoke images of majestic mountains and roaring rivers, "Hopewell Furnace was a rough, rugged place where people worked tirelessly and lived out their lives."
The Philadelphia Flower Show will run from Saturday, March 5, through Sunday, March 13, in the Pennsylvania Convention Center.

Related stories:
Division of Architecture and Environmental Design formed in Tyler School of Art
Flower show exhibit blossoms in the spotlight