Temple wins awards at the 2016 Philadelphia Flower Show
Among the honors earned was the National Park Service Director's Award, chosen by U.S. National Park Service Director Jonathan Jarvis.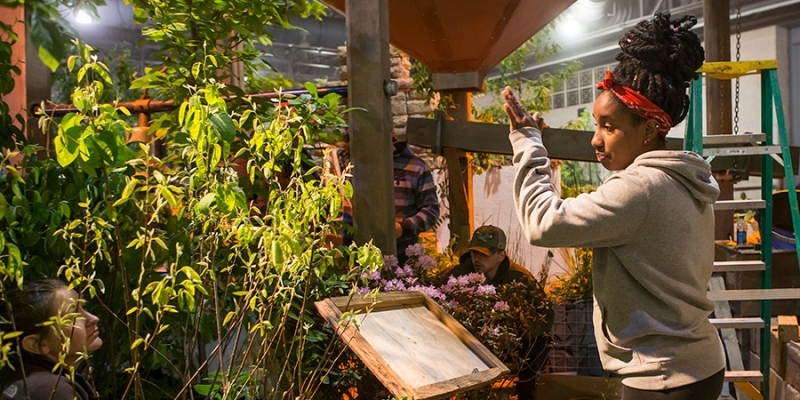 Months of hard work by Temple University Ambler and Tyler School of Art students, faculty and staff paid off with seven honors for Temple's 2016 Philadelphia Flower Show exhibit, After the Blast: Recollecting Roots and Resources at Hopewell Furnace.
The most unique honor—The National Park Service Director's Award—recognized Temple's exhibit as the one that best interpreted a national park in relation to the show's theme, "Explore America: 100 Year of the National Park Service."
"Jonathan Jarvis said it was a the best representation of a national park not just because it effectively looked at the historical nature of the park, but it also looked forward and emphasized themes of environmental stewardship and conservation," said Adjunct Assistant Professor Michael LoFurno.
"[Director Jarvis] was particularly impressed that the exhibit was created by students, and that the next generation was looking to the future of our national parks," added LoFurno, who coordinated the exhibit with Horticulture Supervisor Anne Brennan and Associate Professor of Landscape Architecture Rob Kuper.
Students spent months developing the exhibit's environments, from old growth and remnant forests to a root cellar and green roof to a rainwater race and the furnace, the fiery heart of the Hopewell Furnace National Historical Site 19th century iron plantation.
Kuper said a design-build project of this type leads to "an advancement in thinking" for students when they approach projects in the future.
"These experiences set our students apart from students in other programs throughout the country, if not the world."
Related stories:
Temple students create exhibit for Philadelphia Flower Show
Flower show exhibit blossoms in the spotlight