'Day of reckoning' means dramatic cuts for Temple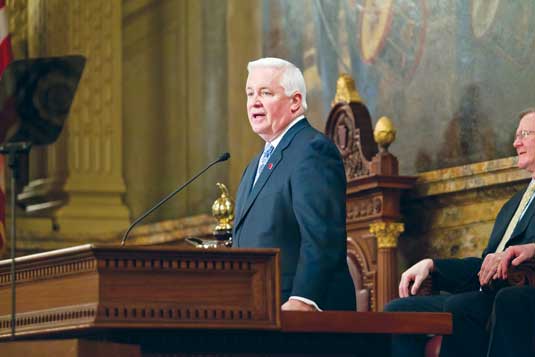 Joseph V. Labolito / Temple University
Saying that "the day of reckoning has come," Gov. Tom Corbett on March 8 presented a sobering budget proposal that will have a dramatic effect on Temple University and the other state-related universities if approved by the Pennsylvania General Assembly.
In an unprecedented move, the governor recommended that the Commonwealth appropriation for Temple be cut more than half, from $178.5 million in the current fiscal year to $82.5 million in the new fiscal year, which starts July 1. Similar reductions are being proposed for the other state-related universities: the University of Pittsburgh, Penn State University and Lincoln University.
If the General Assembly goes along with the cuts, it will be the largest decline in Commonwealth support for the state-related universities since the state-related system was created in the 1960s. In fact, the reduction would take the Commonwealth's support for Temple back to 1980-81 levels.
When discussing the state budget proposal in general, Corbett said the cuts were needed for two reasons: "One, we have to spend less, because we have less to spend. Two, we must tax no more, because the people have no more to give."
In his prepared remarks, the governor said the fiscal crisis is a time to re-think spending on higher education as a whole.
"Despite state subsidies over the past decades, tuition has continued to increase. If the intent was to keep tuition rates down, it failed," he said. "We need to find a new model."
Temple President Ann Weaver Hart reacted quickly to the proposal.
"The governor's budget proposal cutting the Commonwealth appropriation to state-related universities by more than 50 percent dramatically alters the relationship between the Commonwealth and these schools," the president said.
"For the last five decades, Commonwealth support has helped the four state-related schools provide access to a high quality education at an affordable value, while building research enterprises that have driven the Pennsylvania economy," Hart said.
Although he wants to dramatically reduce the Commonwealth appropriation for state-related universities, the governor's budget plan actually goes to some length to describe the high value schools like Temple bring to Pennsylvania, especially in the area of research.
In describing the need for the state-related research universities, Corbett's budget document describes them as "an essential ingredient for a healthy economy and the creation of new jobs in any region."
"The research university not only provides new ideas, technologies and product to industry but also educates and motivates graduates to turn those ideas, technologies and products into industry and jobs," according to the budget document.

President Hart agrees that the state-related universities are valuable for Pennsylvania and plans to work with legislators as the budget moves through the General Assembly.
"We will ask legislators to continue their investment in higher education to benefit Pennsylvania's young people and strengthen the Commonwealth's economic well-being," said the president.