Philadelphia's civil rights story is brought to life in Temple collection
A Temple University Libraries team has digitized 1,500 photos, film clips, newspaper articles and other priceless gems to create Civil Rights in a Northern City.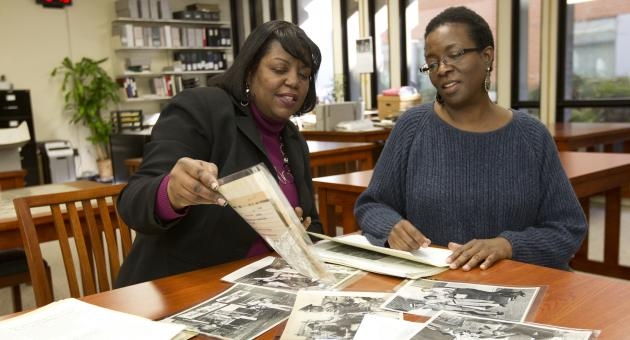 Temple has long been home to a vast collection of materials related to the civil rights struggle in Philadelphia, which as a northern city is often forgotten in the history of that era. And civil rights is increasingly a topic of interest among scholars of all ages, as the focus sharpens on understudied groups and issues in history.
This supply has now met demand thanks to a Temple University Libraries team that digitized the 1,500 photos, film clips, newspaper articles and other priceless gems that make up Civil Rights in a Northern City, an online repository that tells the story of the two seminal events in Philadelphia's Civil Rights struggle: the Columbia Avenue Riots (1964) and the Desegregation of Girard College (1954-68).
Now, anyone can access such items as "Case Study of a Riot," a 1966 pamphlet that, according to Margery Sly, director of the Libraries' Special Collections Research Center (SCRC), provides valuable sociological and statistical details but is out-of-print and was not widely distributed; newsreels, some never before seen, of Martin Luther King Jr. in Philadelphia in  1965; and internal memos exchanged between city officials and community leaders.
"We wanted to present as much of the raw material as possible and let people make their own conclusions," said Sly, who worked with Hillary S. Kativa, a grant-funded project manager, and Matthew Countryman, associate professor of history at the University of Michigan and author of Up South: Civil Rights and Black Power in Philadelphia, to give the site a narrative context that would help — yet not slant — users.
Before Civil Rights in a Northern City, individuals would have to physically go to the Libraries and visit different collections and departments to see photographs and pull newspaper clippings. The 16mm newsreel films presented particular concerns due to preservation and fragility, said Sly.
The items on the site were selected from the Libraries' archival collections, such as the Evening Bulletin newspaper and KYW-TV archives in the Urban Archives collections of the SCRC, and the John Moseley photograph collection in the Charles L. Blockson Afro-American Collection. As the project progressed, team members were thrilled to discover hidden gems among the libraries' other collections. The SCRC's Philadelphia Jewish Archives collections contained one of the most precious of those gems, a series of questionnaires of Jewish merchants conducted in the aftermath of the Columbia Avenue riots.
Sly said that Countryman was enthralled with the Community Relations Council-led questionnaires.
"He was not aware they existed and they really lifted up that aspect of Jewish-Black relations," she said.
In addition to being a resource to scholars such as Countryman, the site offers new insights to students of all ages. So far several high school teachers and Temple professors in both education and English have used it as a teaching tool for their students.
The site has also been stirring up memories for those who experienced the movement first-hand, including Rich Lipp:
"I was a member of the Congress of Racial Equality," he said. "We would pack six people into my car and go off to the army recruiting center on North Broad to march for equal rights for the enlistees. We would drive over to Chester for a night rally, hand deliver letters throughout the neighborhood, and pretty much show up about five or more times a week for several years at some place or another where there was an injustice. I met so many good everyday people who wanted to have a better society that allowed everyone their fair shot. It has changed my entire life and outlook."    
The project, a work in progress with additional modules planned on the Black Panthers and the 1960 selective patronage campaign, was partially funded with federal Library Service and Technology Act funds administered by the Office of Commonwealth Libraries, part of the Pennsylvania Department of Education.