Phila. mayor celebrates Temple's new apps and maps studio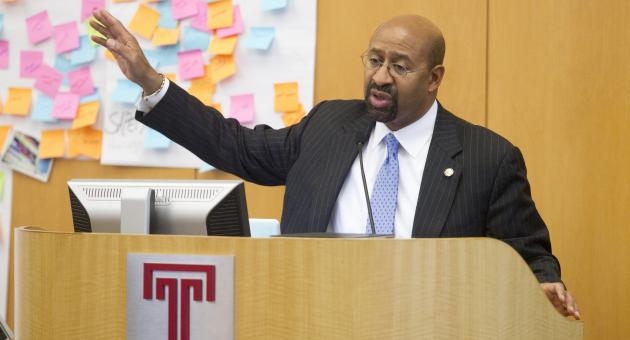 A four-day student design challenge hosted by Temple culminated Thursday, Feb. 16, with a visit from Philadelphia Mayor Michael A. Nutter, who recognized the competition and Temple's new Urban Apps & Maps Studio as producers of innovative, technological solutions to urban challenges.
"Having this kind of studio with this urban innovation, using digital technology and working to reduce the digital creativity gap through this immersive education and mentoring program, this is the kind of thing that we need to replicate all across the city — and then all across the United States of America," Nutter said during a visit to the Fox School of Business. "We can build a better future in America when we unleash the power of your brain power and your creativity, your knowledge and your access to technology."
With $500,000 in grant funding from the federal Economic Development Administration, Temple established the Urban Apps & Maps Studio to promote civic and digital entrepreneurship in North Philadelphia and beyond by connecting the university's resources with community, government and business leaders. Temple also received nearly $200,000 from the National Science Foundation to establish a test bed of campus and urban wireless networks as part of Global Environment for Network Innovations.
The DESIGNweek Challenge, organized by the Urban Apps & Maps Studio and hosted by the Fox School, leverages Temple's resources, and the technology assets along North Broad Street, to envision new products and services inspired by the opportunities in North Philadelphia.
This year, the design challenge worked with the Philadelphia Housing Authority, and students visited PHA communities, local businesses and significant landmarks to discover opportunities for urban innovations.
More than 125 students from Temple, The University of the Arts and local high schools participated in the challenge, facilitated by Fox School of Business Assistant Professor James Moustafellos and industry leaders, who served as mentors and judges. Ideas from the challenge will become the basis for a series of hackathons, at which software prototypes will be built. The most promising ideas will be incubated at the Urban Apps & Maps Studio for further commercialization.
Through the studio, faculty and students across Temple will work with local high-school students, young adults and local start-up companies to design, develop and commercialize digitally enabled products and services to address urban challenges in areas of public health, education, transportation and more.
The studio draws resources and expertise from more than a dozen centers or colleges at Temple, including the College of Engineering, College of Liberal Arts, College of Science and Technology, Fox School of Business and Tyler School of Art. It also furthers the university's regional and national engagement with the City of Philadelphia and its OpenAccessPhilly movement, Ben Franklin Technology Partners, Clark University in Massachusetts, Code for America and others.
"The Urban Apps & Maps Studio is an innovative model for civic engagement: bringing the community together, challenging them to create meaningful contributions, and providing avenues for sustainability and impact," said Abhi Nemani, Code for America's director of strategy and communications. "This is exactly the kind of thing we expect to see in Philadelphia, which is setting the bar high for the 'city 2.0.'"