Broadcast pioneer Lew Klein donates papers to Temple University
Rich collection chronicles the contributions of both Klein and his father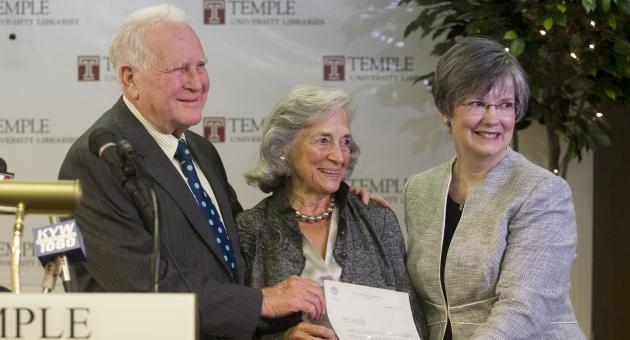 Broadcast pioneer Lew Klein has donated his papers to Temple University Libraries Special Collections Research Center. The rich collection documents Klein's extraordinary career and contacts in media, sports, business, politics and entertainment, as well as his father's accomplishments as a journalist, U.S. Senate staff member and boxing commissioner.
On April 10, the university celebrated the acquisition at a ceremony in Paley Library that honored Lew and Janet Klein.
The papers consist of photographs, newspaper articles, pamphlets, letters, scrapbooks, brochures, videos, periodicals and other recorded and printed materials that document significant 20th century icons, events and phenomena such as "American Bandstand," Phillies early telecasts, "This is Your Life," Horn and Hardart Co. and the Kefauver Committee.
"In the years to come, with technology moving so rapidly, the history of the early days of television in Philadelphia could easily be lost," said Klein. "People need to know about this period, and Temple's Urban Archives was a natural fit. It's where you go when you want to know about 20th Century Philadelphia."
"The materials will be of great value to teaching, research and learning at Temple," said Provost Richard Englert. "Primary sources such as the Klein papers are the raw materials that scholars use to shape unique discoveries and produce new knowledge."
"We're honored that Lew and Janet have entrusted their legacy to Temple," said Carol Lang, interim dean of University Libraries. "The materials are a great complement to Temple's strengths in documenting the cultural, social, economic and physical development of our region."
Klein, a longtime friend and supporter of Temple, has been an adjunct professor in Temple's School of Communications and Theater for 59 years and is current chair of the school's Board of Visitors. In 2010, the main performance space in the Temple Performing Arts Center on North Broad Street was named in honor of the profound influence Klein has had as a broadcasting pioneer and Temple faculty member. With room for a 100-piece orchestra, 215-member choir and flexible seating for as many as 1,200 people, the hall serves as a venue for entertainment, learning and community engagement, hosting live performances, educational programs, ceremonies and celebrations throughout the year.
Klein has made an indelible mark on the television industry. In the 1950s, as programming director for the six Triangle Group stations, Klein served as executive producer of the landmark program "American Bandstand" at WFIL-TV (now WPVI-TV/6ABC). In 1970, he co-founded Gateway Communications, which owned four TV stations, and served as Gateway's president from 1983 to 1993.
Klein is respected by the Temple community and media professionals for his ability to motivate and inspire those around him. Many careers have been launched by his wise mentorship.
"We are so grateful to Lew and Janet, for providing Temple with these invaluable materials, so they can be accessed by researchers in perpetuity," said Englert.