Pioneering a cappella group's seniors reach their coda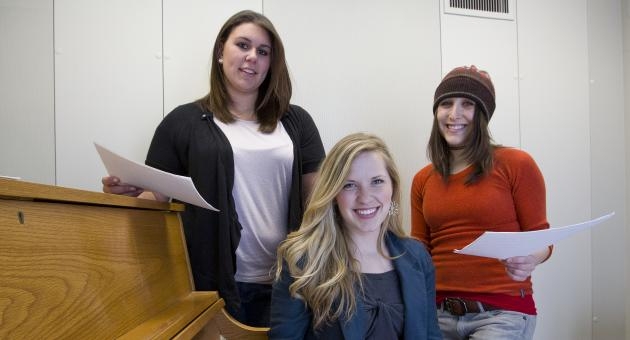 It's been a busy year for OwlCappella,Temple's only co-ed a cappella ensemble.
Between attending more than 80 auditions, appearing in a 6ABC promotional spot for "Good Morning America" and performing for legislators during Temple's Cherry and White Week in Harrisburg, it's a wonder that senior members Rebecca "Bexx" Rosenbloom, Marguerite Zacharovich and Rachel Pogolowitz found time to order their caps and gowns.
"We've had a lot of amazing opportunities to perform and travel this year," said Pogolowitz, the group's business manager and an inaugural member. "It's been a really great way to end my senior year at Temple."
OwlCappella was founded in 2010 after Rosenbloom noticed an imbalance in Temple's a cappella community. Temple's notable all-male Broad Street Line and the all-female A Choired Taste, now known as Signchronize, were creating a buzz around campus. But something was missing.
"It dawned on me one day that Temple didn't have a co-ed group, so I decided to leave A Choired Taste and start one," said Rosenbloom, a music education and voice major. "Five hundred colorful posters and a Facebook campaign later we found the members of Owlcappella."
Zacharovich, a psychology and economics major, was among the first to audition.
"I didn't let anyone hear me sing until high school," said the soprano. "I was more of a jock. Being able to join an a cappella group opened up a whole new world for me. I'm grateful that I've had the opportunity to continue singing in college, even though I'm a non-music major."
Pogolowitz, a Judaic Studies major, says the diverse mix of majors who make up the 17-member ensemble gives their group an added uniqueness.
"A majority of the students involved are non-music majors," she said. "It's a really interesting and kind of random mix.... But it works for us."
Their differences complement each other and are reflected in their rich sound and eclectic set list, which is known to move from feisty Nicki Minaj covers to Beatles classics within a single performance.
Now that it's over, Rosenbloom, Zacharovich, and Pogolowitz are looking forward to starting the next chapter in their musical and professional lives. Rosenbloom and Pogolowitz are planning to join a local post-grad a cappella group, and Zacharovich is headed to D.C. where she's been offered a job in the tech industry.
Although things are changing around them, the one thing they agree will always remain is their friendship and love for music.
"I've definitely been bitten by the a cappella bug," said Pogolowitz. "Once you start singing a cappella you just always want to be involved. There's a dynamic to that you just won't find anywhere else."