After six years as president, Hart leaves Temple positioned for success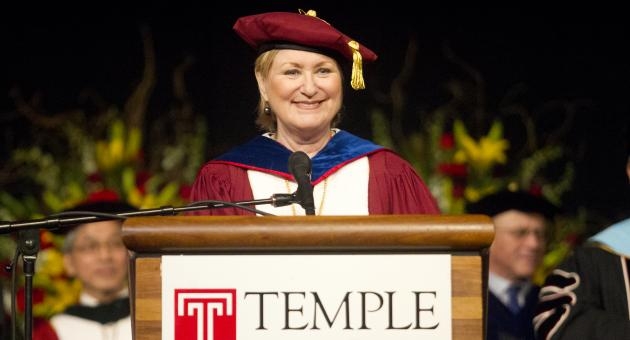 As she wound up her last Commencement ceremony as Temple University's president, Ann Weaver Hart reminded students of their shared experience and the tremendous opportunities that await them. "The dance floor is open and they're playing your song," she said.
Hart could have just as easily been talking about the optimistic future that she has paved for Temple during her six years as its first female president. The university has experienced extraordinary growth and evolution, forging a national reputation for attracting high-performing students to a campus that is reshaping itself for a 21st century residential learning experience.
The president's tenure ends June 30, when she leaves to become president of the University of Arizona. The transition will be a dramatic one, as Hart leaves behind a city she has come to love.
"I have treasured my time at Temple and am proud to have been a part of this extraordinary academic community, which is so central to the vibrant future of our city," said Hart. "As the Philadelphia Inquirer has said, 'As Temple goes, so goes Philadelphia.'"
Academic innovation drives campus improvements
When Hart came to campus in July 2006 from the University of New Hampshire, she articulated a strong vision for the University, starting with a campus-wide discussion of the University's academic goals. Temple faculty, staff and students came together to create the Academic Strategic Compass, a five-year academic plan for the institution's future. Using the Compass as a guide, the university focused on academic achievement and opportunities, research excellence, a global commitment and strengthening the relationships with the greater Philadelphia community.
These efforts have drawn praise from groups like the 2010 Middle States Commission on Higher Education accreditation review committee, which said Temple showed "impressive results in a short period of time" toward the goals articulated in the Academic Strategic Compass.
After creating the academic plan, President Hart in 2009 unveiled the Temple 20/20 framework for campus development, which is the guide for a state-of-the-art living and learning environment taking shape today. Chief among the framework's features are:
A residential and retail complex on North Broad Street that will open in Fall 2013, bringing more than 1,200 students into the largest residential complex in Temple's history. Keeping true to her vision of the connection between the city and the university, the new student complex will feature some of the best views of Center City available anywhere.
Renovation of Pearson and McGonigle Halls that revitalized the student recreation experience and added a dramatic new structure on one of the city's busiest avenues. The building opened in January and the finishing touches are being completed this spring.
The new Architecture Building opened in the fall of 2011, to give both architecture and the College of Engineering an opportunity to expand.
Meanwhile, plans have been completed for a six-story science, education and research facility with high‐tech classroom spaces, lecture halls, collaboration and critique space, enhance the learning experience and research effectiveness. The new building at 12th Street near Gladfelter Hall will help the university position itself as a leader in academic and funded research.
Student success coupled with enhanced research
The academic qualifications of new students at Temple have grown during President Hart's tenure. The average SAT score of Temple freshmen increased sharply from 1088 (67 points above the national average) in the fall of 2006 to 1114 (97 points above the national average) in the fall of 2011. The average high school grade point average of Temple freshmen increased from 3.26 to 3.41 during that same period.
Enrollment in Temple's Honors Program has also risen, and Temple students now routinely win the nation's most prestigious and competitive academic awards. For example, 19 Temple students have won Fulbright awards in the last four years alone — an unprecedented streak of success.
All of this was accomplished while retaining the diversity of Temple's student body. In fact, Temple's student body today has a significantly higher percentage of students who self-identify as minorities — nearly a third — than it did 25 years ago.
These students have been able to take advantage of the new world-class interdisciplinary research centers and programs which made their debut during Hart's tenure, including the Center for Obesity Research and Education; the Moulder Center for Drug Discovery Research; the Center for Preparedness, Research, Education and Practice; and the Public Health Law Research Program (established with the help of $19 million from the Robert Wood Johnson Foundation).
Under Hart, Temple's community engagement programs — including hiring and housing initiatives, educational support, health services, arts and cultural activities and volunteer efforts — have grown and become more coordinated. These efforts have earned the university the Community Engagement Classification from the Carnegie Foundation for the Advancement of Teaching and a spot for three straight years on the Corporation for National and Community Service's President's Higher Education Community Service Honor Roll.
She also created the university's first Office of Government, Community and Public Affairs, which fosters stronger ties to elected officials and spearheads the advocacy efforts for continued Commonwealth support in Harrisburg. The office also creates a focus for enhanced engagement with the local communities in North Philadelphia.
Two initiatives from Hart's inaugural address have also made themselves felt: increased globalization and a comprehensive sustainability initiative.
In 2010, for the first time in the university's history, more than 1,000 Temple students studied abroad during one academic year, capping a period of explosive growth in study abroad. New study abroad and exchange programs were launched in Europe and Asia and articulation agreements with more than a dozen international universities were established. And new programs were created, such as the Ann and Randy Hart Passport Scholarship and the Diamond Ambassadors Program.
And during her tenure, the university established the highly visible Office of Sustainability, which has created an active campaign for urban environmental awareness and action. One of the first steps came on the eve of Earth Day 2008, when Hart signed the American College & University Presidents Climate Commitment, which aligned Temple with more than 500 colleges and universities around the world that have made reducing their impact on the world's climate a high priority.
A winning spirit and an 'amazing' future
Temple's flagship athletics programs are experiencing a national renaissance. After a long drought, Temple football has had two consecutive winning seasons and played in its first bowl game in three decades in 2009 before winning the Gildan New Mexico Bowl in 2011. Temple men's and women's basketball have won conference titles and become fixtures in the NCAA tournament. All three programs are led by coaches hired under Hart (Steve Addazio, Fran Dunphy and Tonya Cardoza, respectively).
The ultimate endorsement of the success of Temple Athletics came when the widely televised Big East Conference extended an invitation to Temple football for 2012 and the rest of the university's athletics programs in 2013– 2014, when all Owls teams will compete in the same conference for the first time in university history. Now, all Temple football and men's basketball games will be nationally televised, positively affecting university revenue, athletic recruitment, admissions and more.
Hart's legacy is so pervasive that students already are feeling the impact.
"When students walk around campus, the sense of momentum is palpable," says former Temple Student Government President Colin Saltry, SBM '12. "The academic reputation has grown. Temple research is on the rise. The place looks great. When we look back in five or 10 years from now, we're going to find a boatload of Temple grads who'll say they were proud to be here at this time," he said.
"The future is going to be amazing."