Students explore world culture through monthly restaurant trips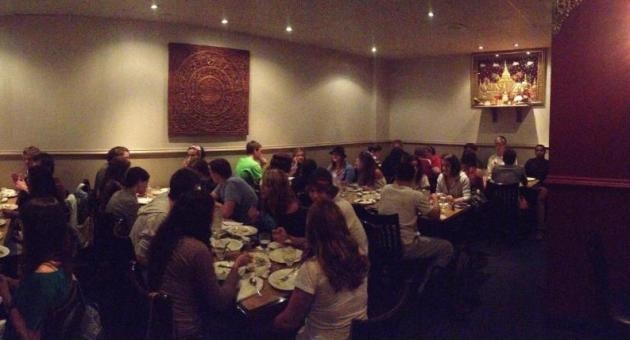 For students participating in Temple's Memorable Moments program, cultural immersion is a dish best served monthly.
Offered by Temple's Office of Student Activities, the program introduces students to new cultures and traditions by sponsoring a trip to a different ethnic restaurant each month.
On Sept 20 — the first Memorable Moments event of the year — 40 students got a taste of Burmese culture while dining at Rangoon, a Burmese restaurant in Philadelphia's Chinatown.
"And it was delicious," said freshman communication studies major Merideth Ketterer.
The cultural lessons began before the students even reached the door. On the bus, they learned about Burmese history, including the influence that China and other Southeastern Asian countries have had on the culture of Burma — a nuance the students would recognize in its cuisine.
Once at the restaurant, they dined according to Burmese custom: at long tables, sharing large platters, family-style. Before the hungry students filed in, they received tasting sheets — checklists of ingredients they might taste in the dishes.
At each Memorable Moments dinner, a speaker offers details about the selected country and its cuisine, ensuring that students walk away from the tables with their heads as full as their stomachs. As a result, many develop an interest in a particular country that they continue to explore well beyond the program.
"My favorite part of the evening was when one of the restaurant workers came out and talked to us more about Burma's culture," said Ketterer. Speaking through an interpreter as the students finished dinner, the Burmese native offered details that were meaningful to the group. The caffeine in the spring ginger salad they had eaten, for example, makes it popular dish among Burmese students seeking a pre-study stimulant, he said.
The Memorable Moments program was conceived by the late Arnold Boyd, Temple's long-time Student Activities coordinator, in 2002. Restaurants must offer family style dining, vegetarian options and meet standards for economy and overall atmosphere.
To ensure that a student entering the program as a freshman will not repeat lessons on the same culture, a particular ethnicity is explored only once every five years.
"The most challenging aspect is picking a new country, and then a new restaurant each time," said Bryan Newman, graduate extern for Student Activities, who is responsible for planning each month's program. "It is great — the opportunity to meet new peers and try eclectic foods, all at zero cost to the student."
The next Memorable Moments program, on Oct. 16, will be held in a Middle Eastern restaurant. Seating is limited to 40, and the popular programs fill up quickly. Students who wish to sign up can do so through the Student Activities website.