University community comes together in face of unprecedented storm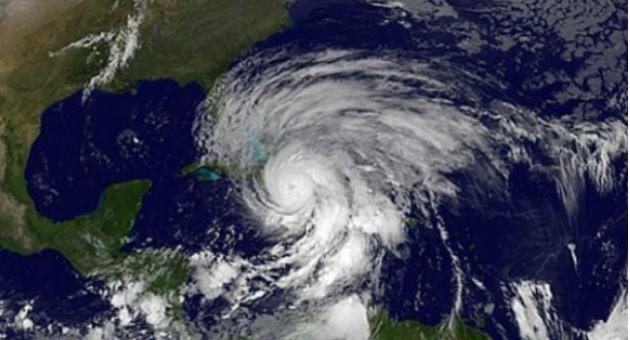 We were lucky. The storm that devastated lower Manhattan, erased portions of the Jersey shore and left hundreds of thousands in the dark created far less damage in Philadelphia and at Temple. We know that now, but last week, no one knew what the university would face. This is a story of a storm that shut down a city, resulted in canceled classes for two days in a row (when was the last time Temple did that?) and made us all realize that for all of the modern comforts and technology that characterizes our daily lives, nature can sweep everything aside with one big, angry storm.
'Stay inside, be safe, we got this.'
As the East Coast nervously awaited Sandy's landfall a week ago Sunday, Ginny Arnsberger inflated an air mattress in her office and settled down for the night. The director of support services was alone at Temple's facilities complex on 10th and Montgomery, but she was glad to be on campus as conditions were predicted to make travelling difficult on Monday.
The next day and into Tuesday, Arnsberger was joined by members of the groundskeeping, housekeeping and support service operations staff in working 24/7 to make sure the more than 3,500 students who stayed in the residence halls were safe.
Two blocks away, in a lower level of the same building that houses the TECH Center, Charles Leone and his team were also ready to stay the night. As director of Campus Safety Services, which includes campus security and campus police, Leone thought through several worst-case scenarios with his team in the days leading up to the Monday.
Both Arnsberger and Leone alerted their employees that they might be asked to stay over. Their staffs are considered essential employees, which means that in addition to regular duties, they also might be called on to work at nights and on weekends and take care of issues not necessarily in their job description.
One of the worst-case scenarios Leone and his team prepared for was loss of power — the lifeblood of the Campus Safety Services operation. It is needed to run the communications center where they monitor more than 800 cameras, to take calls for help and dispatch officers. Fortunately, there was back-up, on many levels.
The Campus Safety Servcies substation on Polett Walk is fully equipped for operations and dispatch if the power goes out at headquarters. But even more significant, Temple has back-up electricity/generation for the entire campus.
"Over the years, Temple has invested quite a bit in its infrastructure to be ready for these kinds of situations," said Kurt Bresser, energy manager at Temple, who oversees a 16 megawatt standby generating plant that was built in 1993. Here's the good news: "If all the power to Temple from PECO was knocked out, our plant would allow us to power up much of the campus."
At the height of the storm, members of Arnsberger's team were stationed at strategic locations and stayed inside for safety purposes. As for sleeping arrangements, everyone was on their own and encouraged to bring a blanket and pillow and catch a catnap on a couch. About 20 stayed overnight.
Campus Safety Services had about a dozen employees staying over, although very few slept for a long period. Officers patrolled by foot and by car. They had to respond to some issues, including limbs on the roadways, traffic light issues and building damage, but there were relatively few incidents. Their primary concern was checking in at locations housing students and employees.
Leone tweeted (@TU_police) throughout the storm to reassure students that Temple Police were on duty. At one point, with a photo of a patrol car driving down a deserted Liacouras Walk, he tweeted: "Stay inside, be safe, we got this."
Leone speaks with pride about the preparations his staff made.
"Everyone came together, knew their roles and worked together," he said. "There was a great willingness to be here. Everything was very well thought out and I really do think that mitigated a lot potential issues."
Arnsberger was happy that there wasn't more damage. Her staff ended up dealing with a lot of debris, including tree limbs; minor exterior building damage and the pumping out of the water that filled the SERC construction site.
"What I'm most proud of in my staff was that they maintain a positive attitude, even if being asked to do something they don't normally do," said Arnsberger. "I know for myself and 90 percent of my staff, they have complete ownership of Temple. It's their university. It's something that we're very proud of."
---
'It helps you realize not to take things for granted.'
For many members of the Temple community, coping with separation from loved ones was the most wrenching part of the storm. As Sandy started bearing down on the Mid-Atlantic coast, mothers and fathers of students channeled their protective urges into frequent discussions via telephone, email and texts about buying supplies in preparation for a possible blackout.
The urgency of those conversations and the sense of separation were even more intense for parents of freshmen, many of whom were still adjusting to life without their son or daughter at home.
"I started to prepare for the storm on Friday, and I made my son prepare too," said Sarah McGraw Greenberg of Washington, D.C., mother of Tyler School of Art freshman Max McGraw. "I had sent him with a flashlight, but I told him to get a book light so he could do his homework in the event of a blackout, and I made him go get a lot of bottled water and non-perishable food that doesn't require cooking."
To stay informed, she followed Temple's official Twitter feed (@TempleUniv). It also helped to know that her son was in a safe place.
"I felt good about him being there," said Greenberg, who reported major power outages and tree falls in the Washington area. "His dorm, White Hall, is built like a bunker."
The experience was a shade less stressful for parents of upperclassmen, such as Lisa Morales, mother of Thomas Morales, a senior marketing major in the Fox School of Business from Glen Cove, N.Y.
"We kind of went into preparation mode," she said. "I called Tom and we discussed it. He was prepared; he was calm. He can take care of himself, but we did discuss having a source of light, having water, going to the supermarket."
The Morales family lives on Long Island, one of the regions hit much harder by Sandy than Philadelphia. The family's home lost power but escaped serious damage. Some of Thomas's friends, however, were not so lucky.
"My family has a generator and I was getting texts from them during the storm, so I wasn't that worried about them," he said. "But the aftermath has been harder. My friend has a house right along the water on the South Shore, and it's basically gone now. I have friends who can't get gas for their generators to heat their homes. People are running out of water. I have an urge to go back and try to help, but I don't know how. I feel helpless. It helps you realize not to take things for granted."
---
'We were in our own little bubble.'
While most members of the Temple community were frantically preparing for the arrival of Sandy on Sunday afternoon, two groups of students had to take care of some important business.
Temple's field hockey and men's soccer teams had games against local rivals with Atlantic 10 playoff berths at stake. Distracted by the urgency of their games, many of the student-athletes on the field hockey and men's soccer team weren't paying much attention to the coming storm — even as the rain began to fall on Sunday.
"We were in our own little bubble. We were busy practicing and hadn't heard much about the storm," said field hockey co-captain Molly Doyle, a junior history major from Havertown, Pa., who acknowledged that the team's only real anxiety was whether the weather would ruin their Senior Day plans to celebrate the squad's lone senior, Kate Briglia. "I tried not to focus on the hurricane. I wanted to focus on the game. I wanted us to play well."
It helped that Temple's student-athletes are used to tough conditions.
"I wasn't really concerned," said Mandi Shearer, a junior therapeutic recreation major from Bainbridge, Pa. "We practice in the rain and the cold all the time, so we're ready for anything."
But as soon as the final whistles blew — the men's soccer team beat La Salle 3-0 and the field hockey team beat St. Joseph's 4-1, both clinching spots in the conference playoffs — the students got a new perspective from their parents.
"After the game, my parents brought us a case of water and food. They were really nervous and wanted me to come home," said Doyle, whose grandparents own a home in Ocean City, N.J., one of the coastal towns devastated by the storm.
---
A research opportunity, and a chance for a 'complete disaster'
While a major weather event like Hurricane Sandy causes most of the Temple community to go into emergency preparedness mode, it can be either a potential positive or a negative for a Temple researcher.
For Laura Toran, who studies urban hydrology — with a research emphasis on stormwater management and flooding — the storm offered a unique opportunity to test stormwater control systems.
"It wasn't as big a storm as I anticipated, but it also isn't the type of storm I see every month," said Toran, the Weeks Chair in Environmental Geology in the College of Science and Technology. "I fully expect to have some very good data to look at as a result of the storm."
But if your research involves living creatures such as zebrafish or deepwater corals, a storm such as Sandy could severely impact your work if the university were to lose electrical power.
"Much of my critical equipment is on emergency power, so our long-term storage of coral samples should have been OK," said biology's Erik Cordes, who studies deepwater corals. "But, we would have lost some of our tanks and the deep-sea coral in them. Since we only get to go out to sea once or twice a year, it would have set us back, possibly by as much as a year."
Biology's Darius Balciunas, whose research involves zebrafish, echoed Cordes' concerns about a loss of power in their lab.
"As long as the emergency power on our equipment is working, there would not be a problem," said Balciunas. "But if we were to lose that emergency power we would lose filtration capacity and that would be a very serious health hazard for the fish. That could potentially be five years of work going down the drain; it would be a complete disaster."
---
Predicting the perfect storm
For Temple alumni in the the New York City area, at the Jersey shore and elsewhere up and down the eastern seaboard, Sandy presented significant hardship. Many were left without power for days, and some fell victim to storm surge flooding.
Other alumni were on the front lines of the storm, serving as first responders or reporting on the storm as journalists. School of Media and Communication graduate David Murphy '85, a meteorologist with Philadelphia ABC affiliate WPVI, was on air from the earliest signs of Sandy on Monday and spent long hours updating viewers on the storm's path and impact over several days.
Murphy said the unique combination of meteorological events that pushed Sandy into the population centers on the nation's coast at hurricane strength was a rare occurrence.
"I don't know if we'll ever see anything like that again," he said. "Never say never, but having a category one hurricane steer right into us was a pretty rare and unfortunate set of circumstances."
Murphy has reported on a variety of weather events over his nearly 20 years as a meteorologist, and said that the extent of the hurricane's impact was similar only to winter blizzards that wreaked havoc on the east coast in the early 1990s.
"I know that as I'm looking back at my career someday, this will be one that stands out," said Murphy. "I'll always remember Sandy."
---
Feed a student, starve a storm
Throughout the storm, Temple University Dining Services remained open at both the Louis J. Esposito Dining Center at the Johnson/Hardwick Complex and the Valaida S. Walker Food Court at the Howard Gittis Student Center.
The Dining Center at J & H served all four meals on Sunday, Monday and Tuesday from 7 a.m. to midnight. The staff made the decision to serve breakfast through the lunch period each day, but also had lunch available starting at 11 a.m.
"The students enjoyed having two options for their first meals of the day. It was like brunch," said Andrew Lebo, marketing director for Sodexo Campus Services at Temple. "Omelets, a student favorite, were available all day."
To prepare for Sandy, the management team increased their regular Friday order more or less across the board to ensure that service would run smoothly even if they had to forgo a Monday delivery.
But the order did include nearly 2,000, 20 oz. bottles of water as well as other hurricane essentials, such as extra cases of sandwich rolls and chips. In the event of a power outage, the team was prepared to make 1,000 boxed lunches, but fortunately that wasn't necessary.
Realizing that there might not be enough staff on hand to keep the dish room running at 100 percent, employee Al Williams drove to South Philadelphia on Friday afternoon to pick up 20 cases of paper plates.
"What really got us through the storm was our employees, who not only made it in to work during the height of the storm but were also willing to stay long hours when necessary... and all with smiles on their faces," said Lebo. "A large percentage of our employees live near campus, so getting here was not too much of a problem. But keep in mind that many were leaving their families at home during the storm in order to be at work with us."
---
Students take Sandy to the dance
At least half of the students who reside in the 1940 Residence Hall decided to go home and ride out the storm with family and friends. Those who stayed behind occupied themselves by studying, playing board games and finishing-up snacks from care packages sent by parents in preparation for Sandy.
While students were finding ways to pass the time, resident coordinators and assistants were making plans in case of an emergency. University Housing and Residential Life promotes an "all hands on deck approach" when working to ensure the safety of students, said Autumn Riley, resident coordinator in the Office of University Housing and Residential Life.
"The resident assistants helped out tremendously as our eyes and ears in the building," said Riley, who is also a graduate student pursuing a master's degree in social work and public health. "The department kept communication open, sharing updates and developments as they were available. We also communicated a lot of information through the resident assistants and word of mouth, as students would ask about particular details."
The residence hall remained fairly quiet until students, bored with board games, movies and Ping-Pong, decided to throw a dance party in the basement even as the storm came ashore.
"By Monday afternoon they were determined to organize a party," said Riley. "A student that deejays as a part-time job offered to get his equipment. Students created signs encouraging other students to attend, and they kept the music going for a couple of hours."
After that party died down, a few of resident assistants played board games with the students until well past 3 a.m. — a typical bedtime for many college students.
Once the storm passed, students were encouraged to get back to their daily routine.
"Students were happy they were able to leave the building," Riley said. "Some actually seemed disappointed because being able to leave meant classes would resume on Wednesday."
---
'There will always be a next time'
Looking back, Jim Creedon was largely pleased with Temple's response to Sandy. As Temple's senior vice president for construction, facilities and operations, he was at the center of the emergency response team, gathering information on preparations as the storm approached, and keeping Acting President Richard Englert up-to-date on events as they were unfolding. (Englert was on campus Monday and Tuesday, where he visited students in the residence halls, thanked staff members who left their families to work 24/7 and later sent a letter to everyone on campus thanking them for working together.)
"I offer my most sincere thanks to all who kept our students, our faculty, our staff and our campuses safe during the hurricane. Once again, in a time of crisis, our Temple family stood tall."
-- Richard M. Englert, Temple President
Having begun work at Temple in November of 2011, this was Creedon's first major disaster drill. Starting Friday, he chaired a series of conference calls that drew a broad range of administrators who each had a hand in keeping the campus active and safe. He came away impressed with the way Temple's administrative units worked together.
"On those calls I had a lot of groups that report to me, but there were also people from all over campus, like residence life, the dean of students, IT, the provost's office and communications," said Creedon. "These are people who on an average day don't even pass each other on campus. But on those calls, there was no talk of working in different divisions. All of that went away and we were one team."
Creedon was also impressed with the amount of preparation by each of the administrative units. Temple's team has learned from previous experience to keep emergency supplies ready, so that when he called the first emergency response team meeting for Friday, Oct. 26, he learned that the university's emergency generators were been tested and fueled up, the necessary pieces of equipment were in place and food for the residence halls had been ordered and was being delivered.
As the father of a college student himself, Creedon said the parents of Temple students should take great comfort from an organization that makes sure student safety is always the top priority.
Now that the storm is over and life is back to normal, there is one more effort associated with Hurricane Sandy. Later this month, the emergency response team members will get together to review their actions and discuss ways to improve.
"If there are two things you learn in this business," said Creedon, it's that you can always improve your response for the next time — and there will always be a next time."
---
University Communications staff members Jazmyn Burton, Megan Chiplock, Kim Fischer, Hillel Hoffmann, Eryn Jelesiewicz, Preston Moretz, Vaughn Shinkus and Eric Shomer contributed to this report.