New brand strikes a chord with the Temple community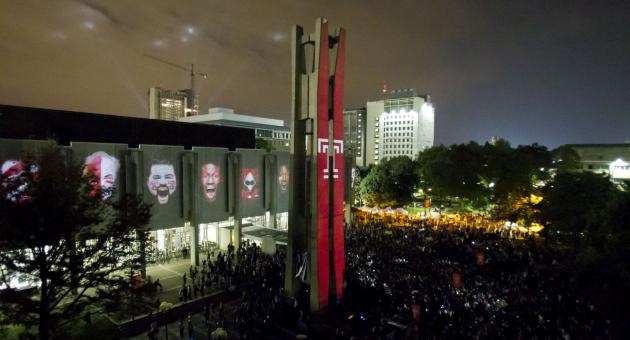 It's Temple Made, and it's taking hold.
The university's new brand identity, launched this fall online, on billboards and on TV throughout Philadelphia, has provided a voice for students, alumni and other members of the community who identify with Temple's unique spirit, sense of pride and roll-up-your-sleeves attitude.
The impact of the Temple Made brand was on full display at the School of Media and Communication's Lew Klein Alumni in the Media luncheon last month.
"I am Temple Made," said Temple alumna and assistant journalism professor Amy Caples, one of several honorees who worked the phrase, unscripted, into their acceptance speech.
Other alumni have echoed that sentiment online, in social media comments and other messages. Posts carrying the #TempleMade hashtag or updates have been widely shared, liked and re-Tweeted on the university's Facebook and Twitter pages. And some have openly endorsed the campaign's effectiveness.
"I've always been proud to be a Temple Owl, but this campaign seals the deal — and has boosted Temple University to heights I never could have imagined when I was a public relations student there," wrote 2010 graduate Jessica Lawlor in a blog post titled "Three reasons (the) Temple Made campaign works."
That's exactly the sense of pride the university had hoped to engender when it selected Philadelphia-based advertising agency Neiman to create the Temple Made concept. The brand is intended to reflect and harness the creativity and energy that's inherent to the Temple community.
"This is much more than an advertising slogan," said Nicole Naumoff, associate vice president for university marketing. "It's a mindset — it's a mission. It's a way of describing our faculty, students and alumni and showing the world all the amazing things they are doing."
A unique aspect of Temple Made is that it also holds literal meaning: most aspects of the brand's creative execution have involved members of the Temple community. Television spots that appeared during presidential debates earlier this fall were directed and produced by Tyler School of Art and School of Media and Communication alumni, and soundtracks were composed by a Boyer College of Music and Dance alumnus. Many other alumni have collaborated on other aspects of the campaign.
Similarly, Temple Made Live, a massive event held in September, brought out more than 2,500 members of the Temple community, some of whom ultimately were featured in a television spot filmed that night. Colorful images of Temple athletes, scholars and musicians flashed across the face of Paley Library and the Bell Tower, creating a vibrant spectacle as students danced to music spun by Temple Made disc jockeys. The event led to 1,300 Facebook page views and 2,500 uses of the #TempleMade hashtag on Twitter in that one night alone.
In Philadelphia and beyond, the Temple Made campaign has been hard to miss. Billboards and displays have popped up in transit stations and along highways, promoting upcoming BIG EAST home football games and emphasizing the university's strengths in academics, innovation and research.
At the same time, print and online materials carrying themes such as "Self Made, Philly Made, Temple Made" are making their way to high school seniors. A new admissions-focused micro-website for prospective students launched last week, drawing on images submitted to Instagram by high school students and current Owls alike.
The current phase of the campaign continues through 2012 with a series of advertising placements emphasizing the university's academic strengths and a $100 million student scholarship fundraising initiative.