Warm winter weather confuses plants, insects and animals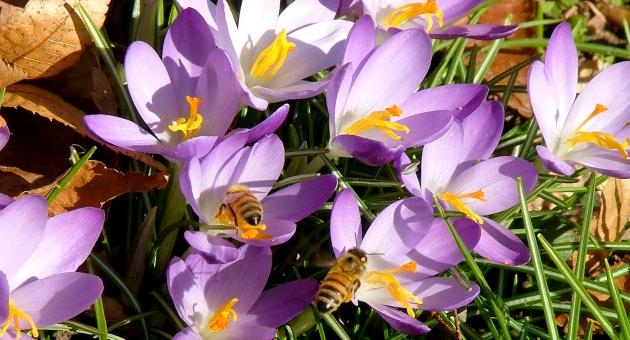 During his annual February ritual, Punxsutawney Phil came out of his burrow, took a morning stretch and predicted that there would be six more gloomy weeks of winter.
Apparently Mother Nature missed the memo.
According to experts at Temple's Ambler Arboretum, this winter's unseasonably warm weather has created some confusion among local flora and fauna.
"The warm weather has pushed the early spring bloomers' growth cycles up," said Jenny Rose Carey, arboretum director. "They are following the same sequence that they normally would, but they are doing it three to five weeks early."
Horticulture technician Kathryn Reber said early bloomers such as crocus and daffodils have already begun to bloom. And the buds of magnolias and cherry trees aren't waiting for a change of season either.
"While they are running through their normal growth cycles, there's certainly the possibility that we will still get some significant snowfall before winter ends," she said. "That could definitely be an issue for orchards in the region — the tree will bloom, the blooms will freeze and the tree won't produce fruit."
Another concern is pests — cold weather usually kills spores and grubs and helps keep plant diseases in check.
"We'll probably end up with greater populations of pests, such as mosquitoes, that have been able to survive the mild winter," said Reber.

"The warm weather has pushed the early spring bloomers' growth cycles up."
-- Jenny Rose Carey, Ambler Arboretum director
But according to Carey, the region is not alone in experiencing weird weather this season.
"There's a different cycle of air flow this year," she said. "Europe is slammed under a deep freeze while we're staying relatively warm. There's a certain amount of variation year to year, but here we are with daffodils in early February, which certainly isn't typical."
It's not just flowers and trees that are getting an early start on spring — honey bees from the Ambler Campus hives have also emerged from their slumber.
"Bees will come out during warm days. One of the reasons that it is good to have early flower bulbs is that it does get the hive active — they need somewhere to go and get their food and the Arboretum is definitely supplying that this year," said Carey.
One of the disadvantages is that there will be fewer blooms in later spring, but most of the plants native to this area should make it through okay. For the bees, the hope is that the growing sequence will be pushed up a bit so they will have blooms to pollinate when they are most active."
For homeowners worried about damage to their prized flower displays, Reber said there are covers that can be purchased to protect blooms from the cold and snow.
Carey takes a simpler approach to protecting flowers from winter's chill embrace.
"Just go outside, pick the daffodils and put them inside on your windowsill," she said. "You get to enjoy them a little longer and they get to avoid the harsh weather."