Performance art helps deepen understanding of disabilities at Temple institute
Six new grants take the Institute on Disabilities in new directions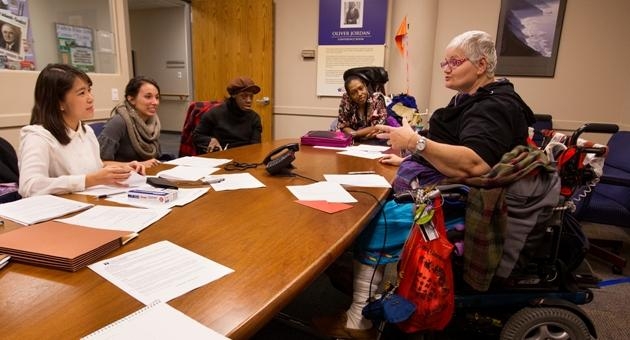 It was a big stretch — but they wanted to stretch. In fact, administrators in Temple's renowned Institute on Disabilities (IOD) knew they would have to think creatively if they were to expand the institute's reach and impact. 
Both the state and federal disabilities budgets the IOD has relied on for almost 40 years have been changing dramatically. So this past year, the staff dipped their toes into new waters, developing several funding proposals that would take the institute in different directions — even a foray into public performance art.
The fresh approach has paid off. Since last spring, the IOD has been awarded six new grants totaling $1.1 million, including $75,000 from Pew Center for Arts & Heritage to produce a play featuring people with intellectual disabilities as part of the cast. 
It's this project in particular that Celia Feinstein, co-executive director of the IOD, believes might have the biggest impact. Over the decades, the institute has successfully convinced the disabilities community to care, to advocate and to mobilize, but it hasn't done as much to help convince those who aren't directly affected by disabilities. 
"That would be our biggest success," said Feinstein. "Through this performance, we're going to contribute to the push to convince other people to care."
The institute's other grant awards will allow the institute to focus on such areas as the transition from work to retirement, emergency response, criminal justice, non-traditional education and communication technology for people who are deaf and blind. 
Feinstein attributes the institute's successful funding pursuits to the expansion and diversification of its staff, as well it's ability to address issues that are priorities to funders. 
The institute's long time funding partner, the Pennsylvania Developmental Disabilities Council (PADDC), has provided four of the grants, including one that will help people with disabilities in the event of public emergencies. 
"Hurricane Sandy reminded us of the importance of emergency preparedness," she said. "For people with disabilities, there are additional considerations, including their use of technologies such as power wheelchairs and communication devices."
Another critical issue for both the institute and its funders is the aging baby boomer generation. One of the new grants will look at the transition from work to retirement. 
"People are living longer," said Feinstein. "What supports do the people with disabilities who are aging and their aging caregivers need so they can transition successfully?" 
Working with the PADDC came naturally to the IOD. But applying for a grant from Pew was venturing into new territory. That proposal was an outgrowth of the IOD's oral history project, Visionary Voices, which revealed the profound experiences of of mothers of children with disabilities. 
"We came to see these young mothers, in the 1950s and 60s, as accidental warriors in the intellectual disability rights movement," said Feinstein. "How did they come to identify themselves and their kids and what's happened as a result of all that?"
She recalls the story of Ginny Thornburgh, the wife of former governor Dick Thornburgh. When her son Peter, who has an intellectual disability, was ready to go to school, she was disturbed to learn that his classroom would be in the basement boiler room. The school's principal justified the poor conditions, remarking that students with disabilities don't care where they are. Thornburgh replied, "They do care. And because of that we have to care triple." 
For more information on the IOD, part of Temple's College of Education, and its initiatives, visit http://disabilities.temple.edu/.