LGBTQ scholarship recipient feels support of Temple community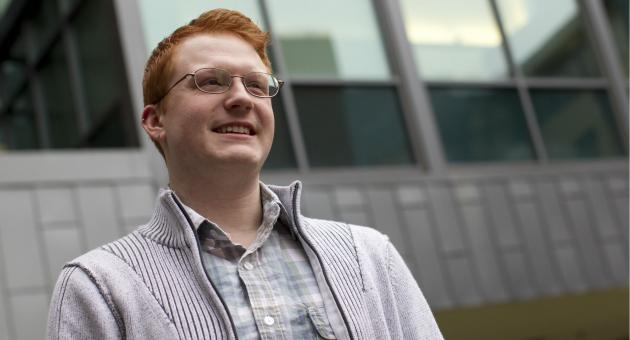 When Michael C. Busza came out as a gay man, the support and love from his closest friends and family never wavered. Now, as the recipient of a new scholarship for members of Temple's LGBTQ community, he has felt that support grow from his inner circle to his school.
"The mere existence of an LGBTQ scholarship at Temple is both empowering and inspiring," said Busza, a junior honors student with a double major in communications and English and a minor in business.
The MarcDavid LGBTQ Scholarship was created to recognize a student's efforts to further the inclusion of the LGBTQ community at Temple.
Busza feels the scholarship is another big step in the right direction toward creating an atmosphere at Temple in which others in the LGBTQ community feel more comfortable in their own skin.
"There are some people who can't talk about this part of their life with anyone," he said. "It's important to realize that there is support out there, whether or not it's in your personal life."
Already busy as a resident assistant and student worker in the Temple Office of Orientation, Busza says the $5,000 scholarship will allow him to focus on other creative pursuits. He has been working around the clock on his latest project, a full-length web television series called "One of the Guys," which will premiere online Feb. 19.
The series will explore the relationship among roommates, three of whom are gay and a fourth who is straight. It's a relationship Busza experiences in real life that he has not seen explored on television before.
"Now, I can actually focus on producing this show and making my voice heard," he said. "The scholarship shows me that people think that what I'm doing is important and that my stories are important."
Scott Gratson, director of the School of Media and Communication's Communication Studies Program, first met Busza at one of Temple's open houses.
"He is not only an exceptional student but an active, caring part of the campus community," said Gratson. "He has used his talents in a variety of ways, including opening up avenues for students' voices through media."
Gratson said the MarcDavid LGBTQ Scholarship "marks a new development in Temple's consistent and decades-long process toward becoming even greater leaders in incorporating the needs of LGBTQ faculty, staff and students into the campus community."
— Jeff Cronin