In Engineers Week Q&A, veteran astronaut hopes to ignite students' passion for space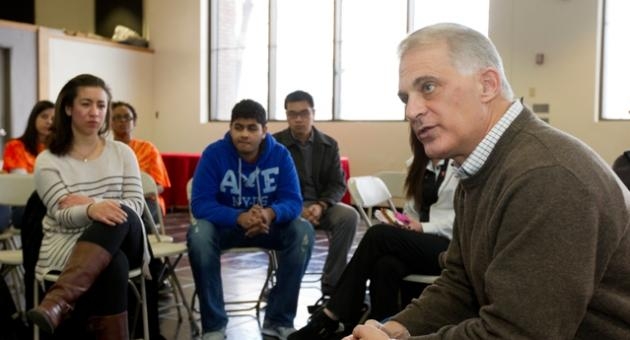 If you could ask an astronaut any question, what would it be?
Did they always want to be an astronaut? How does one get selected as an astronaut?
How do you get acclimated to being in space then returning to Earth?
How do you fall asleep in space?
Are we alone or are there really aliens in our universe?
These were among many questions that Temple students, mostly from the College of Engineering, asked of retired NASA astronaut David Wolf during an hour-long question-and-answer session yesterday as part of the college's observance of National Engineers Week.
Wolf spent 12 years as an astronaut, logging more than 168 days in space over four separate missions, including 128 days on the Russian Mir space station. He also conducted seven spacewalks, logging 47 hours, 5 minutes of extravehicular activity.
On Wednesday, Wolf had delivered Engineers Week keynote remarks, showing and discussing a film on "The Challenge and Inspiration of Spaceflight" to an overflow crowd. But on Thursday, he took time to meet first with a group of faculty, then spent an hour discussing space and his career with some 50 enthusiastic students in the College of Engineering's exhibit hall. The opportunity to meet and talk with a real astronaut was not lost on the students.
After attending Wolf's keynote presentation on Wednesday, sophomore communications major Nadia Ouazzi switched her schedule around so she could ask him questions during Thursday's student event.
"This was very cool," said Ouazzi, of Mountainside, N.J.. "I'm going to brag for years about this."
Michael Korostelev, a doctoral candidate in electrical and computer engineering, said space is one of his hobbies and that he watches a lot of space-related television programs and documentaries.
"Most of the things Wolf mentioned in his talk on Wednesday I already knew," said Korostelev, of Northeast Philadelphia. "I was more interested in the personal aspects of space, and that's what he covered in today's question-and-answer session, which I enjoyed."
Sophomore engineering technology student Luke Coleman, in his first semester at Temple after transferring from Delaware County Community College, asked Wolf about the challenge of getting acclimated to space and then re-acclimated to Earth upon return.
"I was sitting directly across from him, so that was really cool," said Coleman, of Aldan, Pa. "It was kind of intimidating for me at first because he's an astronaut, but by the end he seemed like a regular, personable guy."
The session was moderated by Bioengineering Chair and Professor Peter Lelkes, who once had one of his tissue engineering projects taken into space by Wolf aboard the space shuttle.
"It is very important for our students to see the reality and the human part of spaceflight, and in that I think David Wolf serves is an inspiration," said Lelkes.
Wolf said he hoped his talk could help re-ignite passion for space among students. He challenged them during their give-and-take to suggest reasons why we the U.S. has lost its focus on spaceflight and space exploration.
"You could see the interest they have," he said. "At the same time, their interest ignites my passion. You can see that our future is in good hands with the top quality students here at Temple."