Tyler students help restore a fading relic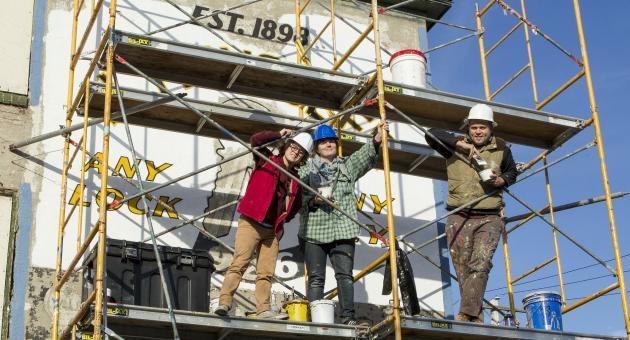 In an age of Google AdWords and sponsored Facebook posts, the fading outlines of logos for brands such as Coca-Cola and Clorox painted on the side of buildings are a quaint reminder of advertising's simpler past. Preserving these ghost ads, some of which date to the mid-1800s, has become a popular pursuit for preservationists across the country.
Tyler School of Art students Stacey Holder and Olivia Menta became part of that movement last year when they were selected by  Robert Blackson, director of exhibitions and public programs for Tyler School of Art to join Philadelphia's Mural Arts Program complete the restoration of a faded sign for the Herman Henssler Locksmith Company, which has operated at 13th Street and Girard Avenue in Philadelphia since 1898. 
Blackson, who curates exhibits for Temple Contemporary, selected Holder and Menta to participate in the project based on recommendations from Tyler faculty. 
"I didn't know anything about ghost ads before this project," said Holder, a junior painting major. "But, I had always paid attention to, and been aware of, old painted signs that had faded over the decades."
Holder and Menta worked with Mural Arts restoration crew leader Nathaniel Lee for over three weeks to restore the antique ad, which promotes the store's long-standing slogan, "Any lock... Any key."
The small business has been a part of the Henssler family for five generations. Current owner John Henssler's father and grandfather were both born in a small room on the building's fourth floor.
"It was a project that the family had considered doing in the past," said Lee. "They were very happy to have some artistic assistance to get it done."
Before the process of restoring the sign started, Lee gave Holder and Menta a crash course on the history of ghost advertising in the United States and Europe.
"Although there were large portions of the lettering missing, faded and chipped away, it was not difficult to replicate the font that already existed," said Holder.
For Menta, the most challenging part of the project was the transition from creating works on paper to completing a large scale piece on a wall.
"That elemental change was difficult at first, but after awhile we got the hang of it," she said.
Perched atop four stories of scaffolding, the three painters worked from an old photo of the original sign to fully replicate and restore the relic.
"Every time we turned our backs to the wall we saw the skyline," said Holder. "Also, there was something very Zen about painting a very straightforward font on the wall. Sometimes we would be really involved in intense conversations, other times all three of us would just paint in silence for a while."
Lee hopes the project will lead to the opportunity to preserve other ghost advertisements across the city.