Criminal Justice students assist FBI, ATF with real-life intelligence analysis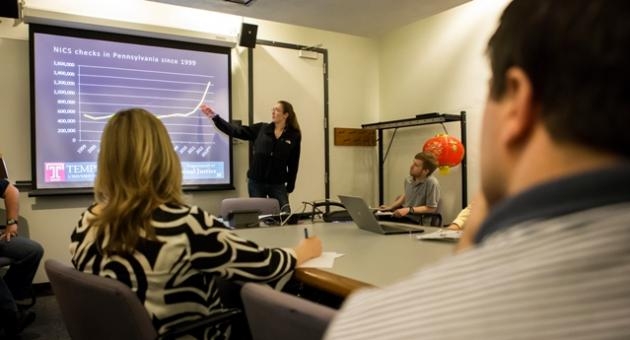 The scene is this: Young men and women gather around a table. They are examining color coded maps and line graphs as they discuss factors influencing the likelihood of firearms violence in Pa.
Are they members of the Philadelphia Police Department attending a strategy session? Are they actors in an episode of a television crime drama?
Nope. They're graduate students in "Criminal Intelligence," a course taught by Jerry Ratcliffe, chair of Temple University's Department of Criminal Justice and director of Temple's Center for Security and Crime Science.
For the class, students are tasked with performing a real strategic intelligence assessment for either the Federal Bureau of Investigation (FBI) or the Bureau of Alcohol, Tobacco, Firearms and Explosives (ATF). It's the first time that either of the two agencies' Philadelphia offices has partnered with a university on a semester-long, in-depth project aimed at helping students learn how to analyze data about a real crime problem in the city.
"Data gleaned from intelligence gathering plays a vital role in policing today and intelligence-led strategies are an integral part of ATF's enforcement platform," said ATF spokesperson Special Agent Steven Bartholomew.
"When Professor Ratcliffe approached us with the idea for the course participation, we thought it would be a great opportunity for the students to gain a working knowledge of how focused intelligence is utilized to analyze crime trends. And subsequently how it is used to develop investigative strategies to impact violent crime in efforts to keep the city, state and country safe," said Bartholomew.
The students have been assigned to small groups to address specific projects. All semester they have been gathering data from publicly available documents and learning advanced structured thinking techniques, such as scenario generation and analysis of competing hypothesis, before applying these skills to their work.
At the end of the semester, the students will provide a written report and a PowerPoint presentation to leadership at the local ATF and FBI field offices, delivering their first real intelligence briefing.
Ratcliffe got the idea of doing a real assessment for a local agency from his time as academic coordinator of Australia's National Strategic Intelligence Course. As a former police officer with the London Metropolitan Police, where he served as both a patrol officer in an intelligence and information unit and as a member of the Diplomatic Protection Group, Ratcliffe brings plenty of practical experience to his role as professor.
Now, as a researcher, he focuses much of his academic scholarship on ways to improve police work — through the use of strategic thinking and intelligence. He works with the Philadelphia Police Department on the city's Smart Policing Initiative, an effort which is credited in part with reducing the number of homicides in Philadelphia this year.
"The idea for the course is to help the students move out of the theoretical and confront a real life scenario — in which their boss, who wants to know how to prioritize resources, might say, 'Get me everything on x,'" said Ratcliffe.
The students are assigned a crime problem, but they still have to first ask, "Is this a problem?" said Justin Tolomeo, assistant special agent in charge for intelligence at the FBI.
"Ultimately the students will develop operational recommendations for further investigation and resource management," said Tolomeo. "The benefit for us is getting fresh eyes on our research methods. We try to do that as much as we can in our analytical work — to get out of the 'groupthink' mentality and see things from different angles."
The students really appreciate this opportunity to work on a real project, said Ratcliffe. "It is very different from traditional academic work and many of the students hope to get jobs as researchers and analysts with investigative agencies. It gives them a chance to improve their decision making and develop strategies based on real-life scenarios," he said.
"This course is definitely enhancing my ability to exercise structured thinking," said Amber Perenzin, a Ph.D. candidate in Temple's criminal justice program. 
"In intelligence analysis, it is easy to unintentionally look for evidence that supports one particular hypothesis, she said. "Part of the class involves exposure to a number of techniques that analysts use to structure evidence collection to overcome this. These techniques force you to think critically about something from a number of different perspectives which I feel is a good skill to have."
Doctoral student Corey Haberman came to Temple specifically to study under Ratcliffe because the professor is known for conducting research that has real-world applications.
"This course has provided me with tools for structuring my thinking — for thinking critically and solving problems," said Haberman. "That's something I can bring with me to a future career either as an academic or an embedded researcher within a crime-fighting organization."