Medicine grad discovered love of science on tour with his band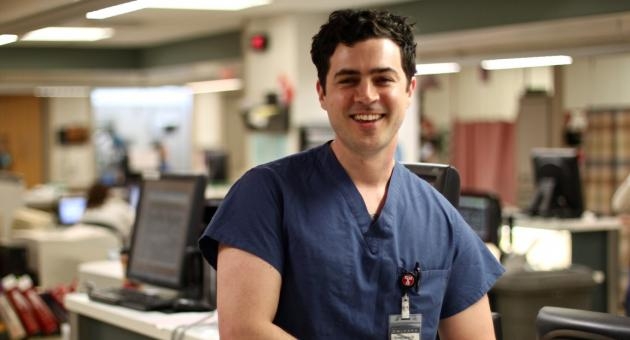 With one semester to go at West Chester University, Chris Kleinberg told his parents he was quitting school. His rock band, "Me without you," for which he played electric guitar, had just been signed to a four-record contract. Thus began seven years of touring, during which Chris "lived the dream," but also unexpectedly uncovered a deep love of science that would eventually lead him to medical school.
This May, Kleinberg, 33, will graduate from Temple's School of Medicine bound for a residency in emergency medicine at Temple University Hospital.
His path to medicine was sparked by those seven years on the road, specifically by the 1974 Greyhound bus that band members gutted and turned into a tour bus.
"Through rehabbing the bus and converting it to run on used vegetable oil, I realized I loved problem-solving," said Kleinberg. "Vegetable oil constantly clogs so I spent a lot of time figuring out where the clogs were and how to fix them. It made me fall in love with the diagnostic process."
Kleinberg decided to explore science more earnestly to see if he really liked it as much as he suspected. He took chemistry and physiology textbooks on the road. Touring afforded a lot of down time so he could study. Within 6-9 months, he knew that he wanted to pursue medicine.
He returned to West Chester to finish his bachelor's degree, commuting by public transportation from Fishtown. He started gearing up for the strenuous medical school application process by taking pre-med courses and using his four-hour daily commute to build his study habits. For hands-on experience, he volunteered at Thomas Jefferson University's emergency room and a medical clinic near his house.
Meanwhile, Temple had just launched its post-baccalaureate premedical program, which offers well-qualified students in need of science prerequisites a supportive bridge into medical school. Kleinberg became part of the inaugural class.
In addition to the post-baccalaureate program, Temple offered Kleinberg the opportunity to continue serving North Philadelphia.
"I have a heart for this part of the city," he said. "There are a lot of underprivileged people who've kind of been [cheated] in a lot of ways. I think that's at the heart of Temple — serving this area."
When Kleinberg envisioned himself as a doctor, he saw a jack-of-all-trades, kind of what he was on tour, someone who could fix and diagnose anything that came along. This led him to decide to specialize in emergency medicine.
"You have to be ready for any type of medical complaint whether it's a woman about to deliver a baby or someone having a heart attack," he said. "That's appealing to me. I always wanted to be a well-rounded person. In emergency medicine, you have to be proficient in all areas of medicine, especially in an acute setting."
Temple was his first choice for residency. Not only is it one of the best programs in the country, but it also allows Kleinberg and his family to stay in the area, which means his baby daughter, Jubilee, can grow up close to her grandparents.
True to his desire to be well-rounded, Kleinberg has stayed tuned in to his musical interests. During his first two years of medical school he occasionally toured with the band and more recently, began writing music with his wife, Nikki.  
"I feel really lucky," he said. "I guess it's a combination of luck and gratitude to be at the place I'm at now. I found my way and it feels good."