TSG president fosters his passion for politics, Temple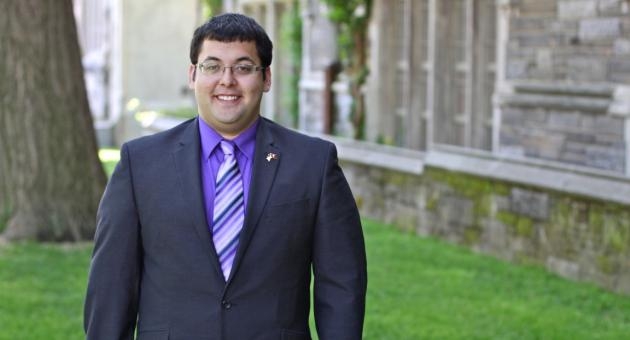 David Lopez's passion for politics began in high school. At just 17 years old, he was working for Sen. Hilary Clinton's presidential campaign. While attending Temple, the political science and philosophy major has interned in Washington, D.C., three times, most recently for the White House, and has worked for the Democratic National Committee. But at Temple he is best known for his service this year as president of Temple Student Government.
Temple Times: What has been your most memorable experience at Temple?
David Lopez: The day that the election results were announced for Temple Student Government. After having spent several weeks investing time and energy into the campaign, it was great to get the results announced. I had a great team I was working with the entire time, and to know we were going to have a chance to do what we were campaigning for over the course of the next year was, by far, the most rewarding thing you could ask for.
TT: In addition to your work as TSG President, you've served the university as an Owl Ambassador. Why are you so committed to Temple?
DL: So much was presented to me within the first few weeks that I was here. So many people had a pride and passion for this institution and it made me want to convey that message to others. So that's part of the reason I took on the job. Looking back on it, it was the optimal way to put myself out there and convey to other people that Temple could be the right school for you. My commitment has been here since day one and it will always be here, even 50 years down the road.
TT: What has driven your interest in public service?
DL: Part of it is growing up in a fairly small city [Hazelton, Pa.], where things were difficult at times. It had a huge problem as far as the race demographics are concerned. People would often question how someone with the last name "Lopez" could ever accomplish something. It motivated me to prove them wrong. Things don't just get handed to you; you have to work hard for them no matter who you are or where you come from. 
TT: What are your plans after graduation?
DL: Ideally, it would be to work for maybe two or three years within the federal government, and then attend law school. After that I would like to start to get involved more directly with public service, maybe in a public defender's office in a big city. One day somewhere down the road, I wouldn't mind running for public office.
TT: What legacy have you left at Temple?
DL: I've always lived off one mantra, and it came to me during my sophomore year: When you come to Temple you can either be a fish in the ocean or a shark in a pond. The more you put yourself out there, the more people you're willing to meet, the more faces you're trying to put yourself in front of, the more opportunity you're going to have. Starting as a freshman who really didn't know what I wanted to do and falling into different roles over time made me figure out exactly where I want to be.