Boston bombings are a defining moment for podiatry grad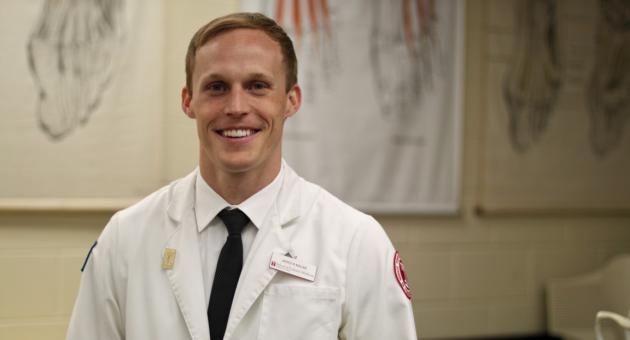 As a boy growing up in rural Shelley, Idaho, Jared Malan could never have dreamed that circumstances might someday put him steps away from an unfolding national tragedy.
But that's where the graduating Doctor of Podiatry student found himself last month as he tended to runners in a medical tent 25 yards from the finish line of the Boston Marathon. Malan was one of 10 members of the Temple School of Podiatric Medicine's Sports Medicine Club volunteering at the race when twin bombs detonated a short distance away. In the moments that followed, he and his classmates went from treating tired athletes with blisters and bunions to bandaging life-threatening open injuries.
For the next hour, the scene played out as if in slow motion, as victims were brought to the tent from the site of the blasts. Just weeks shy of receiving his podiatry degree, with coursework in traumatology and a background in psychology, Malan had an ideal combination of skills to stabilize and comfort stunned athletes and spectators with injuries to their lower extremities.
"All I could do was say 'Hi, I'm Jared, I'm from Idaho. I'm going to try to take care of you,'" he recalled. "And then just give the best care possible in a tough situation."
Malan and his classmates saw dozens of patients before being evacuated from the area, which would soon become the focal point of a massive criminal investigation that captivated national attention.
For Malan, the road to Boston began with the tale of a hometown hero. Throughout his childhood he was told the story of Raymond Curtis Brinkman, a Shelley resident who had lost both legs in a boyhood farming accident. Brinkman went on to become a pioneer among wheelchair athletes as the first non-runner to win the Boston Marathon.
Inspired by Brinkman's story, Malan was determined to experience the excitement of the famed Patriot's Day race.
"This was my chance," said Malan. "This was the culminating event for me. To finally go to the marathon and be there in the medical tent, it was realizing a dream."
The event would become an exclamation point at the end of his four years of podiatric training and the journey that brought him to Philadelphia. He and his wife, Chelsea, a pharmacy student at Thomas Jefferson University, moved to the city four years ago to become part of its medical community.
"I'd never lived on the East Coast — I'd never lived in a city larger than 20,000 people in my life," said Malan. "To somebody from Idaho, Philadelphia is almost a foreign country."
The couple has made the city home. They plan to stay in the region as Malan pursues his residency at St. Luke's University Health Network in Bethlehem, Pa., possibly followed by a one-year fellowship in sports medicine.
Malan has always been committed to service. As an undergraduate at Brigham Young University-Idaho he had paused his studies to undertake a two-year mission in Guatemala. He continues to help others, even managing to find time to coach a youth basketball team while meeting the demands of medical school. And as a member of the Sports Medicine Club, he has treated athletes young and old at events such as the Penn Relays, charity walks, the Special Olympics and others.
And then there was Boston.
"After I heard the first explosion, I immediately thought we were under attack," he said. "I was ready to just run. Then you heard the screams and the sirens."
"Something inside of me said 'Call Chelsea, let her know that I'm OK for now, and that if not...' I wanted to get my last I love you in to my wife."
He left the message and ended the call. And then something clicked. "We don't have enough doctors," he thought. "I'm a physician — I'm weeks away."
And so, rather than flee, he took his place inside the medical tent as the first victims arrived.
"I think having that background and having been in medical school for four years, nothing can prepare you for that emotionally, but you to turn into a focused physician when the time comes," he said. "What you're taught, you use to the best of your ability."