Real-world ready: Temple experiences prepare grads for career success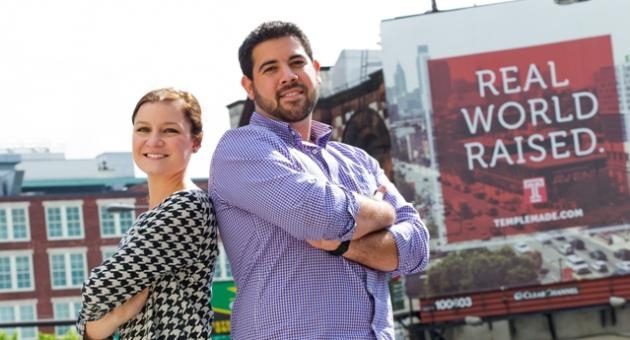 This spring, the Philadelphia Daily News needed to hire a part-time copy editor. But where was Assistant Managing Editor Michelle Bjork going to find one with experience? She knew it wouldn't be easy to land someone who wouldn't need much training; copy editing is a skill few entry-level professionals have had a chance to acquire.
A search on LinkedIn turned up the solution, and it was in the same building. Temple senior Lauren Hertzler was working as a copy editing intern during the spring semester with the Daily News' sister publication, the Philadelphia Inquirer. Hertzler had leveraged a year and a half of front-line experience she had acquired as a copy editor for The Temple News, Temple's student newspaper, to land her Inquirer internship. Just like that, Bjork had found her battle-tested copy editor. And Hertzler had found post-graduation employment, getting her foot in the door at the Daily News at a time when newspaper jobs are increasingly scarce.
The key to the match: Hertzler had something few newly minted college graduates can offer — she hadn't just learned a skill in the classroom, she had already done the job in the real world.
"Copy editing is such a hyper-specialized skill," Bjork said. "There are very few people Lauren's age who have real copy editing experience. That's what drew me to her. I could bring her over here and she was able to do exactly what she needed to do."
If there's anything that defines Temple graduates, it's that they haven't been cloistered. As the "Temple Made" billboard on Broad Street proudly asserts: Temple students are "Real World Raised." They've cut their teeth on coursework that emphasizes experiential learning. They've completed academic programs with live-fire professional capstone experiences such as the Fox School of Business MBA's Enterprise Management Consulting program. They've had internships on campus working with faculty or staff on projects directly related to their career interests through the Temple University Internship Program. They've studied abroad or participated in professional immersion experiences such as the School of Media and Communications' Los Angeles Study Away program. They've been Diamond Peer Teachers and Diamond Research Scholars. And by making themselves what Temple President Neil Theobald calls "real-world ready," they've earned a competitive advantage in a tough job market.
Linda Lawton, associate director of Temple's Career Center, says experiential learning, internships and other professional experiences are critical for students. In addition to absorbing job-specific technical knowledge, Lawton says students learn what employers call "soft skills": professional etiquette, how to interact with colleagues, time management and more. When employers come to campus for job fairs, they aren't just looking for students who have the right technical skills, they're looking for people who can fit seamlessly into their organizations.
"We love it when students have been able to demonstrate at our company or another company the professionalism, the reliability and the understanding of interpersonal relations that are necessary to integrate into a corporate culture," said Scott Bellamy, an IT systems development manager at Vanguard, a company that has hired 48 Temple students this year.
Geoffrey E. Allen, a senior in Temple's College of Science and Technology, was an intern last summer at Vanguard's headquarters in Malvern, Pa., where he developed a web-based application for the company's fixed-income systems. When he returned to Temple in the fall, he began a year-long information science and technology capstone course, which pairs teams of students with real campus clients to work on software development projects. Allen led a six-student team that developed an online scheduling system for Temple's Writing Center. The experience replicated a professional software development cycle; they interviewed the client, analyzed the situation, designed a solution, coded the software, then tested, documented and implemented it.
"I learned skills — how to manage people, how to deal with personalities. And I learned technical skills. For my capstone, we were getting down and dirty with the code," he said. "We really do have a competitive advantage when we go into the work world."
The payoff: Allen has a position in Vanguard's two-year Technology Leadership Program waiting for him after he graduates.
In the coming years, Temple will be increasing the number of hands-on experiential learning opportunities and internships available to students. Hai-Lung Dai, Temple's new provost and senior vice president for academic affairs, sees it as one of Temple's top academic priorities.
"In all we do, we should consider how the content of a Temple education benefits our students," Dai said. "After receiving a Temple education, can our students find good jobs and be effective citizens?...I would like to help our students acquire problem-solving and analytical skills by increasing opportunities for hands-on experiences. Employers want graduates who, when faced with a challenge, can analyze the situation and solve problems. To me, that's 'real-world ready.'"