Open data, digital divide are key issues at Temple-sponsored Mayors' Innovation Summit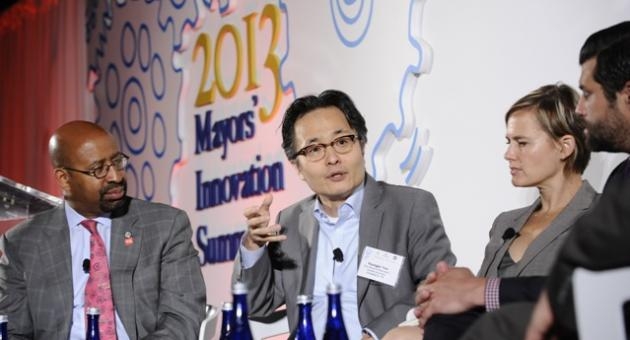 In San Francisco, health-inspection scores for the city's restaurants are posted on Yelp to improve public health. Similarly, the Foodborne Chicago app allows residents to report food poisoning while the city proactively scans Twitter for potential incidents (think tweets using all possible synonyms for "vomit").
And in Boston — where a third of city service requests come from the web and mobile apps — the Citizens Connect app allows residents to easily file and track requests or join with one another in solving them.
"When I call City Hall, I feel like I'm complaining," Boston Chief Information Officer Bill Oates said in describing typical feedback from residents. "When I use this application, I feel like I'm helping."
These were a few of the many technology initiatives shared at the Mayors' Innovation Summit, hosted by the City of Philadelphia, Temple University's Fox School of Business and the U.S. Conference of Mayors. Held May 22-24 at the Westin Philadelphia hotel, with receptions at the Comcast Center and Urban Outfitters, the summit was the seventh in a series organized by Temple's Center for Competitive Government.
More than 30 mayors and dozens of other top elected officials gathered to share ideas on how civic innovation can increase citizen engagement, promote open government and improve services.
The city representatives also heard from executives from Google, Comcast, IBM, Knight Foundation and others, as well as academics and entrepreneurs, on how innovative public-private partnerships are solving local challenges. Government officials noted that collaboration should also be public-public.
"There's a lot of us who should be shaking hands and working together — real fast," said San Francisco Chief Information Officer Marc Touitou, a Fox Executive MBA graduate, who cited a failure to collaborate as cities' No. 1 competitive threat.   
Clear themes emerged. Bridging the digital divide — both in expanding access to technology and in encouraging more people, particularly minorities, to create it — was a focal point. 
"Don't just play the game," said Philadelphia Mayor Michael A. Nutter, the current U.S. Conference of Mayors president. "Create the game."
Officials and executives also emphasized the shift in government culture and citizens' expectations toward opening data sets and involving the public in determining how that data can best be analyzed and visualized.
In the panel "Setting up Shop: Catalyzing Local Innovation," Michelle Lee, CEO of Textizen, asked the crowd to compare expectations that citizens place on government with the demands consumers have of technology, such as smartphones.
"Why can't we have that level of transaction, that level of depth, that level of beauty with how we interact with our government?" she said.
Panelists stressed the importance of embracing failure and innovating constantly, even if those innovations are incremental.
"In the world we live in, if you don't innovate, the competition is just a click away," said Milo Medin, Google's vice president of access services.
Whether from industry or government, presenters stressed that innovation and access should be inseparable.
"There's never been as many sparks of connection," said Jennifer Pahlka, founder and executive director of Code for America, which works with web professionals and cities to promote public service and improve government. "Innovation isn't the specialist's job. It's everyone's job."