Scholarship program helps make college affordable for Temple students in need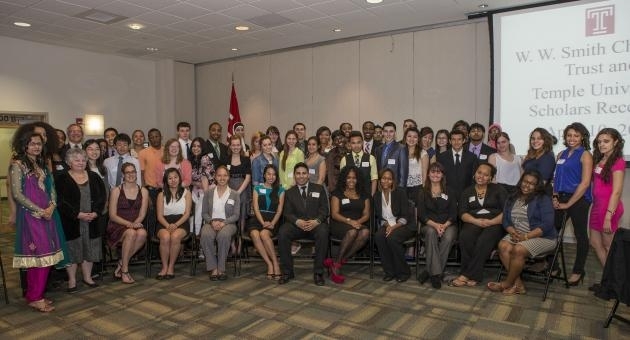 For senior environmental studies major Samantha McNulty, being named a W.W. Smith Scholar was an opportunity to worry a little less about costs and focus a little more on her studies in pursuit of achieving her goal — becoming an environmental lawyer.
"I am forever grateful to the trust for awarding me, as well as my fellow Temple students, the privilege of stressing a little less about financing our college educations," she said. "Since financial resources have become limited, I am so appreciative of their assistance."
McNulty is just one of many Temple students to benefit from the generosity of the W.W. Smith Charitable Trust. Through its Scholars Program, the private foundation awarded $169,000 to 90 Temple students in the 2012-13 school year and will provide another $150,000 to approximately 75 in the upcoming year.
Grants range from $2,000 to $5,000 per student and are awarded to undergraduates from the Delaware Valley area in good academic standing whose financial need cannot be met by other aid programs.
"I have witnessed firsthand the tremendous impact of this award," said Michael Stokes, director of Temple's Russell Conwell Center, who administers the trust for the university. "The W.W. Smith award has allowed many students to continue their education, graduate and contribute to the local and regional economies."
"The W.W. Smith's impact on me during my time at Temple was tremendous," said D'juan Lyons, a Temple College of Liberal Arts graduate who is entering the doctoral program in Spanish linguistics at University of Maryland, College Park this fall. "I was able to study with reasonable ease because I did not have to worry about financial struggles. The scholarship also motivated me to work hard because I wanted to meet the program's GPA requirement."
A long-term Temple benefactor, the W.W. Smith Charitable Trust has given the university more than $14.9 million since 1978, primarily to medical research and undergraduate student support. Established by William Wikoff Smith, the W.W. Smith Charitable Trust has made $187,758,801 in funding available since 1977, primarily in its key focus areas:  basic needs for food, clothing and shelter; supplementing higher education scholarship programs; and basic medical research primarily in heart disease, cancer and AIDS.
"The W.W. Smith Charitable Trust and Temple University have had a remarkable partnership for more than 35 years," said Temple University President Neil D. Theobald. "The trust's commitment to Temple students and their success is extraordinary. We are grateful to the trustees of the W.W. Smith Charitable Trust for their efforts to make the costs of a Temple education within reach for all of our talented students, regardless of financial means."
The W.W. Smith Scholars program plays an important role in the university's commitment to providing an affordable education and reducing student debt. Last year the university launched a new academic scholarship program for incoming freshmen that offers more aid across more levels of achievement and brings the total amount of financial aid awarded by Temple to $90 million per year.
In the 2012-13 school year, 40 percent of Temple's fall freshman class and 35 percent of transfers received merit awards.