Temple University Japan coming back strong
Surging enrollment after post-3/11 slowdown parallels Japan's economic renewal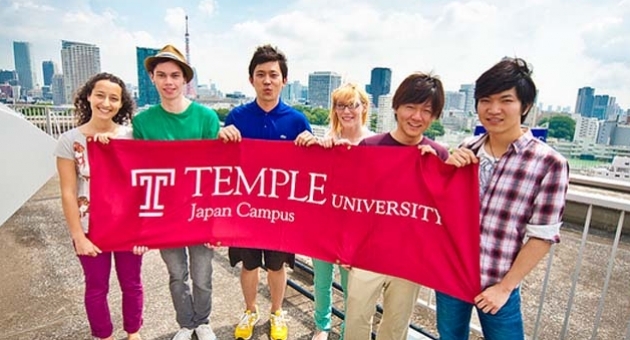 In the aftermath of the devastating earthquake, tsunami and subsequent nuclear accident that struck Japan in March 2011—the tragic series of events known as 3/11—enrollment at Temple University, Japan Campus (TUJ), Temple's pioneering campus in Tokyo, took a hit. It didn't help that the steep appreciation of the Japanese yen against other currencies drove up the cost of tuition for TUJ's many non-Japanese students.
But now, buoyed by the energy of the Japanese economy and renewed optimism about the nation's future, the number of students enrolling in TUJ is bouncing back. This fall, total undergraduate enrollment at TUJ is more than 5 percent higher than last fall—a dramatic turnaround after two slow post-3/11 admissions cycles. The number of study-abroad students at TUJ, another important component of the Tokyo campus' student body, has rebounded to pre-3/11 levels.
The sense of momentum in Japan, and at its oldest and largest foreign university, is palpable.
"We are surrounded by signs of renewal," said Bruce Stronach, dean of TUJ since 2008. "The Japanese economy is strong, tourism numbers are coming back, the Olympic Games are returning to Tokyo in 2020 and the city has ambitious plans to improve Tokyo's already robust infrastructure. There's a feeling of optimism. With TUJ enrollment surging, we feel it too."
Temple University Japan receives not only study-abroad students from the U.S. via Temple's Main Campus in Philadelphia, but also directly admits degree-seeking students from Japan and overseas ("Japan-admit" students). The combined effects of the 3/11 disaster and an unfavorable exchange rate for overseas students caused TUJ's Japan-admit enrollment to drop from 821 in fall 2010 to 722 in fall 2011. In fall 2012, enrollment dropped again, to 686. It jumped to 724 in fall 2013—not all the way back to pre-3/11 levels, but TUJ admitted 145 new students this fall (not including new students who advanced from the ESL program), the highest new-student enrollment total in three years.
On the other hand, fall study-abroad enrollment in TUJ, seems to have bounced all the way back. In the wake of 3/11, only 32 students participated in TUJ's undergraduate study-abroad program in fall 2011—nearly half the fall 2010 total of 63. Study-abroad numbers began to rebound in Fall 2012 (56), starting an upward trend that continued this fall, when TUJ welcomed 69 study-abroad students from the U.S.
"We believe this recovery trend will continue as the world fully recognizes that everything is normal in Tokyo and the Japanese government is committed to keeping the Fukushima situation under control," Stronach said. "The stronger U.S. dollar is also helping American students from Temple's Main Campus and elsewhere who wish to study at TUJ."
Stronach also noted TUJ's alignment with the Japanese government's strategic goals for growth. Under Prime Minister Shinzo Abe, one area of focus has been the internationalization of Japanese higher education. The institution's English-language curriculum; global faculty; international student body (about 47 percent of undergraduates are American, 35 percent are Japanese and 18 percent are from more than 50 other nations); and historic role as a center for international learning make Temple a perfect match for Japan and its students, Stronach said.
"There is a recognized link between the internationalization of higher education, the success of Abe's economic policy and Japan's future growth," Stronach said. "Japanese students recognize the importance global competitiveness. When they see where our students are being placed in multinational corporations, they observe the strong English skills of our Japanese alumni and their ability to deal with foreigners, they realize we're a natural fit. This is TUJ's time."