Temple and Community Energy to celebrate completion of solar project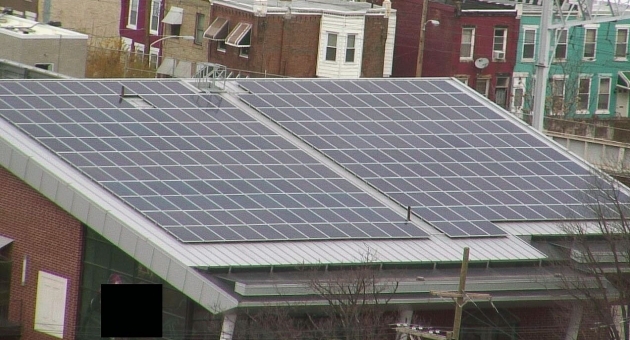 Temple students, faculty and staff are invited to join Temple and Community Energy Inc. (CEI) officials to ceremoniously "flip the switch" on a new, 63-kilowatt solar-generating system installed recently on Edberg-Olson Hall. The new system will provide electricity to thousands of residents throughout Philadelphia and southeastern Pennsylvania.
The celebration—which also will feature the Temple band, Spirit Squad, mascot Hooter and free hot chocolate—will take place at 11 a.m. Thursday, Jan. 23, at Edberg-Olson Hall at 10th and Diamond streets.
Community Energy Inc., which built, owns and operates the photovoltaic (solar) system, was able to partner with Temple on this project thanks to 1,500 Philadelphia and southeastern Pennsylvania electrical customers—including the university—who signed up to have their electricity supplied by CEI at no additional cost. It is the first customer-driven and largest state-of-the-art community solar project in Philadelphia built without state subsidy, as well as the first of its type at a university in the city.
The project demonstrates Temple's ongoing commitment to sustainability and renewable energy, and provides an important education component for Temple students. As a part of the partnership with CEI, students will have access to its educational PRAXIS materials—online modules that cover a wide range of solar topics, from where solar installations should be located, to the nuts and bolts of how solar power is generated, to the financing of onsite and utility-scale solar projects.
"This solar installation reinforces the role of Temple's facilities as living, learning laboratories," says Kathleen Grady, director of sustainability at Temple. "Our buildings are more than just space; they serve as teaching tools and provide students with opportunities to engage with new technology and see it in action."