CLA alumna researches and writes about race and identity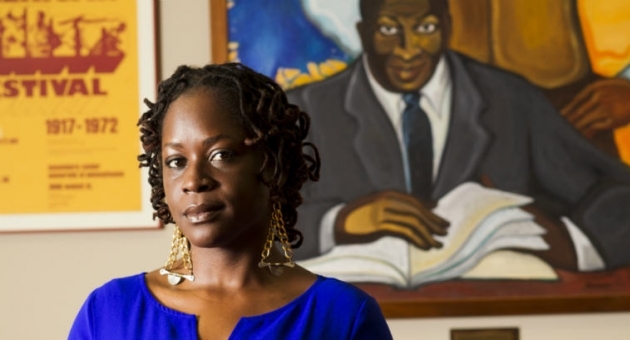 When Yaba Amgborale Blay, CLA '04, '07, was growing up in New Orleans, she noticed that the light-skinned Creole population would sometimes segregate itself from the rest of the black community in school and in social situations. For example, Blay was excluded from a light-skinned classmate's birthday party because she was "too dark." As a result, Blay was conscious of her complexion and believed that those with lighter skin often received preferential treatment.
While a student at Temple, Blay traveled to Ghana to study both the trend of skin bleaching among Ghanaian women and the perceived link between beauty and skin color. She also examined skin-color politics among Creole women in New Orleans—a topic that hit close to home.
Blay concluded that there was a bias toward those with lighter skin—and that those who could "pass" for white would often do so. But a 2010 panel that included Blay and Green Party vice-presidential candidate Rosa Clemente, who self-identified as a "black Puerto Rican woman," led her to think differently about her findings.
She was inspired to learn more about those who embraced a black racial identity. To do so, she launched the (1)ne Drop project in 2010. Blay describes it as an ethnographic and photographic study about black identity. She asked people she knew to share family stories and pictures. And after launching a Kickstarter fundraising campaign, people began contacting her in order to share their own experiences with race and identity.
Now, there are more than 40 (and counting) participants in the project. In January 2012, it garnered national attention when Blay appeared on CNN to discuss (1)ne Drop. It also was featured in a three-part series on CNN's In America blog. And in December 2013, Blay published (1)Drop: Shifting the Lens on Race with BLACKprint Press.
After appearing on CNN, Blay connected with Soledad O'Brien, the host of the network's Black in America series, and interviewed her for (1)ne Drop. Soon after, O'Brien asked Blay to help produce the next installment of the series, which aired in December 2012. It focused on the (1)ne Drop project, and Blay served as consulting producer. Her latest project, Pretty. Period., also has received rave reviews. It is an online collection of photos of black women designed to spark dialogue about what defines beauty.
An assistant professor of Africana studies at Drexel University in Philadelphia, she urges her students to explore the questions they have about the world.
"Whatever questions we have in our heads are worth asking," she tells them. "Even if they're personal. You never know who else will benefit from the answers you get."
—Nikki Roszko, CLA '07