Students' device helps draw patrons to the Philadelphia Auto Show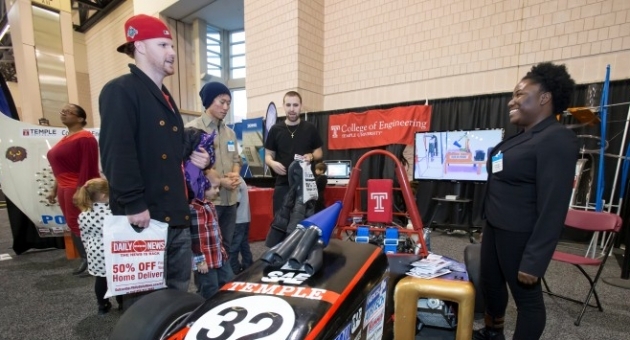 More than 200,000 patrons attended this year's Philadelphia Auto Show, which ran from Feb. 8 to Feb. 16 in the Pennsylvania Convention Center. To help promote the event, Temple engineering students made a commercial featuring a "Rube Goldberg" device—an over-engineered machine designed to perform a simple task in a complicated fashion, originated by cartoonist Rube Goldberg.

The Automobile Dealers Association of Greater Philadelphia, which produces the annual show, wanted to use TV to encourage online ticket sales. The association developed an idea for a commercial that would show a machine going through a complex series of moves to click a mouse and display the show's website on a computer screen.

Terri Martin, director of the recruitment and co-op program in the College of Engineering, received an email last fall about the project. Quickly realizing what the opportunity could mean for the college and its students, she approached Assistant Dean Steven Lengkeek, who endorsed the project. Martin then enlisted the help of Associate Professor of Mechanical Engineering Alex Pallapakkam, who recruited graduate student Nathan Wagonhoffer to spearhead the effort.

The Automobile Dealers Association delivered a few hundred used automobile parts to the college to create the device. "It literally looked like someone went to a junkyard and filled up the bed of their truck and then just dumped it off here and said, 'Work with it,'" Wagonhoffer said.

Approximately 25 students from the departments of both Mechanical and Electrical and Computer Engineering began brainstorming how to interconnect the parts for a series of moves that would end with a mouse click. Five students saw the project through to completion: Wagonhoffer; Sam O'Herrick, Zac Griffey and Clifford Greenfield, all seniors majoring in mechanical engineering; and Phil Luckshire, a senior majoring in engineering technology.

"We were restricted to using old car parts, which made it a lot trickier than one would initially think, because you're thinking there's a ton of moving components in a car," Wagonhoffer explained. "But we weren't given access to all the moving components in a car, so we had to figure out how to make a door swing and what to do with five bumpers."

The students also needed to complete the task by early December, around the time of final exams.

"They would prepare for their exams, come back and work late into the night, and then go take their finals the next day," Pillapakkam said. "They showed a lot of tenacity in completing this project."
 
The device was completed on schedule and the commercial was filmed in early January. It aired throughout the region in the weeks leading up to the Auto Show.

In addition to the commercial, the College of Engineering also set up a booth at the show, in which they displayed some of the parts used for their Rube Goldberg device and a mini Formula One racecar built by Temple students.