Temple student-journalists dominate at the 2014 Student Keystone Press Awards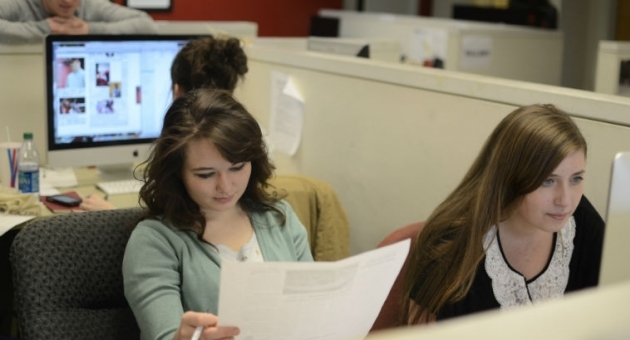 The Temple News/Andrew Thayer
The Temple News and PhiladelphiaNeighborhoods.com earned a total of 22 2014 Student Keystone Press awards, marking the most-ever Keystone accolades in a single year for Temple students. The awards are presented annually by the Pennsylvania NewsMedia Association.
Among the highlights are a first-place win for "Website" by PhiladelphiaNeighborhoods.com and two first-place awards in "General News" and "Ongoing News Coverage" for Editor-in-Chief Joey Cranney and the staff of The Temple News. The latter two honors recognized the staff's coverage of the elimination of seven intercollegiate sports at Temple. Additionally, Max Pulcini, SMC '13, won three top prizes—for "Feature Story," "Public Service/Enterprise Package" and "Sports Story"—for "Rise of the Tigers," a piece about the Kensington football team that he and Matthew Albasi, SMC '13, created for PhiladelphiaNeighborhoods.com.
"I am so proud of our students," said Andrew Mendelson, chair of the Department of Journalism in the School of Media and Communication. "The number of Keystone Student Press awards forThe Temple News and PhiladelphiaNeighborhoods.com shows that our approach to journalism is rich and diverse. Every day, we try to inspire our students to tell stories that reflect Philadelphia's complexity through excellent writing, photography, multimedia, illustration and design."
The 17 awards for The Temple News eclipse the newspaper's previous record of nine Keystones in 2007. Cranney said it was as simple as committing to what he calls "true journalism."
"The first thing I did as editor was to bring back our mission statement and put it in its old spot underneath our flag on the front page," he explained. "Now, next to The Temple News at the top, it reads, 'A watchdog for the Temple University community since 1921.' I made it clear to our staff that being a watchdog to the community was our primary mission, and they've responded."
In the PhiladelphiaNeighborhoods.com newsroom at Temple University Center City, another five Keystones were collected by the online news site, the capstone course for all journalism majors. Professor Chris Harper, who co-directed the program with Associate Professor Linn Washington until this year (when Assistant Professor George Miller took the helm), says the website stands out from other collegiate news sites because it covers communities other than those existing on campuses.
"It doesn't just focus on college students and works as a bridge between the university and the neighborhoods," Harper said.
He was not surprised to see "Rise of the Tigers" receive accolades in three different categories.
"'Rise of the Tigers' takes place in one of the toughest neighborhoods in the city," he says. "It is so uplifting to see what can be done when residents come together. People in places like Kensington want what everyone wants: a safe neighborhood and a better future for their kids. That is what makes the story of the football team resonate on so many levels."
To Washington, the awards underscore the hands-on learning that takes place in the Journalism Department. "The real-world experience students receive in PhiladelphiaNeighborhoods.com provides tangible skills and intangible insights that aid them in life, whether they pursue journalism or another career."