Stephen P. Peterson: Keeping Philadelphia's soil safe
Degree: MS, geology, College of Science and Technology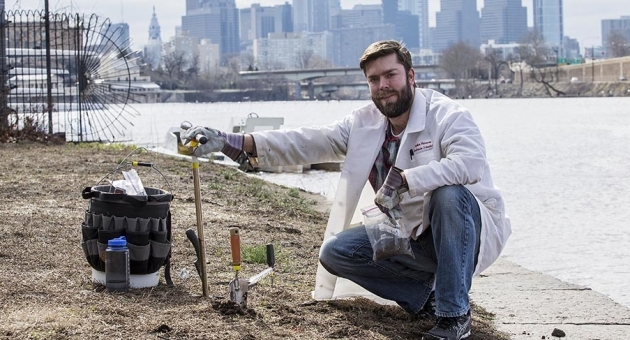 Older industrial cities like Philadelphia tend to have higher lead and heavy-metals concentrations in their soil than the national average. With the growth of urban agriculture—where people use vacant lots, parks and even recreation centers to grow fresh fruits and vegetables—concerns have arisen about whether people are poisoning themselves slowly by eating what they grow in urban gardens.
Stephen P. Peterson, CST '11, who is receiving his master's degree in geology in May, decided to explore whether or not such dangers lurked in Philadelphia's Fairmount Park. For the past year and a half, he has been examining the presence of lead and other potentially harmful heavy metals in the soil in Fairmount Park—the largest inner-city park system in the U.S. and the site of some urban agriculture.
"Everywhere I went in the park—no matter how old the area was or how dense the woods were—the levels of lead and other metals were well above Philadelphia's normal level, which is already above the national average," he said.

All but one of the urban gardens tested were in raised planting beds where the soil had been brought in from elsewhere, so heavy-metals levels were low. "The Fairmount Park people are doing it right bringing in fresh topsoil, but these raised beds can still see their lead levels increase, because they can be influenced by the areas around them," he explained.

Peterson has shared his research with city officials. "This research provides the city with the necessary information and tools to better assess the locations of these materials concentrations, test the park's soils more efficiently and do what is necessary to make the park healthier for Philadelphia's inhabitants," he said.

His research has won numerous awards at national and international conferences and helped earn him a prestigious yearlong fellowship from the U.S. Forest Service's Northern Research Station in Philadelphia.
"They're interested in the urban forestry landscape and getting the urban tree canopy back to what it once was, and they believed this research could impact that," said Peterson, a native of Aston, Pa., who hopes to land an environmental consulting job after graduation.

Improving the environment fulfills a dream that began when Peterson took an environmental science class in high school and "loved it."

"I wanted to be a tree hugger and change the world," he said. "And I came to Temple because it was one of the few schools at that time that offered environmental science."