Jaslyn Johnson: Applying Neurology
Degree: BS, neuroscience, College of Science and Technology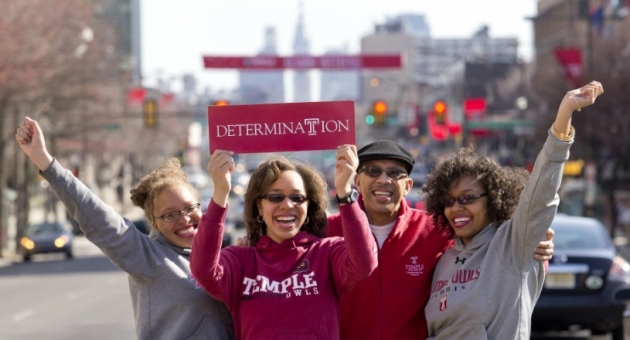 When Jaslyn Johnson switched her major from pre-medicine to neurology in her junior year at Temple, she had no idea that studying the inner workings of the brain would one day help her father heal from the brain injury he suffered after a serious accident.
In fall 2013, Jaslyn and her sisters Jalene, SMC '14, and Javon—a sophomore in the College of Education—were all full-time students at Temple. Her younger brother, Joshua, visited Main Campus to attend the Math and Science Upward Bound Program, which enhances the academic skills and preparation of high school students interested in majoring in math or science.
Born and raised in North Philadelphia, Johnson and her family have always had ties to Temple. When the time came to choose a college, the decision was not a difficult one—especially since her father's work in Temple University Hospital would allow her to take advantage of the university's tuition-remission program.
"My mother used to work in the Radiology Department, and my father served as a registered nurse for several years," she said. " My entire family is 'Temple Made.'"
Johnson began her Temple career as a biology major, but her plan changed during her sophomore year after she participated in the Undergraduate Research Program, which offers students opportunities to work with Temple researchers.
Through that program, she was exposed to neurology—and found that she had a knack for it.
Shortly after Johnson began studying neuroscience, her father suffered a fall that resulted in a brain injury. It required several surgeries, including one that removed a portion of his brain and left him unable to continue working.
"Watching his recovery put me in the middle of everything I'd been studying," she recalled. "I remember being in the hospital and listening to the doctors discuss his condition. It was an interesting coincidence for me: I understood what they were talking about and how I could help my father heal."
When he was able to come home, Johnson started to apply what she learned in class to her father's recovery.
"Though part of his brain was removed, he still has the same functions as someone with a full brain," she said. "He's doing a lot better. I help him with his speech exercises and work with him to recover his abilities."
Johnson also is a member of the National Society of Leadership and Success; a member of Chi Alpha Epsilon Honor Society; and an undergraduate researcher in the Department of Neuroscience at the School of Medicine. Her research on neurodegenerative diseases was published in the Journal of Virology.
After graduation, Johnson plans to conduct research in a medical institution that specializes in neurological disorders before applying to graduate school.
—Jazmyn Burton