Ali Watkins: From Owl to watchdog
Degree: BA, journalism, School of Media and Communication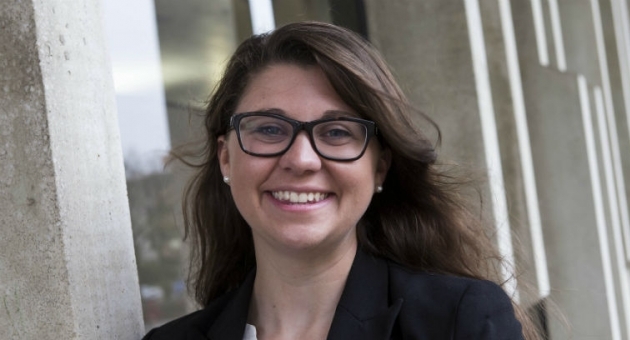 Journalism major Ali Watkins spent some of her internship at McClatchy DC News hanging around elevators and locked doors—but not because she was idle. Rather, she was establishing relationships with people who might serve as sources for stories. And in December 2013, her creative persistence paid off.
A breaking national story was the direct result of tips she received through unnamed sources with whom she has developed trusting relationships since she began reporting for McClatchy in May 2013.
"Probe: Did the CIA spy on the U.S. Senate?"—published March 4, 2014 and co-written by Watkins—detailed an apparent feud between the CIA and the Senate Intelligence Committee over a congressional report on the CIA's "secret detention and interrogation program." That article cites sources who say the CIA monitored computers Senate aides used to prepare the report.
It was Watkins' constant presence that built the trust between her and her sources, leading  them to offer key tips and kicking off a two-month investigation. McClatchy was the first to break the story, leaving renowned media outlets like The New York Times scrambling to catch up.
"This opportunity wouldn't have come about if my professors hadn't invested in me first," said Watkins, who has maintained a full course load and a spot on Temple's rowing team during her time at McClatchy.
Watkins first landed the McClatchy internship through the connections she forged interning at Philadelphia media outlets, including Philadelphia Daily News.
The most important thing she learned is the importance of being a constant presence on Capitol Hill and around the intelligence community—which Watkins credits for landing the CIA story.
"Some people call it stalking. I call it the relentless pursuit of truth," she said.
Watkins hopes to work as a reporter in the nation's capital after graduating from the School of Media and Communication.
—Jeff Cronin