James Furman II: Community-driven engineering
Degree: BS, mechanical engineering, College of Engineering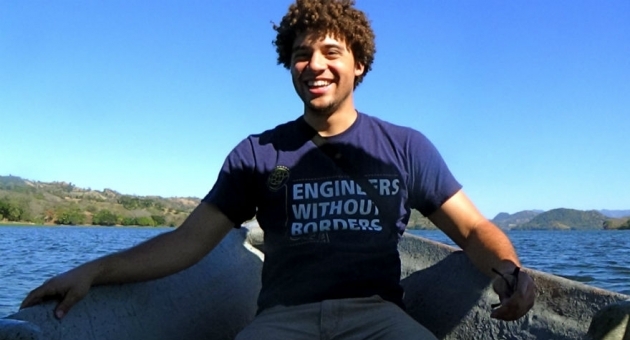 When mechanical engineering student James Furman II took over as president of Temple's Engineers Without Borders student chapter in 2012, the three-year-old group was experiencing the typical growing pains of a student organization.
"It's the growing pains of starting anything new," said Furman, who will receive a bachelor's degree in mechanical engineering with a concentration in energy systems at Commencement 2014. "You have all these seniors who are really excited to get the group going, and then, all of a sudden, they graduate and you have to start all over again."
Engineers Without Borders supports community-driven development programs worldwide by collaborating with local partners to design and implement sustainable projects for water supply, sanitation, energy, agriculture, civil works, structures and information systems.
Furman had witnessed little being done by the Temple chapter before he took a leadership role prior to his junior year, but he worked closely with the group's faculty advisor Robert Ryan, associate professor of civil and environmental engineering, to establish goals for the organization.
One of those goals was to establish a community-driven development project in Temple's backyard.
"I thought we should have a project in North Philadelphia where we could apply the principles that Engineers Without Borders gives us right here at home," he said.
The group established a connection with the Uber Street Garden—a community garden located approximately five blocks west of Main Campus—and helped with cleanups. Now, they are designing a solar-powered, hydroponic growing system that will increase the garden's yield.
Building on that success, Furman reached out to Philadelphia's professional Engineers Without Borders chapter, which was impressed enough to invite the Temple group to partner with them on a water-distribution project in Las Delicias, a town with a population of about 3,000 in El Salvador. They traveled there in January and will return again after Commencement.
"Finally, after two to three years of hardship, the organization was finally helping with an international project," Furman said. "It was very exciting. Here I am, a Temple engineering student, and I'm traveling to El Salvador to help other people. I was living the dream I pretty much had when I arrived at Temple."
Though he is graduating, Furman plans to stay involved in with the organization, serving as a mentor to be sure its Temple chapter continues moving forward.
"As Temple students, we bring different perspectives to problems," he said. "Temple brings together such a large variety of students. Diversity is what drives us and that's what drives Engineers Without Borders."