Students, new graduates tap into networks for internships and jobs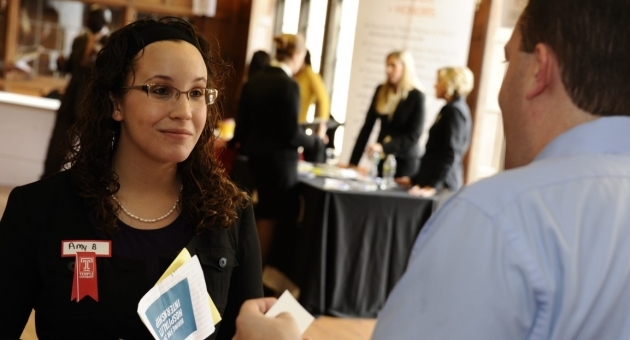 Today's Owls enjoy a huge advantage when it comes to networking, one of the most critical tools in nailing down a good job. They not only start learning about networking from the day they set foot on campus, but also gain instant membership in a powerful network that is more than 292,000 Temple alumni strong.
Amy Bendekovits, Class of 2014, and Ray Smeriglio, Class of 2015, know this firsthand. Bendekovits, who started networking while a freshman, graduates today from the School of Tourism and Hospitality Management with a job secured at Aramark in New York City.
"My best advice is to put yourself out there and not be afraid, especially with alumni," Bendekovits said. "They understand where you're coming from and are ready and willing to help."
Bendekovits attended Student-Alumni Networking Night her first year at Temple and met Mina Mounir, CLA '05, a financial professional at New York Life Insurance who mentored her throughout her four years in college.
That annual event, held each spring and sponsored by Temple's Alumni Relations and Career Services offices, gives all students chances to interact with alumni, polish their networking skills, build connections and ease their way into a process that can be awkward and intimidating at first.
Smeriglio—a marketing major in the Fox School of Business—also has attended Student-Alumni Networking Night, but his success came from his on-campus job, a true testament to one of the central truths about networking: You never know who will someday help you get a job. This summer, he will be interning at the Grey Group, an advertising firm in New York City—thanks to his former fellow campus tour guide, Kristin Turner, SMC '13, an assistant account executive at Grey.
Student-Alumni Networking Night is only one of many live and virtual events that happen throughout the year to teach students about networking and connect them with alumni and other professionals who can offer guidance and help them find internships and jobs. Many of the events, and numerous other resources, also are available to new graduates and alumni.
In Fox, the Center for Student Professional Development (CSPD) provides networking training along with live opportunities to practice in a variety of settings—including small group sessions with faculty, staff and alumni, and larger settings where students can rotate among CSPD corporate partners and industry professionals.
The Department of Graphic and Interactive Design in the Tyler School of Art invites art directors and designers to come to Temple, meet students and look at their portfolios. Additionally, designers and recruiters from organizations including Hallmark and Urban Outfitters come to campus to discuss careers and opportunities. During the annual Art Market, students volunteer to assist alumni selling their work. It gives them the experience of networking directly with successful artists.
The College of Science and Technology (CST) recently began the Owl to Owl Mentor Program, which pairs CST students with CST graduates for networking, mentoring and career guidance. The program's exponential growth—56 mentors and 63 students in only its second year—is one reason it is being replicated by other schools and colleges across the university.
No matter where they live, all Temple students and alumni can access the university's many virtual networking events. This year's series involved the College of Health Professions and Social Work (CHPSW), the Center for the Arts, and the School of Media and Communication.
The virtual events are conducted through text-based chats. Over the course of an hour, attendees are usually able to connect with about a half a dozen people.
"What I really appreciated [about the virtual networking event] is that as an introverted person, I struggle greatly with networking in person," one CHPSW student said. "However, in this context I felt comfortable, even confident, and prepared."
Whether networking online or in person, experts say, a key to success is knowing your personal brand, and having your elevator speech—your 30-second self-pitch—well rehearsed, should you happen to get on the elevator with someone who has hiring power.
"Your brand is who you are and what you bring to the table," Bendekovits advised. "So you need to spend time figuring out what that is. Be confident you can provide what you say you're going to provide."
For more information about Temple's job and career resources for students and alumni, visit Temple's Career Center.