Temple Option will open more doors to a university education
Innovative admissions path shows 'You are more than a test score'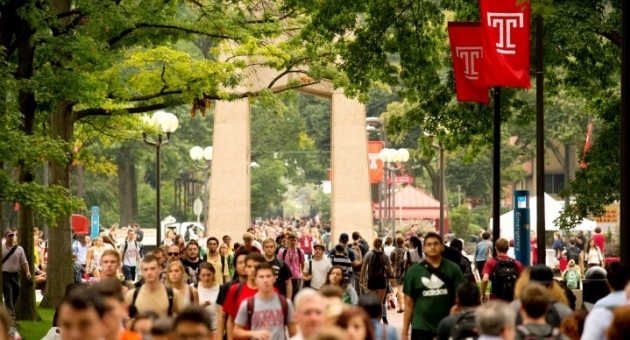 In a bold move underscoring Temple University's commitment to access and diversity, President Neil D. Theobald today announced the Temple Option, an admissions path for talented students who show great potential for success but don't perform well on standardized tests.
Starting with applications for fall 2015, students may apply via the Temple Option without submitting a standardized test score, such as the SAT or ACT. Students with strong SAT scores are encouraged to choose the traditional route by supplying their standardized test scores.
Temple becomes the first public research university in the Northeast and one of the nation's only urban public research universities to offer an admissions path like the Temple Option. The university is responding to the growing body of research evidence that shows high-school GPA, class rank and "noncognitive" factors (such as a student's grit, determination and self-confidence) are more reliable predictors of college success.
"At Temple, our mission is clear: We are committed to providing talented and motivated students of all backgrounds with access to a high-quality college experience and Temple degree in four years," said President Theobald. "By giving students more choices, we open doors to more first-generation students and those from underserved communities whose enormous academic promise may be overlooked by conventional measures of achievement.
"In short, we want students who do not perform well on these standardized tests to know that at Temple, you are more than a test score," said Theobald.
The Temple Option admissions process will begin with a four-year program that is tied to a recently announced grant funded by the Bill & Melinda Gates Foundation. In announcing the Transformational Planning Grant earlier this month, the Association of Public and Land-grant Universities and the Coalition of Urban Serving Universities said that Temple is one of only seven universities nationwide selected to participate in the study.
Temple will receive $225,000 as part of the grant to research, develop and test new university business models that can increase access, improve student success rates and find greater cost efficiencies.
The first students eligible to take advantage of the Temple Option are those applying to be members of the Class of 2019, the new undergraduate students who will arrive in the fall of 2015.
Students applying to Temple for fall 2015 will have the option of either submitting traditional standardized test scores or submitting answers to specially designed, self-reflective short-answer questions. When evaluated by trained readers, the answers to these questions provide evidence of noncognitive motivational and developmental traits that are better predictors than standardized test scores of future college success.
All applicants, including those who choose not to submit a standardized test score, will be eligible for need-based financial aid and merit scholarships and considered for Temple's Honors Program.
Student-athletes, home-schooled students and international students who have studied in a U.S. high school for fewer than three years will be required to submit standardized test scores. Once students choose to submit or exclude their test scores, they will not be able to change their selection.
Hundreds of other colleges and universities have moved to test-optional admissions in recent years, including Brandeis University, DePaul University, Kansas State University, the University of Arizona, Wake Forest University, Washington State University and Wesleyan University.
"This is an exciting time for Temple admissions: Students and families are aware of Temple's well-established academic reputation, and we have seen unprecedented application growth in recent years," said Hai-Lung Dai, Temple's provost and senior vice president for academic affairs.
"But if we are to stay true to our mission of access and affordability, we cannot ignore the mounting evidence that standardized test scores inject socioeconomic bias into the admissions and financial aid equations. By evaluating noncognitive factors, we believe we will attract even more highly capable and motivated students," said the provost.
Dai thanked members of a Temple working group that surveyed national research on admissions alternatives and best practices, singling out faculty members who lent their expertise in K–12 education, noncognitive measures of evaluation, public education in underserved communities and college preparedness: College of Education Dean Gregory Anderson, College of Education Associate Dean Joseph P. DuCette, and College of Education faculty members Erin McNamara Horvat, Annemarie Hindman, Avi Kaplan, Yasuko Kanno and Will J. Jordan.