Temple's Class of 2018 breaks records for quality, quantity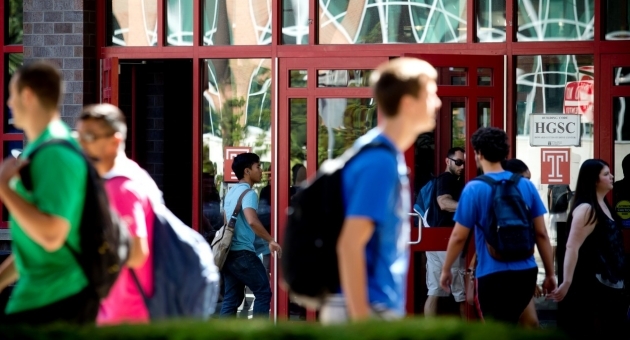 Freshmen and transfer students come to Temple University with a wide variety of achievements. Relatively few, however, have already been saluted as an American success story by national media.
This summer, 18-year-old freshman Ryan Rist was branded as just that by Fox Business Network, which highlighted Rist's entrepreneurial spirit in founding Rist Custom Coasters, a drink coaster with a water-absorbing felt insert that can be personalized with a logo or photo. Rist brought a set, emblazoned with his own business logo, from his home in Brookfield, Conn., to his dorm room at Temple, where he plans to major in finance.
Rist is one of nearly 4,500 freshmen in Temple's Class of 2018, which is projected to be the university's largest and one of its most academically accomplished cohorts. The average freshman GPA of 3.47, for example, tops last year's 3.44. Temple freshmen are joined by approximately 2,500 transfer students.
Diversity, a hallmark of the Temple experience, remains strong, with a more than 9 percent increase among students of color and the addition of 450 international students (up from 350 last year), another record. More than 78 percent of the freshman class has enrolled in Fly in 4, Temple's innovative new plan to help students graduate on time and limit their debt.
"The high quality of this new class demonstrates that Temple is a university on the rise," President Neil D. Theobald said. "Students know that Temple delivers an outstanding education, and our reputation as a leading public research university is spreading."
Temple attracted 27,544 applications, up more than 27 percent in the first year the university accepted the nationwide Common Application and offered early action, a non-binding option through which prospective students apply earlier, by Nov. 1, and are notified of admissions decisions by Jan. 10.
With Temple's momentum continuing to attract more students from across the nation and world, it's becoming increasingly common to hear stories of cross-country family road trips culminating in move-in day.
That's what Alexandra Walker did, driving four days with her parents and younger sister from Boise, Idaho, to Temple's 1300 Residence Hall. Walker visited more than 15 colleges, many of them on the East Coast, during her college-search process. She applied to 11. Her top criteria: a city school offering a wide variety of academic programs. For now, she's planning to major in political science.
Walker said the Temple Honors program and study abroad opportunities were other major factors in her decision. It also didn't hurt to have a familial connection. Her grandfather, Professor Aquiles Iglesias, recently retired from Temple's College of Health Professions and Social Work.
"We wanted her to experience a different kind of environment so she could see different cultures, ways people live, a huge city," said Alexandra's mother, Monica, on Aug. 18, as Alexandra settled into her dorm room. "Personality wise, she wants to be in the city, and this was definitely a great opportunity for her."
Little sister Madi, almost 15, expressed mixed emotions on the eve of returning to Idaho while Alexandra started college. "It will be sad tomorrow morning, but right now I'm OK with it."
Alexandra's mother said much of the same.
"You don't want them to be that far away, but on the other hand she needs to learn how to grow up, and Philadelphia is going to help her with seeing what else is out there," she said. "It's definitely bittersweet. We'll see how I feel tomorrow when I say goodbye to her."