Posted
September 19, 2014
Temple Theaters kicks off season with Fringe Festival performance in Center City Philadelphia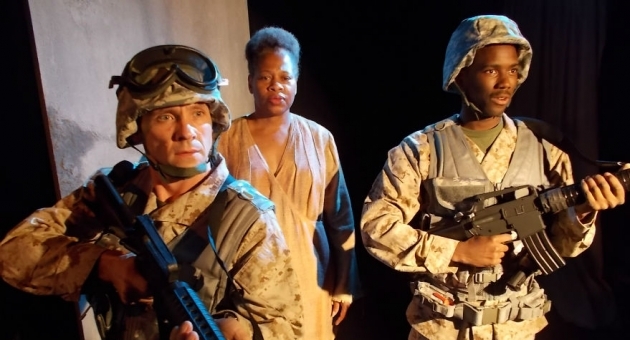 Temple Theaters kicks off a new season with the Philadelphia premiere of the Pulitzer Prize–nominated play Bengal Tiger at the Baghdad Zoo, as a part of the 2014 Philadelphia Fringe Festival. The play will run September 17-27 at Center City Philadelphia's Adrienne Theater.
Now in its 18th year, the Fringe Festival features 17 days of progressive performances from artists across the globe.
"The Fringe Festival is a big deal in Philadelphia," said David Girard, graduate-student director for the production. "It's great to be in and around this atmosphere with other artists, and it's a great opportunity for Temple actors to get maximum exposure."
Described by the Los Angeles Times as "the most original play about the Iraq war," Bengal Tiger at the Baghdad Zoo is an imaginative exploration of the power and perils of human nature. The play tells the story of two American soldiers and an Iraqi translator, whose lives are forever changed by an encounter with a clever, sardonic tiger haunting the streets of war-torn Baghdad.
"The subject matter is so prescient when we look at how things turned out in Iraq, and what we're dealing with now in that part of the world," said Girard, who is entering his third year in the MFA Directing Program in Temple's Center for the Arts.
"The play is a wildly theatrical commentary on the fractured interaction between individuals, cultures and different worlds. The playwright Rajiv Joseph understands the concept of lost in translation, both literally and figuratively, and how we continually fail to communicate with each other on a basic human level."
The 2011 Broadway production of Bengal Tiger at the Baghdad Zoo featured the late Robin Williams in the role of the Tiger. The Temple Theaters production includes an accomplished cast of students, as well as professional actors, designers and crew members.
"We've done some new and exciting things with this production—especially with our production design," said Girard. "Temple also has some of the best actors in the city. Many of our graduate students were professionals before they came to the program, so this is a great opportunity to highlight the talent in both our graduate and undergraduate programs."