Posted
September 24, 2014
Cellist Jeffrey Solow helps students find their own voices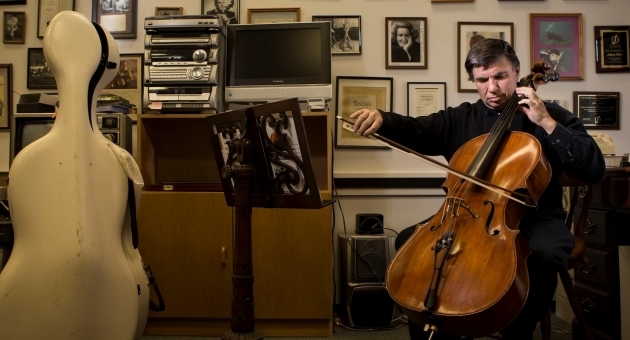 The Rock Hall studio of Jeffrey Solow, a cellist and professor of instrumental studies at Temple, is abundant with artifacts that reflect his professional career and lifelong relationship to music.
A grid of framed photos lines one wall: Solow at the age of 12 with the famous cellist, Gregor Piatigorsky, who years later would become his teacher and mentor; a shaggy-haired, bell-bottom-wearing Solow with the UCLA Young Artists quartet in the 1970s. There are photos of musicians he admires, of concerts he has played and attended. A Grammy nomination medal, one of two Solow has received, sits on a bookshelf below a photograph of a microscope and fossils—Solow once planned to become a scientist. Bookshelves are stuffed with the string instrument publications where Solow, a prolific writer, is regularly published.
It is this abundance—of performing, recording, writing, publishing, and 25 years of teaching and mentoring Temple music students—that led Solow's colleagues in the Boyer College of Music and Dance to unanimously nominate him for the Temple Faculty Award for Creative Achievement, which he was awarded in April of this year. And it is this abundance that Solow brings to bear on his teaching, where his many interests and accomplishments converge.
Although he has played the cello for most of his life, until he was in college Solow thought he would become a scientist. Solow turned to music full time while attending UCLA in the 1960s, but "his teaching has benefited from a scientific bent," according to Nathaniel Rosen, a fellow cellist who studied under Piatigorsky with Solow.
"Understanding Newton's laws of motion can actually have a bearing on playing," Solow explained. He helps his students become more efficient players by reminding them of what they likely learned in their last basic science class: Gravity provides downward force.
"They realize, 'I don't need to push my arms into my cello; if I direct their fall properly, they balance on the instrument,' and that can be absolutely illuminating for people."
This kind of technique helps students tap into their own creativity: "One way you can teach them how to unlock their creativity," said Solow, "is by teaching them technically how to play the cello better, because if you're free on your instrument, your personal voice can come out."
An active performer who plays 25 to 35 times a year and has appeared all over the world, Solow's performances have been called "bewitching" (The San Francisco Examiner) and "enthralling" (The Boston Globe) and lauded by publications that include The New York Times, the Los Angeles Times, and The Washington Post.
For Solow, performing is "inseparable" from teaching—"I can't imagine doing one without the other.
"It's really helpful to be an active performer," Solow said, "because you can help students learn how to prepare properly for concerts and what to expect and how to deal with things that happen, because things happen."
Solow will next perform at Temple on Thursday, Dec. 4, at 7:30 p.m. with the Trio Combray; he will play a recital on Feb. 2. A video of Solow's April 2014 performance of the Dvorak Cello Concerto with the Temple University Symphony is available online.